How Data Center Experts are Integrating DCIM with ServiceNow
Managing a data center traditionally requires entering the same information multiple times into disparate tools. This is a manual effort that is time-consuming and error-prone.
Leading data center professionals don't waste time swiveling between different tools. Instead, they implement "automation via integration" that saves time and increases the accuracy of data.
In a recent Sunbird customer workshop, data center experts from eBay and NBCUniversal shared how they planned and implemented their integration between Sunbird's Data Center Infrastructure Management (DCIM) software and ServiceNow.
How eBay Used APIs to Integrate ServiceNow and dcTrack
eBay is using dcTrack to remotely manage 415 cabinets, 800 intelligent rack PDUs, and over 6,600 devices.
"We have 28 unmanned cages in 22 cities around the world," said Clayton Rickle, PMP, Manager of Global PoPs. "You can see how important DCIM is for us, not having anyone on site."
"We manage our global PoP data centers. These are network PoPs," said Ken Torres, GCS Data Center Engineer. "This is where our buyers and our sellers have access to the eBay infrastructure for posting items for sale, purchasing items, etc. We do this so the customers in the various global regions have a much better experience by connecting to the internet more locally than having to go to a core data center."
eBay needed to reduce the manual effort required to operate its data centers. With about 600 daily activities being entered into ServiceNow, they didn't have time to enter this information a second time in dcTrack.
"It's pretty significant if you were to think about having to do this manually or techs having to contact [us] as administrators and say, 'Hey, can you do this? Can you update this?' said Torres. "It would just be almost a nightmare. But it isn't for us anymore because we are integrated and in pretty good shape."
eBay's path to integration started out with comprehensive planning and teamwork.
"We approached it first by creating a team," said Torres. "Then, as a team, we did planning before we even touched the keyboard about integrating anything."
The teams involved were the DCIM team, ServiceNow team, Sunbird team, asset management team, and operations team. Together, they were able to plan an integration that benefitted everyone.
Then, eBay identified the fields that they wanted to be synced between ServiceNow and dcTrack, determined how they would integrate them, and bucketed them into project phases.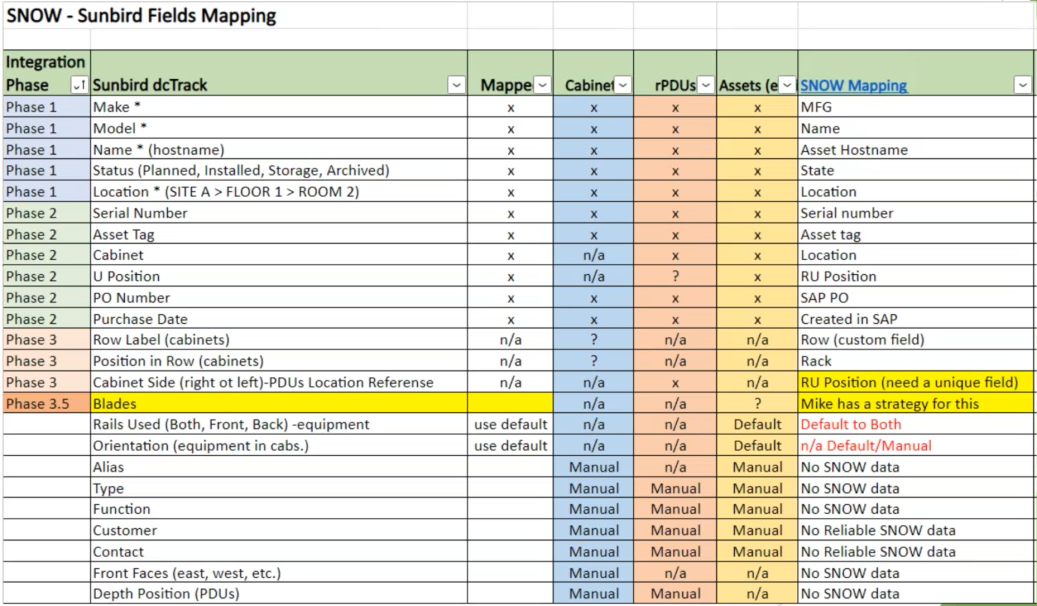 eBay's ServiceNow-dcTrack Field Mapping Document
"We made a presentation to the senior management team not only to show them we had a plan but to show them what was possible when we did this integration," said Torres. "We were setting the expectation that these are the things we can do and these are things we can't do or would create significant changes to ServiceNow to be able to accomplish. From this meeting, we got approval to move forward."
In eBay's development testing stage, they first compiled their transaction scenarios and then built the integration for each using APIs.
"We are using ServiceNow as our source of truth for the ingest and update of asset modifications," said Mike Moody, Senior ServiceNow Developer. "Typically, that's either done by UI or, more than likely, done through handheld scanners used at the data centers. Those scanners are integrating and updating the asset records directly in the alm_hardware table in ServiceNow. We also have a separate on-prem external CMDB for our CI tracking so we're not using ServiceNow as heavily for CIs since we have a separate system for that and as a result of that setup and situation, it lead us to look more closely at leveraging the APIs with dcTrack as opposed to using the connector. This is why we went down this path."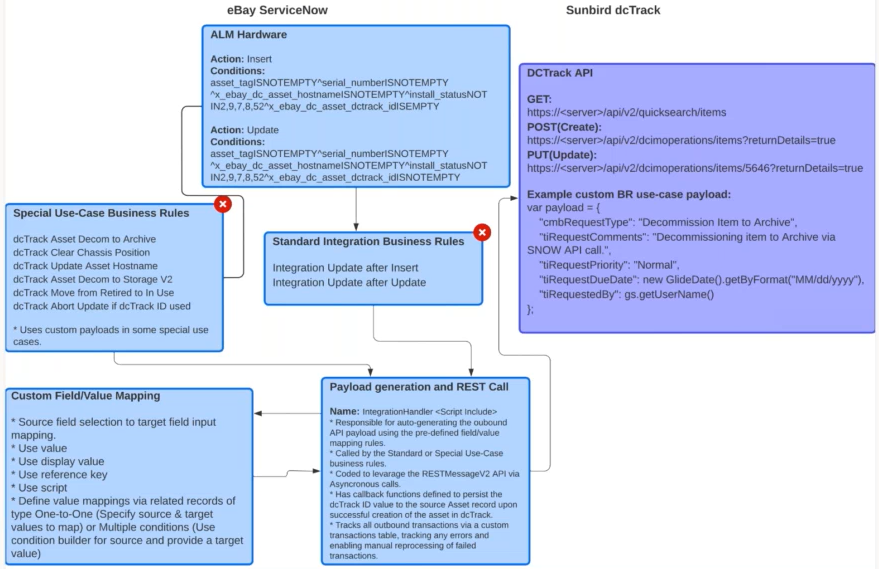 eBay's ServiceNow-dcTrack Integration Architecture
After building its integration, eBay tested each of its scenarios. They logged which tests were successful and investigated the tests that failed and fixed any issues.
When testing was complete, they rolled the integration out one site at a time, starting with their most simple sites and progressing to the more complex ones.
One key learning was that they needed to ensure that the metadata matched between ServiceNow and dcTrack.
"Going forward, we work pretty closely with our asset lifecycle management team to try to match these as we have new hardware components go in ServiceNow and dcTrack. We try to match the models on each side," said Torres.
With the integration fully operational, eBay has built a process to remediate any errors and keep the integration performing as intended. Every day at midnight, if there were any integration errors the previous day, they are notified of them via email. They then investigate and fix the cause of any errors.
Now, eBay is reaping the benefits of automation via integration.
"We are actually realizing much of the value of [integration]," said Torres. "We started out by targeting to significantly reduce database reconciliation between the two database platforms and we targeted the daily activities of adds, moves, changes, retiring assets, and things like that. Those are the routine things that happen in ServiceNow and we needed to automatically populate them in dcTrack. We actually achieved that so that's cool."
How NBCUniversal Plans to Use Sunbird's Certified ServiceNow Connector
NBCUniversal uses DCIM software to remotely manage over 431 locations with over 3,000 cabinets, 1,300 rack PDUs, and nearly 20,000 devices.
"Just like eBay, we have sites all over the world," said Manny Peralta, Manager – East Coast Data Centers. "Unlike eBay, we have decided to go the route of the ServiceNow integration module."
Sunbird has a certified ServiceNow connector available for free on the ServiceNow app store that enables bi-directional updates of asset and ticket information. While eBay had unique considerations that required them to integrate using APIs, the connector app is appropriate for most customers with typical configurations.
NBCUniversal is going to connect both the CMDB and ticketing system in ServiceNow with dcTrack.
"Another thing we're trying to accomplish is connecting Power IQ alerting to ServiceNow so that we automatically create ServiceNow tickets for our technicians so they can troubleshoot any alerts that we get," said Peralta.
So far, NBCUniversal has configured and connected Sunbird's ServiceNow connector and tested it successfully for both CMDB and ticketing integration. They have also successfully tested the connection between Power IQ and ServiceNow.
"There's a lot of integration you can do between both systems," said Peralta.
For CMDB integration, NBCUniversal prefers that ServiceNow is the system of record. However, they will adopt a different approach for ticketing.
"On the ticketing side, we said that both ServiceNow and DCIM are sources of truth so that files can be overwritten back and forth through the ticketing systems as you take notes within ServiceNow or dcTrack."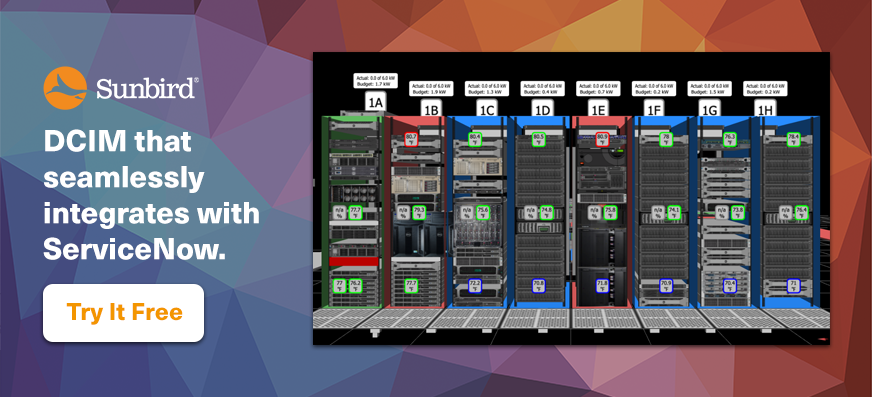 To ensure accuracy, NBCUniversal selected a unique key for both systems.
"We have configured the serial number to be the unique key on the CMDB integration and on the ticketing integration. This allows for the records to be 100% accurate between both systems."
NBCUniversal then selected their value mappings.
"ServiceNow labels are different from dcTrack. For example, in ServiceNow, they do not have a 'Planned' state on an asset."
To reconcile the two systems, they reviewed their list of fields and values and determined the best match.
"We mapped those fields so that… they match accurately on both sides of the house," said Peralta.
Then, NBCUniversal used filters to exclude records that should not be integrated.
"This is where one of the most valuable parts of the XML file comes into place," said Peralta. "We use ServiceNow to track everything from desktops to cell phones… We do not want all that information to come down into dcTrack, so we specified the values of what we wanted to include and exclude based on the device type and model category."
"In the ticketing connector, we're also using filters to include or exclude locations," said Peralta. "Some locations that we have throughout NBCUniversal, we do not manage, and therefore are not included in dcTrack, but we still use ServiceNow to create tickets for support, installations, and all that stuff. We do not want them to sync into our ticketing system, so we use filters."
Next, NBCUniversal chose to be able to push linked assets bidirectionally between ServiceNow and dcTrack.
"You can configure whether or not you want CIs associated to a certain hardware to be synced across the systems. We decided we are going to use this because when we are working on, for example, a VM farm, we know exactly what CIs are associated to that farm," said Peralta. "It's very important to have the visual picture when you're working on a piece of hardware. If that hardware goes down, what other associated CIs to the hardware will be impacted. Then you plan your work accordingly."
By properly planning and testing out their integration, NBCUniversal has laid the groundwork for dramatically improved operational efficiency once they fully implement it.
Bringing It All Together
Organizations like eBay and NBCUniversal are driving data center automation via integration to reduce manual effort, and Sunbird makes integration easy with a certified ServiceNow connector that can be configured in about one hour.
Integration reduces swivel chair management while enhancing data and increasing its accuracy. This enables you to easily manage data center resources, make more informed decisions, break down information siloes, and facilitate data-driven collaboration across functional teams.
Watch eBay and NBCUniversal's presentations to learn more.
Ready to see why leading data center professionals use Sunbird's second-generation DCIM software to automate their data center? Get your free test drive today.