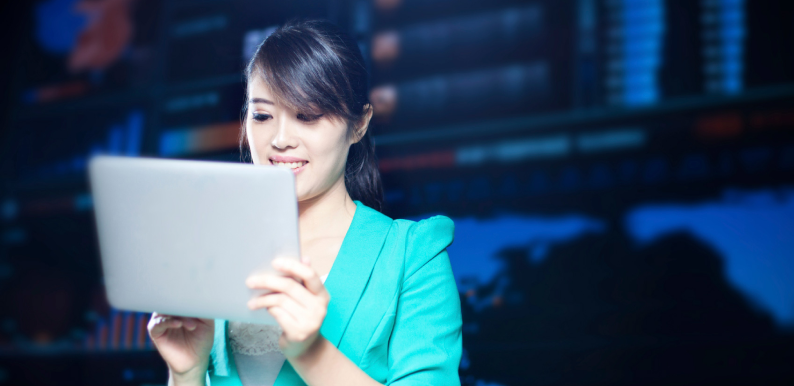 What is Data Center Monitoring?
Data center monitoring provides insights and visibility into the health and status of your data centers by tracking specific metrics in real time and sending alerts or notifications when readings exceed or fall below the set thresholds.
Data collected from monitoring your data center can be stored, analyzed, and displayed in business intelligence and analytics dashboards and reports in your DCIM software to help you make data-driven data center management decisions.
You can monitor everything from an entire data center floor down to a single outlet on an intelligent PDU. Given the distributed nature of modern data center environments, you may even monitor different "lights-out" enterprise locations or the cabinets you own in a colocation data center.
What Items Can Be Monitored in a Data Center Using DCIM Software?
Although the specific devices monitored will vary based on your data center environment and objectives, most organizations typically focus on cabinets and their contents, including:
Intelligent Rack PDUs (iPDUs)
Remote Power Panels (RPPs)
Floor PDUs
Branch Circuits
Uninterrupted Power Supplies (UPSs)
Busways
Sensors (temperature, humidity, water, smoke, airflow, air pressure, contact closure, etc.)
Cameras
Doors
Door Locks
What Are the Benefits of Data Center Monitoring With DCIM Software?

Improving Uptime
Health polling combined with thresholds, alerts, and notifications can help you identify and address potential issues - before they lead to costly, unplanned downtime.

Optimizing Capacity Utilization
Real-time data gives you an always-accurate picture of usage in your data center, so you can identify stranded capacity, forecast when you will run out, and make the most of your existing resources.

Improve People Productivity
You can manage devices, analyze data center business intelligence with dashboards and reports, and then make data-driven changes – all in a single system, with fewer clicks and mouse movements.

Reducing Risk
Electronic door lock control with RFID-enabled cards, user management, and security audit reports help you ensure compliance and reduce the possibility of unauthorized access.
How Does Data Center Monitoring Work?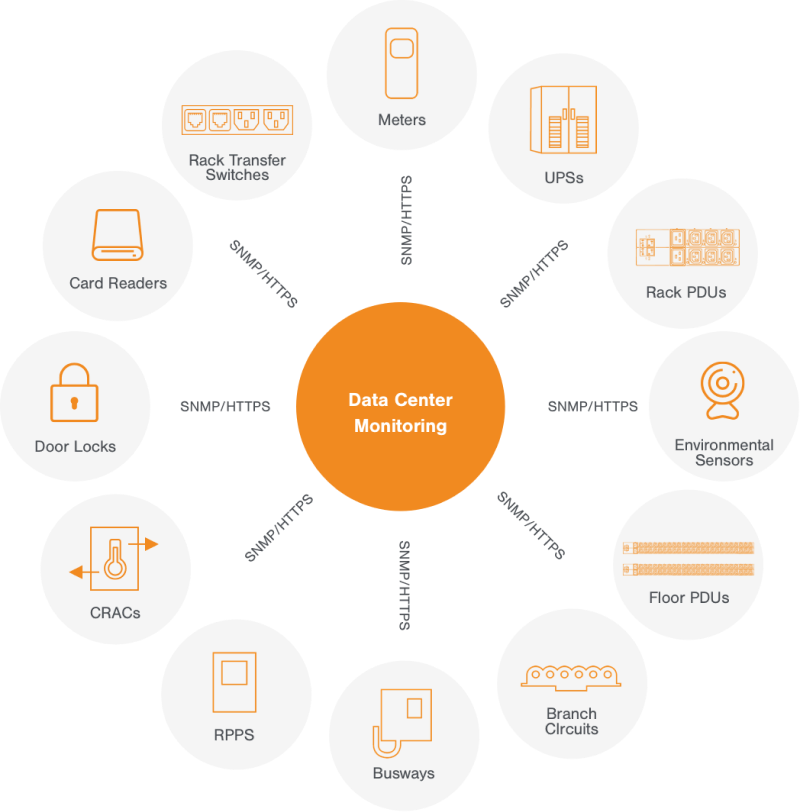 Data center monitoring enables you to centrally manage all devices in your data centers. It allows you to connect to, collect data from, and configure your devices via SNMP, HTTPs, and other protocols for IP-based networks.
Automatically collect real-time data from all your devices – down to the individual outlet level – through a single interface
Set power and environmental thresholds on collected data and receive alerts so you'll be the first to know about potential issues before they become bigger problems
Configure polling frequencies to your intervals that provide meaningful data while maintaining efficient network traffic
Forward and filter traps to receive only the notifications that matter to you
Analyze and trend collected data to uncover insights around your data center operations, including capacity forecasting
Gain peace of mind about your data center security with door locks and card reader permissions that let authorized users in and keep intruders out
Use protocols, such as SNMP, HTTPS, Modbus, BACnet, Wiegand, RF, etc. to communicate with data center monitoring software
Who Can Benefit from Data Center Monitoring with DCIM Software?
Data Center Managers, Operators, and Engineers
Chief Technology Officers
IT Teams
Power and Network Teams
Facilities Teams
Chief Financial Officers
Accounting
Data Center Customers
Modernize Your Data Center Monitoring with Sunbird's Second-Generation DCIM Software
Sunbird's second-generation DCIM software addresses the challenges of modern data center monitoring. While other DCIM software providers limit your ability to customize thresholds and polling intervals across all the devices in your data center and then require third-party tools to analyze that data, Sunbird gives you all the features and functionality you need to manage and monitor your data center in an intuitive, elegant GUI. Sunbird's DCIM software works with the devices you already have and reduces the complexity of data center monitoring to help you maintain uptime, effectively utilize capacity, and increase the productivity of your teams.
Don't believe us?
See what our satisfied customers are saying about Sunbird's data center monitoring capabilities.
Take the Next Step with Sunbird. Try It Free.
DCIM Monitoring Online Demo
Remotely monitor rack PDUs, UPSs, branch circuit meters, RPPs, floor PDUs, busways, cameras, door locks, and temperature, humidity, and other sensors. Remote central power control of all servers. Set thresholds, see trends, and get alerts.
Free 30-Day Trial
Use your own data to take a Free 30-Day Trial with our Award Winning Full Featured DCIM Solution.
See Yourself With Screenshots
Explore our screenshots to see our second-generation DCIM features for yourself.