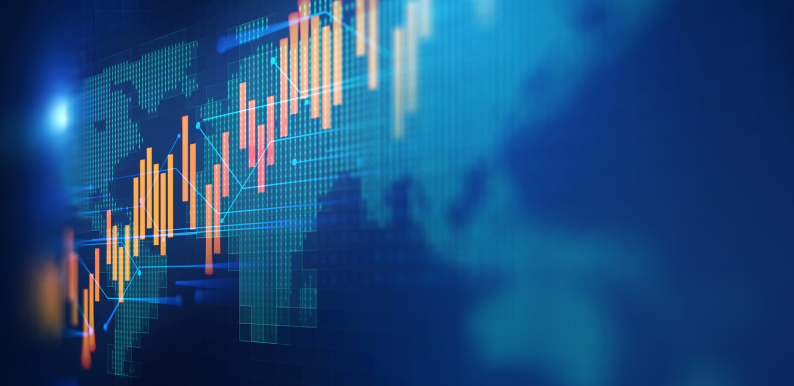 What is a Data Center CMDB?
A Configuration Management Database (CMDB) stores information on the hardware, software, systems, facilities, and personnel within an organization to help IT professionals understand and manage these assets (typically referred to as Configuration Items or CI's) and their relationships in order to more efficiently deliver IT services and make better business decisions.
CMDBs are commonly used for change management and ticketing, impact analysis, root cause analysis, legal compliance, and incident management.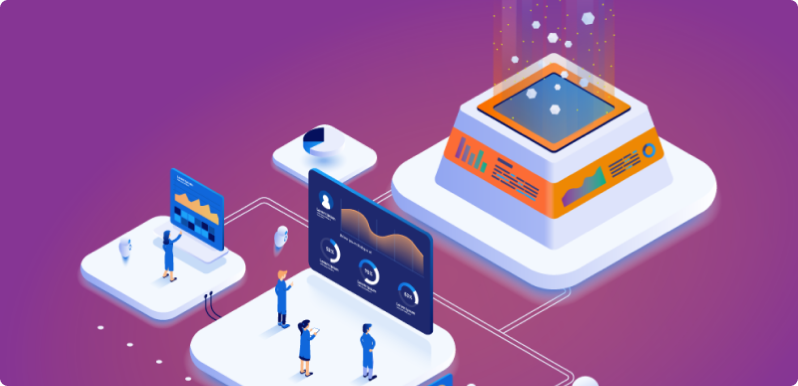 What is a Data Center CMDB?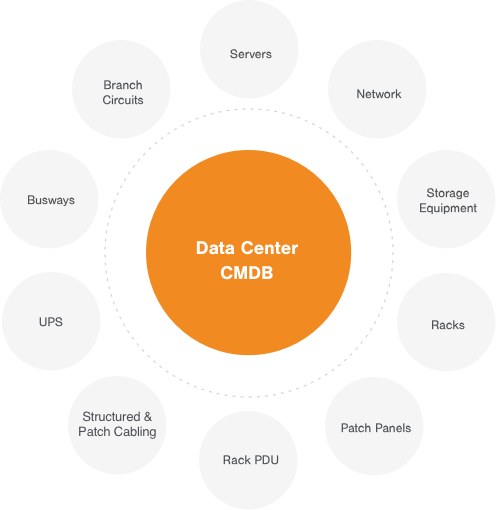 A Data Center CMDB, part of Data Center Infrastructure Management (DCIM) software, expands upon what is typically tracked in a traditional IT CMDB to include other important information about physical data center infrastructure. A Data Center CMDB maintains an accurate representation of all IT equipment residing in the data center (servers, network, storage equipment) and supporting infrastructure assets (racks, rack PDU, patch panels, structured and patch cabling, UPS, busways, branch circuits) with relationship mapping down to physical port levels and up to virtual machine and application levels.
How does a Data Center CMDB compare to a traditional IT CMDB?
While a Data Center CMDB and a traditional IT CMDB do share similarities, they are typically used by different teams and hence they will track and monitor different information.
A traditional IT CMDB is used by IT teams to track all corporate IT assets and their configurations as logical objects. The goal of using a CMDB is to better align IT with the business throughout the product or service delivery lifecycle.
By comparison, a Data Center CMDB provides a holistic view of all data center resources and capacity. It is used by data center operations team and information can be shared across organizational functions to provide single pane of glass management. The information tracked in a data center CMDB supports a wide range of use cases including asset management, power and environmental monitoring, space capacity planning, connectivity and port management, and 2D/3D visualization and modeling. The primary goal of a Data Center CMDB is to enable real time capacity and change management to optimize the availability, utilization, and efficiency of the data center.
| What is Typically Tracked | IT CMDB | Data Center CMDB |
| --- | --- | --- |
| Asset identification and description | | |
| All corporate IT assets (Configuration Items) | | |
| Configuration Item relationships | | |
| Hardware/software configurations (e.g., server, memory, disk space) | | |
| Asset lifecycle (e.g., in service, out of service) | | |
| Hardware/software that resides in the data center, along with their configuration and asset lifecycle | | |
| All physical data center infrastructure (racks, rack PDU, patch panels, structured and patch cabling, UPS, busways, branch circuits) along with their physical relationships/connections | | |
| Detailed physical location of data center assets (e.g., site location, cabinet location, and U position) | | |
| Rack elevation views with high-fidelity front and back images | | |
| Measured power and temperature readings, trending, and alerting | | |
| Dimensional, weight, and physical data/power port information of assets | | |
| Physical relationships and connectivity for power supply and network interface cards along with capacity of all physical port types | | |
| Utilization and capacity of data center infrastructure resources (e.g., power, space, and cooling) | | |
| 3D visualization of assets and logical connectivity between equipment | | |
What You Can't Get From Your Traditional IT CMDB
A Data Center CMDB provides detailed asset information and visuals such as the exact site and rack location with U position, dimensions, weight, power and network port connections, and rack elevation visualizations to provide a 3D Visio-like experience. Comparatively, a traditional IT CMDB is a database of fields and does not allow you to visualize your devices or how they are connected.
How does a Data Center CMDB integrate with a traditional IT CMDB?
A modern Data Center CMDB will work with what you have and come out of the box with open APIs and user-configurable CMDB connectors that simplify integration. Through one seamless portal, you can integrate CMDBs to enable the creation, reading, updating, and deleting of assets through other systems to enable flow-through operations.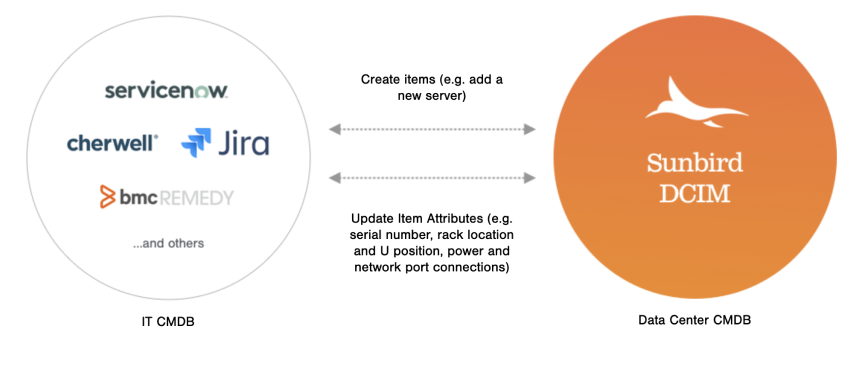 What are the benefits of integrating CMDBs and sharing data?

Enabling a single source of truth.
Integrating CMDBs breaks down information silos and increases the accuracy of all Configuration Item data so users of either system can trust that the additional CI data they have access to is accurate and up to date.

Improved workflow and productivity.
CMDB integration allows information entered in one system to be automatically pushed to the other. Data center teams save time by not having to update multiple systems or cross-checking data against other sources.

Improved collaboration across functional teams.
Integration creates one holistic picture of all available data, enabling data-driven collaboration and decision-making across all data center, facilities, and IT teams.

Simplified data center security management.
Having integrated systems simplifies the maintenance of user permissions and ensures that security policies are adhered to. As some users may only need to access one CMDB, they can still see the relevant data they need.
What popular CMDB vendors does Sunbird's Data Center CMDB typically integrate with?
Sunbird's Data Center CMDB works with what you have. CMDB vendors that Sunbird is most commonly integrated with are:




Take the Next Step with Sunbird. Try It Free.
Test Drive a Data Center CMDB
Remote 3D visualization of all your racks, assets, power, and network connections. View 100+ dashboard charts and reports. Know the capacity of all infrastructure items.
See Sunbird's ServiceNow App
Watch the 2 minute video on Sunbird's ServiceNow certified connector app
See Yourself With Screenshots
Explore our screenshots to see our second-generation DCIM features for yourself.