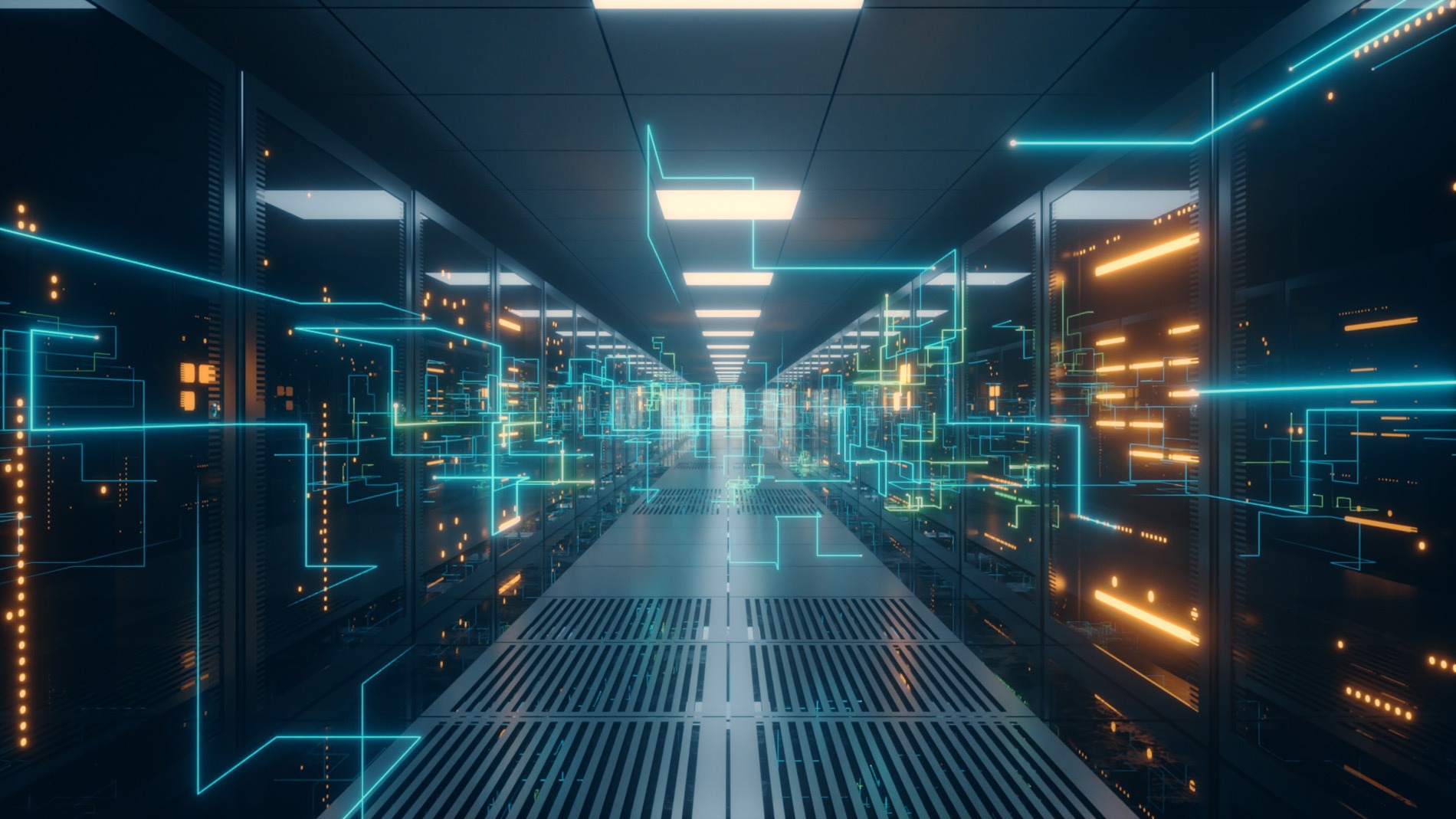 What is Data Center Automation?
Data center automation is the process in which routine tasks of data center operations such as new equipment provisioning, auditing, monitoring, and reporting are completed with little to no manual effort.
Today's data centers are incredibly complex, distributed, and difficult to manage. Managing them traditionally requires many tools and manual effort which is time-consuming and error-prone. This can result in delays in getting services online, inefficient use of resources, and even costly downtime. To solve this, leading data center professionals enable "automation via integration."
Automation via integration is achieved by deploying and integrating modern DCIM software solutions with out-of-the-box connectors that automatically populate data in the appropriate systems, thereby reducing manual data entry, eliminating swivel chair management, and streamlining workflow between Facilities, Data Center Ops, and IT Teams.
What Are the Benefits of Data Center Automation?
A single source of truth.
"Automation via integration" breaks down information siloes and increases data accuracy.

Improved workflow and productivity.
Swivel chair management and manual effort are reduced or eliminated.

Improved collaboration across functional teams.
Accurate data in a single pane of glass enables data-driven collaboration and decision-making.

Increased utilization of existing resources.
Resources can be automatically provisioned in the most efficient manner possible to defer capital expenses.

Maintaining uptime and meeting SLAs.
Automatic notifications of potential issues allow you to resolve them before services are impacted.

Reduced human error.
Eliminating dual data entry reduces the chance of human error which is a leading cause of downtime.

More time for strategic projects.
Staff can spend less time on routine, time-consuming tasks, and more time innovating.

Simplified security management.
User permissions can be easily maintained across systems and users can only see what they have access to.
Who Benefits from Data Center Automation?
Data Center Managers, Engineers, and Operators
DCIM/Tools Managers
Dev Ops Engineers
Facilities Team
Network Engineers
Infrastructure Architects
Infrastructure Engineers
Software Engineers
What Are the Top Tools That Data Center Managers Are Integrating?
DCIM software.
Data Center Infrastructure Management (DCIM) has been described as "the center of the universe" for the data center by customers automating their operations. DCIM software provides the ability to run efficient data center operations and improve data center infrastructure planning and design by bridging information across organizational domains such as operations, facilities, and IT. Second-generation DCIM comes out of the box with bidirectional APIs and connectors that simplify integration.
CMDBs.
Configuration Management Database (CMDB) tools such as ServiceNow, Jira, BMC, and Ivanti/Cherwell store information on IT assets such as hardware and software and their relationships to enable efficient IT service delivery.

Ticketing systems.
Ticketing systems such as ServiceNow and Jira are used to create, process, and document data center change requests and incidents.

Dev Ops tools.
Dev Ops tools such as VMware, Ansible, Chef, Jenkins, and Puppet allow for more control of IT processes and systems. IT infrastructure can be managed faster and used more efficiently to allow for quick development, testing, and deployment of applications and workloads.

BMS systems.
Building Management Systems (BMS) such as those from Siemens, Johnson Controls, and Honeywell control and monitor the building's mechanical and electrical equipment such as ventilation, lighting, power systems, fire systems, and security systems.
What Are the Top Use Cases of Data Center Automation?
Enabling a single source truth. Integrating CMDB tools, ticketing systems, and DCIM software reduces swivel chair management and manual effort while enhancing data and increasing its accuracy. This allows for better management of data center resources, more informed decisions, elimination of information siloes, and facilitation of data-driven collaboration across functional teams.
Virtual machine management. Integrating VMware with DCIM software allows you to track which physical devices a VM is running on. With this information, you can know useful things like exactly which VMs are on a host when you take a system down for maintenance.
Provisioning and orchestration. Devices can be provisioned using automated processes and real-time updates between tools to share the state of your assets, where they've been, where they're going, and where you have the available capacity.
Parts management. Tracking hard drives, cards, memory modules, cables, and other components can be automated with DCIM software. You can get daily reports of parts consumed, alerts if consumed parts exceed thresholds, and deprecation reports for obsolete parts.
Business rules engine. A business rules engine creates automation rules based on user-configurable conditions. For example, if a field is updated, another field is automatically updated with specific values based on the rule.
Server power budgeting. Instead of relying on a percent of nameplate, DCIM software with an Auto Power Budget feature automatically calculates an accurate power budget number for each make and model instance of a device based upon the actual measured load of that device in your environment running your applications.
Scheduled charts and reports. Modern data center management tools automatically collect, store, and trend data from your power meters and environmental sensors—plus other data about your resources and capacity—in the form of zero-configuration charts and reports. Recurring management reports can be automatically generated and emailed to enable data-driven collaboration.
Thresholds and alerts. Warning and critical thresholds can be set on the live measured readings from your power meters and environmental sensors. Then, when a threshold is violated, automatic email alerts make you the first to know of potential issues so you can remediate them before there is a serious problem.
Webhooks. Information about moves, adds, and changes or alarms triggered by power and environmental threshold violations can be automatically pushed from one application to another so all stakeholders are aware of the current conditions in the data center and can proactively investigate and resolve issues.
Automating anything with APIs. Fully documented bidirectional RESTful web service APIs allow you to virtually integrate with any system, share data, and automate anything that can be done via your tool's interfaces. With DCIM, you can create, read, update, and delete items, ports, locations, lookup lists, requests and work orders, power and data connections, custom fields, and model library items to create your own automatic routines.
How Are Leading Data Center Professionals Driving Automation?
Watch the experts from Workday explain how they leverage DCIM software and Dev Ops tools to automate provisioning and orchestration, VM data management, device state tracking, parts management, and external integrations.
For more real-world examples of data center automation, watch eBay, MacStadium, and The University of Chicago discuss how they are automating device power budgeting and back-office processing and integrating DCIM software with everything from ServiceNow to Slack.
Take the Next Step with Sunbird. Try It Free.
DCIM Operations
Demo
Test drive the full-featured solution that leading data center managers use to drive automation, remotely visualize their sites in 3D, view 100+ charts and reports, and know the capacity of all infrastructure items.
Data Center Automation eBook
Read the "Top 10 Ways to Drive Data Center Automation" eBook for more real-world use cases from leading customers on how they are saving time and improving data accuracy with automation.
Automation Application Note
Read the "Integrate and Automation" application note to learn more about the multitude of ways that second-generation DCIM software can automate your data center operations.