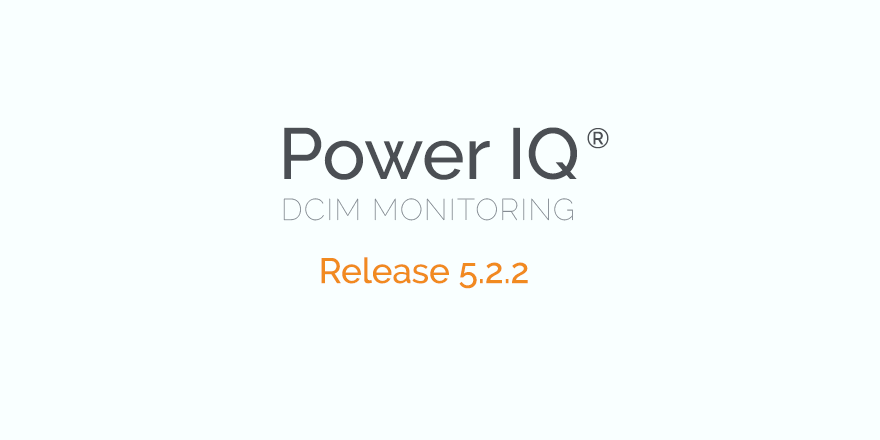 Just Released: Power IQ DCIM Monitoring Version 5.2.2
We're thrilled to announce that the newest version of Sunbird's DCIM Monitoring software has just been released. If you're ready to upgrade to Power IQ® 5.2.2, simply download the update files from Sunbird's support portal. This release follows our recent update to dcTrack®, our DCIM Operations software.
What's New in Power IQ 5.2.2
Power IQ 5.2.2 provides the most user-friendly, secure experience to date with an updated, more modern look and feel.
This version features multi-vendor support enhancements, Electronic Access Control for supported CPI doors and locks, GUI usability improvements, fixes for bugs and customer-reported issues, and security updates.
Multi-Vendor Support
Release 5.2.2 provides enhanced trap support for the following vendors:
·         Avocent
·         Liebert
·         Unite Technologies
Electronic Access Control for CPI Doors and Locks
Power IQ 5.2.2 provides centralized cabinet-level Electronic Access Control (EAC) for doors and electronic locks connected to supported Chatsworth Products, Inc. (CPI) PDUs.
When you associate a supported CPI PDU that has door sensors in Power IQ, doors and door sensor mappings are automatically created without manual configuration required. Doors are created as siblings to the PDU in the EDM.
GUI Usability Enhancements
To reflect the wide range of data center items that can be managed through Power IQ, Release 5.2.2 introduces nomenclature updates to the GUI in cleaner, flattened tabs for a more modern look and feel. Power IQ can be used to monitor and manage a variety of items, including rack PDUs, CRACs, floor PDUs, floor UPSs, power panels, standalone meters, and environmental sensor aggregators.
TLS 1.0 Disabled; Internet Explorer 10 and Below No Longer Supported in Power IQ 5.2.2
To provide a more secure web experience, TLS 1.0 is disabled in Power IQ 5.2.2.
Transport Layer Security (TLS) is an encryption protocol that provides secure communications over a computer network. TLS 1.0, 1.1 and 1.2 comprise the versions of TLS to date.
Due to this change, Microsoft Internet Explorer Versions 10 and below are no longer supported.
For more information on these enhancements and improvements, see the release notes.
How to Upgrade
To download the Power IQ 5.2.2 upgrade, you will need to have a valid maintenance contract and user login. To create an account, visit the support portal. Your email address and associated company information will be validated.
Once you sign up, you will have complete access to our self-service portal, where you can gain access to expert tips and tricks and track the status of your support issues.
Ready to upgrade? Download the update files on the Sunbird support portal.
Want to see for yourself what's new? Schedule a demo with one of our DCIM experts.