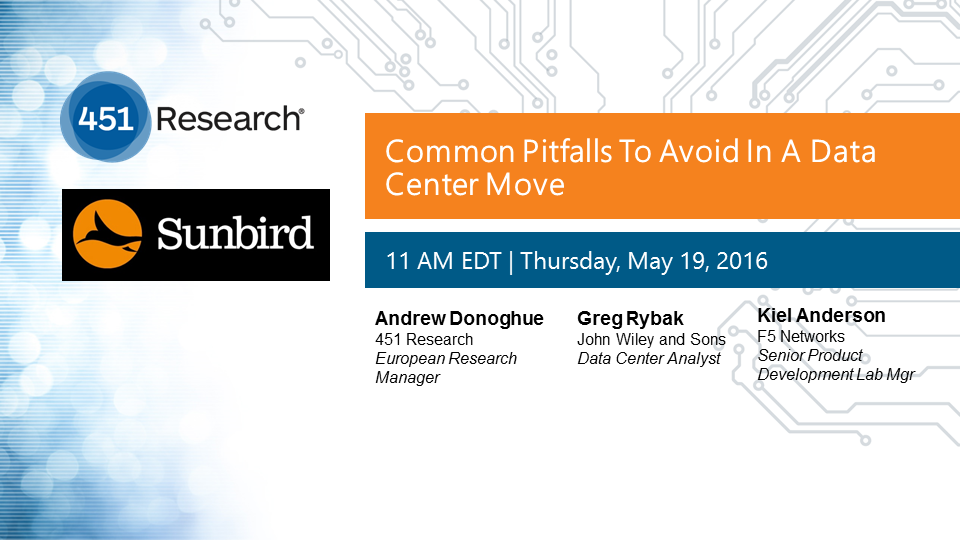 Live DCIM Webinar: Common Pitfalls to Avoid in a Data Center Move
Note, this webinar has ended. Watch the recording here.
 
Whether you're building a new data center or migrating to a colocation facility, a data center move can be fraught with challenges. What do you need in terms of power and space? How do you allocate resources and forecast growth accurately? And how can Data Center Infrastructure Management (DCIM) help?
 
Join us for our next live DCIM webinar, Common Pitfalls to Avoid in a Data Center Move, on Thursday, May 19 at 11AM to explore how to overcome the challenges that can derail your data center move. In this webinar, you'll learn:
Best practices for efficient capacity utilization.
Tips to avoid downtime during the move.
Benefits of using DCIM for remote 
If you're just starting to design your data center move, already transitioning to your next data center, or planning the next steps for remotely monitoring your new facility, you won't want to miss this DCIM webinar. You'll gain the real-world, practical advice you need to avoid common pitfalls and ensure success on moving day and beyond. Register now to reserve your spot.
 
This DCIM webinar will featured relevant DCIM research followed by a live Q&A session (including questions from the audience) with the following data center experts:
Andrew Donoghue, Research Manager, 451 Research. Andrew will lead this interactive, hour-long DCIM webinar that will uncover the most important lessons learned and pitfalls to avoid—information useful to data centers of all sizes.
Greg Rybak, Data Center Analyst, John Wiley and Sons. Greg will share lessons learned from his recent data center migration project where he designed, planned, and executed a move to two colocation facilities to reduce energy costs and improve redundancy. 
Kiel Anderson, Senior Product Development Lab Manager, F5. Kiel will discuss his experience in moving labs to a colocation facility, including the implementation of remote monitoring.
This webinar has ended. Watch the recording here.