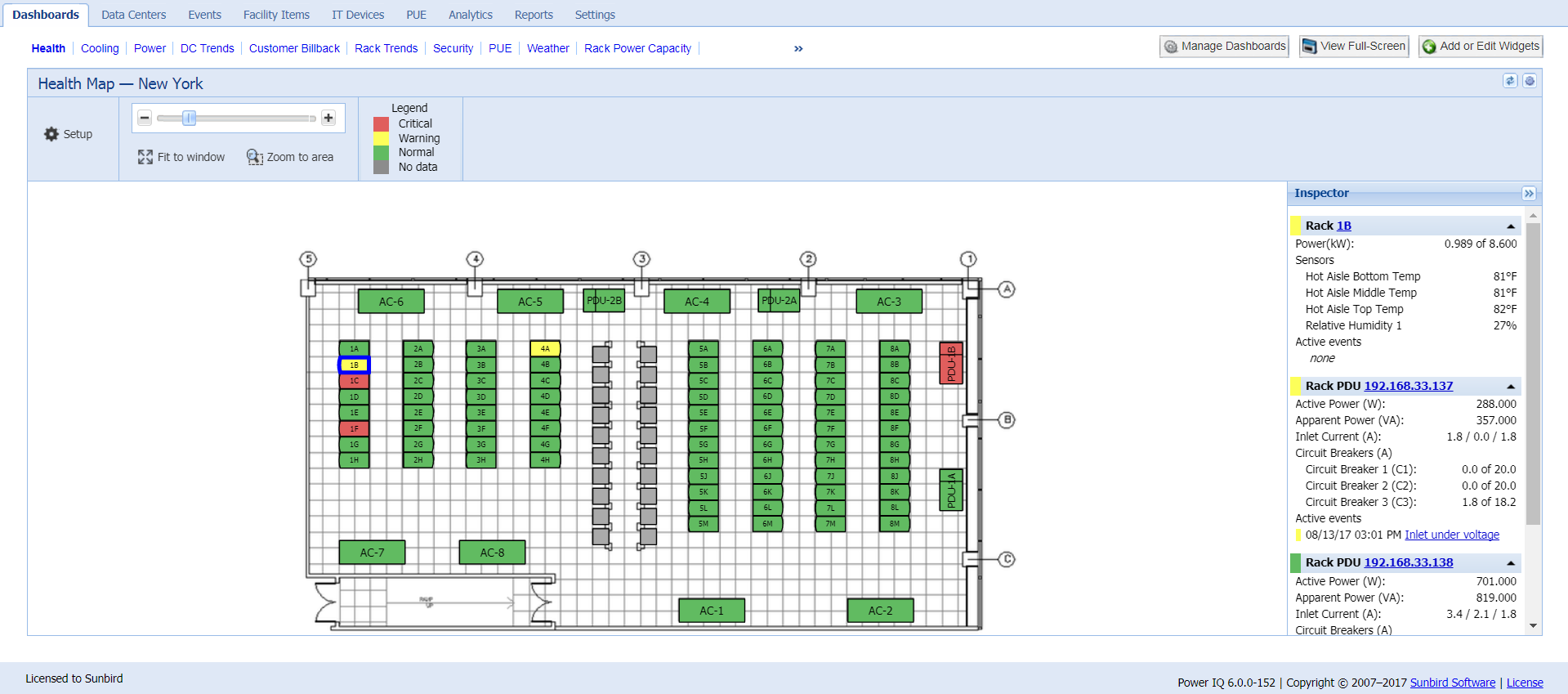 Sunbird DCIM Monitoring and Raritan Intelligent Rack PDUs: Designed to Work Perfectly Together
Following our recent blog post "5 Ways DCIM Software Can Help You Get More Out of Your Intelligent Rack PDUs," we're spotlighting six ways in which Sunbird's DCIM software enhances the functionality of Raritan's intelligent rack PDUs (iPDUS).
 
1.  Data Sampling Accuracy
To ensure the most accurate readings over a period of time, when configured with Raritan iPDUs, Sunbird's DCIM software can collect one-minute meter readings time-synced across all rack PDUs, down to the second. This level of polling configuration and billing-grade accuracy ensures that data is never lost, provides an extensive repository of information for future analysis, and enables energy conservation behavior through customer energy billback and PUE monitoring.
 
2.  Data Buffer Retrieval and Polling Intervals
When implemented along with Sunbird's DCIM software, specialized polling configurations leverage the memory in the Raritan iPDU to buffer or store data samples. In the event of network downtime, the coordinated effort and time-stamping checks and balances between the Sunbird DCIM software and the Raritan iPDU ensure that any missed data samples can be retrieved once the network is restored. In other words, the data buffer capability and associated polling setting ensure that data is never lost.  In addition, more granular data polling can be set locally with less overhead and network congestion.
 
3.  Event Management
Sunbird's DCIM software adds visualization to real-time data reported from iPDUs.  The data center floor health map provides an easy-to-recognize color guide for the power utilization and environmental conditions of each rack. When conditions are outside normal operating parameters or surpass preset thresholds, Sunbird's DCIM software changes the coloring of the associated cabinet displayed on the health map from green to yellow or red, depending on the violation.
 
What provides a unique advantage to deploying Raritan iPDUs along with Sunbird's DCIM software is the ability to display events, such as unbalanced current and server availability, on the health map. For instance, if at any time a server or device within a cabinet is unresponsive to a ping from a Raritan iPDU, an event will be passed along to the Sunbird DCIM software, and the appropriate warning or critical condition will be highlighted in the health map.
 
4.  SNMP Informs
When Raritan's intelligent rack PDUs are deployed with Sunbird's DCIM software, an enhanced SNMP protocol is used to provide a return receipt, ensuring that all alerts are received, even if the network is down temporarily.
 
5.  Firmware Updates
When Raritan PX iPDUs are integrated with Sunbird's DCIM, bulk configuration and firmware distribution are dramatically simplified, reducing the time to deploy Raritan PX firmware updates.
 
6.  Remote Power Control
Sunbird's DCIM maps a server's individual power supplies to outlets in Raritan iPDUs and groups them for metering and simplified remote power control for improved uptime and operational efficiency.
 
Sunbird's DCIM software provides a number of benefits to any data center, but when coupled with Raritan's Intelligent Rack PDUs, exceptional reliability, accuracy, and metering capabilities are surely enhanced.
 
Want to explore the advantages of using DCIM software with Raritan Intelligent rack PDUs for yourself? Take a look at Raritan's PDUs with DCIM Monitoring Software, the Unique Advantages of Intelligent Power video series.