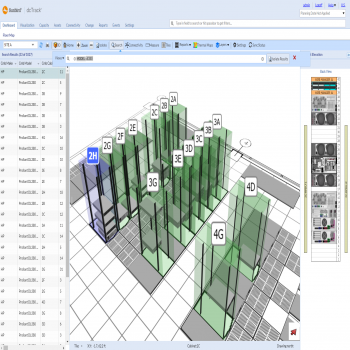 Sunbird® dcTrack® 6.1 Delivers DCIM Software Enhancements for Hybrid Data Center Environments
New Cloud Integration, Enhanced 3D Views, and Collaboration Features Enable Hybrid IT and Data Center Management
SOMERSET, N.J., July 3, 2018 — Sunbird Software, the global innovator in data center management software solutions, today announced the general availability of dcTrack® Data Center Infrastructure Management (DCIM) Operations Release 6.1. This new release provides data center cloud integration and visualization enhancements that enable easier, more efficient hybrid data center management.
"Data center managers need to be able to quickly and accurately manage their data center assets, regardless of where they are located," said Herman Chan, President of Sunbird Software. "The comprehensive floor map search and visibility of port connectivity in 3D in this release make it simple for users to not only find their assets but also visualize where and how each device is connected. Combined with the new cloud connector that enables supported clusters, hosts, and VMs to be managed in dcTrack, these features give our customers the complete tools they need to effectively manage their physical and virtual capacity and ultimately optimize their data center environments as well."
Streamlined Asset Management with Cloud Integration and Data Center Visualization
The cloud connector in dcTrack 6.1 helps users identify and track server resources supporting virtual machines. dcTrack now can discover supported assets in the virtualized environment and manage them alongside physical assets in a single system. Users can leverage the visualization search to visually locate assets on the floor map based on criteria such as name, make, model, VM cluster, and VM host.
Users can also see power and data port connections for structured and distribution cabling on the floor map to determine at a glance which applications and VMs are supported by specific assets. When deploying new assets, users can identify the optimal locations by correlating data across multiple floor map reports based on common capacity constraints, such as space, power, and cooling. A user could leverage these features in Sunbird's second-generation DCIM software to accurately plan capacity for an upcoming project, whether the assets that will be utilized are on-premises or in the cloud.
"Modern datacenter environments are becoming increasingly distributed and complex, comprising a mix of traditional on-premises infrastructure, off-premises colocation and private or public cloud capacities, and managed services," said Jeffrey Fidacaro, Senior Analyst, Datacenters & Critical Infrastructure, 451 Research. "DCIM software is an integral tool in helping mitigate the management complexities introduced by the move to hybrid datacenter environments. Systems that provide efficient asset management and capacity planning, including granular IT and infrastructure visualizations, enable managers to make more informed, data-driven decisions regarding their datacenter capacity choices. Integrating software tools that connect into cloud capacity can also greatly enhance visibility in hybrid environments."
A 451 Research report on Sunbird's new release and cloud integration is available for download here.
Faster, More Efficient Asset Search and Collaboration
In addition to the enhanced floor map search, items can be found via dcTrack's asset views, which have been redesigned in HTML5 to help users more easily locate asset data and share it with their data center and management teams. Assets can be searched, sorted, and filtered based on criteria such as location, class, and name. Links to the resulting views, specific items, and search results can be shared with other dcTrack users without having to explain how to navigate to the specific page or define the exact search parameters.
"The HTML5 GUI and floor map enhancements in dcTrack are extremely intuitive, especially for novice users," said Steve Lancaster, DCA Facilities Lead at Chevron. "Additionally, the new search capabilities and asset list views make it easy to share the right information with management. These user-friendly improvements will be beneficial for us, and I'm excited to implement them in our data center environment."
For more information on these and other features in dcTrack 6.1, see the official announcement.
About Sunbird Software
Sunbird is a leading global provider of DCIM software. Learn more at https://www.sunbirddcim.com/.