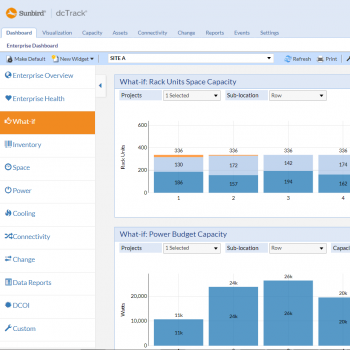 Sunbird® dcTrack® DCIM Operations 6.0 Provides Data Center Business Intelligence and Change Management Enhancements
New What-If and DCOI Dashboards, Stranded Power Charts, and Request and Work Order Improvements Enable Data Center Managers to Optimize Capacity Management and Day-to-Day Operations
SOMERSET, N.J., August 29, 2017 — Sunbird Software, a global innovator in software solutions that simplify how data centers are managed, today announced the general availability of dcTrack® Data Center Infrastructure Management (DCIM) Operations Release 6.0. This newest release delivers data center business intelligence and visual analytics to facilitate data center optimization. Additionally, change management improvements help data center managers ensure that requests and work orders are completed accurately, on time, and in compliance with organizational or SLA requirements.  
"Technology trends like big data, Internet of Things (IoT), and artificial intelligence (AI) create opportunity for business innovation but place a significant resource burden on modern data centers," said Herman Chan, President of Sunbird Software. "Today's data center managers need a fast, accurate, and easy way to predict and analyze power and space capacity for on-demand deployment of IT resources. The new dashboards and chart widgets in Release 6.0 provide this information at a glance with the ability to drill down to the raw data for more granular analysis. The request and work order improvements complement this data-driven approach by ensuring that the changes required to support customer demand are made in a timely manner and as specified."
Dashboard Enhancements Drive Capacity and Energy Efficiency
Release 6.0 enhances dcTrack's data center business intelligence dashboards with more advanced visual analysis so users can better manage capacity. The new what-if dashboard and charts display power and space utilization on a per-project basis to help data center managers accurately estimate the net impact of future projects on capacity. Armed with this data, data center managers can determine if they can better utilize capacity to delay costly capital expenditures or if the projects will create a shortfall of resources. Having this information before the projects kick off better positions data center managers to meet customer demand without interruptions to service.
dcTrack 6.0 also introduces stranded power charts that further enable data center managers to maximize capacity utilization. Users can analyze actual, budgeted, and stranded power capacity by make, model, and other asset parameters so they can pinpoint where they have overprovisioned. These charts leverage specifications from Sunbird's Models Library of over 30,000 models across 450 vendors to ensure data integrity and accuracy.
The new Data Center Optimization Initiative (DCOI) executive dashboard has been developed to provide federal data center teams with one-click access to a single view of the key metrics used to measure compliance with this government mandate. However, any data center manager interested in boosting energy efficiency can benefit from tracking the metrics captured on the DCOI dashboard: energy metering, facility utilization, power usage effectiveness (PUE), server utilization and automated monitoring, and virtualization.
For any chart in dcTrack 6.0, users can drilldown to the raw data that drives the chart and can view, search, or export the data in tabular format for external use or analysis. Users can export the chart data to CSV or PDF formats, save the charts as image files to embed in presentations, or create a slideshow to easily share this information with their management teams. 
"Today's data center managers are looking for DCIM tools that can tangibly improve data center efficiency and continuity," said Andrew Donoghue, European Research Manager, 451 Research. "Sunbird's newest release has a number of features designed to meet these requirements. The system's intuitive dashboard should aid effective decision-making through improved analytics. There are also other practical features such as workflow management enhancements that can help streamline operational processes and reduce the risk of human error."
Request and Work Order Improvements Enable More Effective Change Management
Release 6.0 enhances dcTrack's existing request and work order capabilities to accelerate data center changes. Request submissions and approvals are subject to role-based granular permissions to limit who can affect the request process and to ensure compliance with organizational requirements. Users can specify at the task template or individual task level how they want tasks to be performed and whom they want notified as each task is completed.
The history of each request is tracked within the software so users can measure workflow effectiveness, determine if target intervals are being achieved, and maintain a record of the work completed for future reference. Multiple requests can be aggregated in a single work order to decrease the number of physical trips to the data center required to complete the work.
Requests and work orders in dcTrack are subject to validations to ensure consistency in the database. When integrated with an external ticketing system or CMDB, these validations ensure that dcTrack can provide accurate, updated information to the external system.
 "Sunbird DCIM 6.0 offers a variety of features that make it faster and easier than ever to complete my most common daily tasks," said Joseph Keena, Data Center Manager and six-year dcTrack user. "The new interactive dashboards provide data center business intelligence that drives deeper insights, more 'what-if scenarios' and more informed decision making to better manage our facilities. The ability to have custom field pick lists mean a higher accuracy of information in these fields, yielding more accurate reporting and metrics. Additionally, the improvements to workflow in the web browser simplify and streamline request and work order approval processes." 
Floor Map Visualizations Increase Visibility into Environmental Factors
In Release 6.0, the 3D thermal floor map visualization and time-lapse video have been enhanced to support vertical as well as horizontal sensors. Users can quickly visualize the thermal gradient in the vertical plane and view additional information with respect to temperature.
A new 3D air pressure floor map overlay with time-lapse video enables users to view visualizations over specific periods so they can quickly spot trends related to airflow uniformity and efficiency. To accurately depict airflow design, perforated tiles can be placed on 3D data center floor maps, with the percentage open configured for each individual tile. Tiles can be tracked as assets, so users can export the data and use it in computational fluid dynamics (CFD) applications and other systems.
Patent-Pending Quick Connect Helps Users Create Connections Faster  
Sunbird's patent-pending Quick Connect feature allows users to manage connectivity faster and with fewer clicks by making data and power port connections for them. Once a user identifies the start and end points, dcTrack will display the best available connections and, based on the user's selected option, create the circuits automatically.
The connections are weighted and validated based on criteria specific to the ports, such as connector and media type for data port connections and electrical compatibility and current load for power port connections. With Quick Connect, users can create connections without needing to understand the intricate details of the cabling and infrastructure between the connection points.
For more information on dcTrack 6.0, including additional features and enhancements, see the official announcement and release notes.
Availability
dcTrack 6.0 is generally available worldwide on a cabinet/month subscription or on perpetual license basis. Customers with valid maintenance contracts can download the update from the Sunbird Support Portal: https://support.sunbirddcim.com/. For a test drive, visit http://info.sunbirddcim.com/dctrack-test-drive.
About Sunbird Software
Sunbird Software is changing the way data centers are being managed. Since 2008, Sunbird has been a leading global provider of DCIM software. With a focus on real user scenarios for real customer problems, we help data center operators manage tasks and processes faster and more efficiently than ever before, while saving costs and improving availability. We strive to eliminate the complexity they have been forced to accept from point tools and homegrown applications, removing the dependency on emails and spreadsheets to transform the delivery of data center services. Sunbird delivers on this commitment with unexpected simplicity through products that are easy to find, buy, deploy, use, and maintain. Our solutions are rooted in our deep connections with our customers who share best practices and participate in our user groups and product development process. Learn more today at https://www.sunbirddcim.com/.