No More Hunt and Peck.
With an overwhelming number of IT assets to monitor, asset tracking in data centers has become a difficult process. Multiple excel files and visio diagrams, and home grown systems can be hard to use, hard to maintain, and error prone. As a result, your current solution might not be able to deliver the information you need, when you need it.
Accurate and Reliable
How do you know how much space, power, cooling, and network capacity is available in your data center? Where is the best place to reserve space and deploy new IT equipment for optimal utilization? How do you get the data you need to convince your management that you need more capacity? With data centers becoming increasingly dense and complex, capacity is at a premium. Modern data center managers are under pressure to make the most of the capacity, or risk failing to meet IT resource demand.
See Your Entire Power and Network Chain
Sunbird's DCIM software provides the data and capabilities you need for a complete, accurate view of capacity. Simplify how you find and reserve capacity, including physical space, power, and network connections, to optimize utilization. Leverage capacity report to clearly demonstrate to your management teams your need to purchase more capacity. Intelligently manage your data center resources to make more informed capacity planning decisions, use power resources more efficiently, and save on operating expenses.
Capacity Management Simplified
Sunbird's second-generation DCIM solution centralizes all your data and their associated connections to greatly simplify how you find, place and reserve resources.
Take a test drive today and see for yourself how easy data center capacity planning and utilization can be.
Provisioning is now 1000x Easier
Find the Optimal Cabinet to Deploy IT Equipment in Seconds
With Sunbird's Intelligent Capacity Search, easily find capacity for new equipment. Simply select your location and criteria, and Sunbird's DCIM solution finds available capacity for you.
Search by make and model or RU height, cabinet grouping, type, or function, and data and power connectivity.
Specify the quantity to add to each cabinet so you can reserve capacity for multiple items at a time.
Validate results for data and power port compatibility, including quantity of ports, connector, media type, nameplate and budgeted watts, phase, and volts.
Sort and filter results based on any of the available criteria.
View cabinet elevations with available and contiguous RUs and RU position so you can see exactly where your devices will be placed.
See the latest live power readings for each cabinet to help identify stranded capacity.
Assign project numbers to each item with a single click to quickly organize your devices.
Instantly reserve cabinet space or place items once you've identified the location.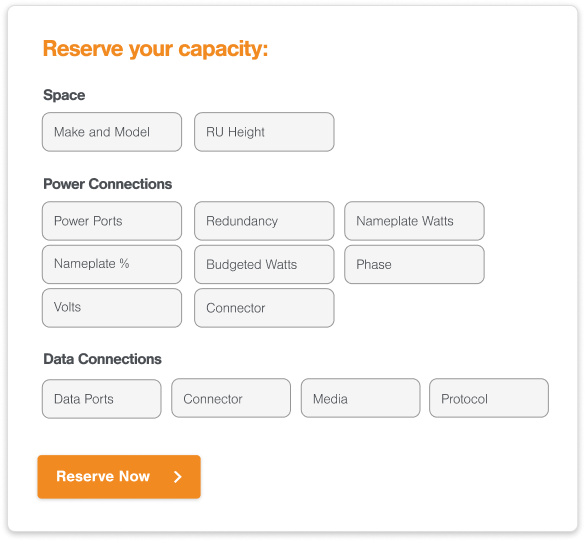 Reserving Capacity is as Easy as Booking a Hotel Room
Reserve space, power, and connectivity all at once.
Sunbird's DCIM solution leverages real-time data for seamless, just-in-time reservations across multiple users on multiple projects. Simply provide the item make and model, and all the details you need are populated automatically. Once an item is planned for installation, the required space, data connections, and power connections are automatically reserved and blocked from being used for other projects.
Not sure which assets you want to install? To reserve just space capacity, simply provide the RU height, cabinet, and U-position. Add an expiration date to return the reservation to the available pool of resources in case your plans change.

Built-In Intelligence to Help You Easily Understand Power Capacity at Every Hop in the Power Chain
Sunbird's second-generation DCIM software budgets data center power capacity just like an electrical engineer reserves power—but with automatic, instantaneous calculations that eliminate manual effort and human error.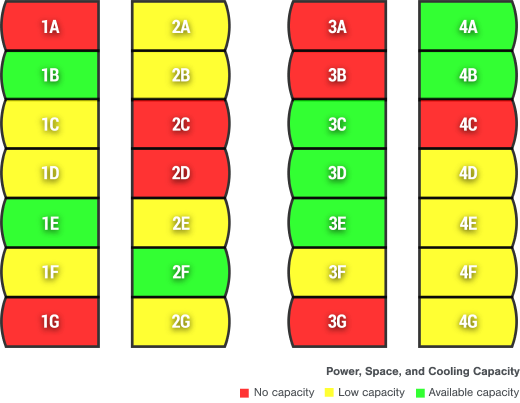 Correlated Capacity Reporting So Easy, Even Your Management Can Understand It
Tired of explaining to management that you have space but no power or cooling? Show your management team exactly why you need more data center capacity with Sunbird's 3D visualization reports.
Easy-to-understand floor map visualizations correlate real-time data across the most common capacity constraints to clearly illustrate capacity shortages so you can purchase more as needed.
Select multiple capacity parameters at the same time, including space, weight, temperature, humidity, power load, budgeted power, and measured amps.
Set and update thresholds for individual reports to gain a more accurate view of capacity.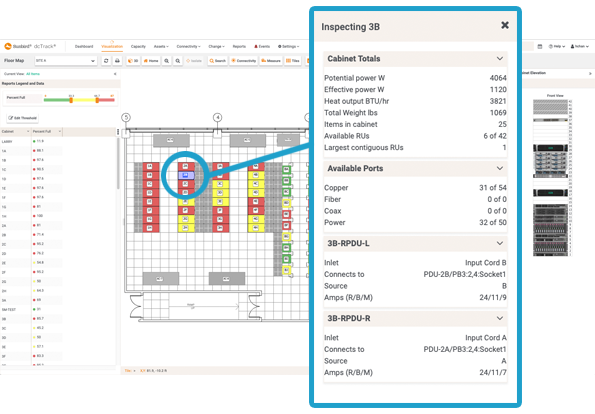 View Port-Level Capacity at Every Rack
Drill down from the data center health floor map and instantly get a real-time view of granular rack capacity, down to the port level.
Available space
Potential power
Budgeted power
Copper, fiber and power ports
Weight
Number of items in cabinet
Available RUs
Largest number of contiguous RUs

Correlate Data Across Multiple Systems
Sunbird's completely open data framework makes it easy to extract and link data for use with third-party tools via ODBC and APIs out of the box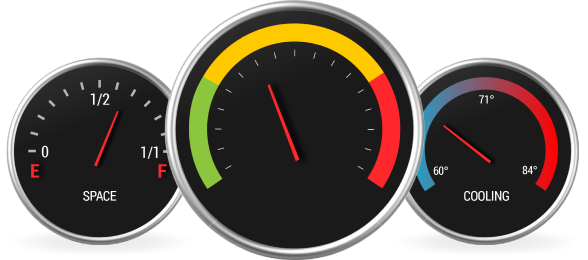 Forecast Capacity with Real-Time Resource Management
Look into the future to plan adds, decommissions, and other changes that impact your data center capacity:
View available and in-use resources based on a date for just-in-time capacity management, including assets that are planned to be decommissioned
Plan and reserve capacity that will become available later, even if that capacity is currently used for other projects
Use what-if analyses to determine the impact of changes to your data center before they happen and without impacting your current equipment
Leverage real-time data to forecast remaining "days of capacity" left so you'll know when you need to purchase more—before you run out of capacity
Easily Visualize Space Capacity Across All Cabinet Elevations
Say goodbye to Visio diagram management with automatically created cabinet elevations. Now you don't have to visit the data center floor to see what space you have in any cabinet. Identify available space capacity for multiple racks across any sites at a glance.