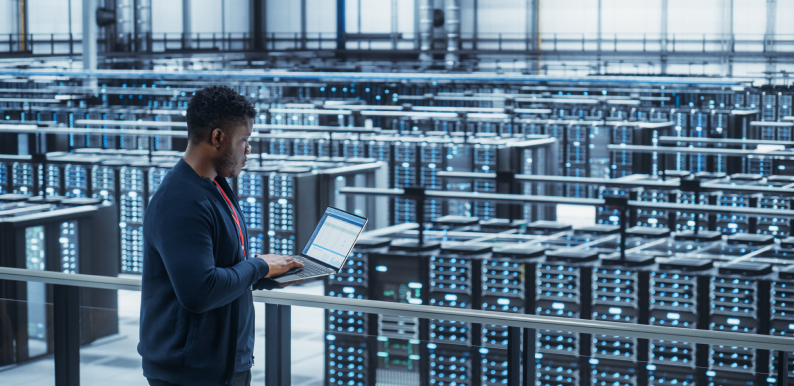 What are the Benefits of DCIM?
Software for Data Center Infrastructure Management
The benefits of a DCIM solution can be found in time savings, people productivity, and cost savings. Employees no longer need to be on-site to identify what assets are in the data center and what space, power and cooling is available. Data Center Managers can have access to accurate data in real time at a click of a button. Understanding asset details and their physical power and network connections enables highly accurate capacity planning, down to the single port or 1 rack U level. Critical path capacity points are automatically and easily identified, reducing risks of failures. Reservations, moves, adds, and changes are accomplished with ease. Employee productivity and morale dramatically increases as processes and workflows are implemented to ensure high quality changes in the data center.
In his report, "Datacenter Infrastructure Management Software: Monitoring, Managing and Optimizing the Datacenter," Andy Lawrence summed up the impact of DCIM by saying "We believe it is difficult to achieve the more advanced levels of datacenter maturity, or of datacenter effectiveness generally, without extensive use of DCIM software."
Here are some specific examples of before and after DCIM software.
Issue

Before DCIM

With DCIM

What do I have in my data center?
How is it connected?
Who owns what?

Spreadsheets or Homegrown tools
Need to physically go on site to determine space availability and position
Inaccurate and incomplete records

Instantaneous visual and textual information on the equipment in the data center reduces troubleshooting time
No need to send someone physically on site.
Centralized database enables accurate record keeping and processes

How much space, power, cooling, and connectivity do I have?
Where is the best place to deploy new equipment?
How do I manage my power chain?

Information contained within multiple systems with no way to integrate the data

Quickly model and allocate space for new servers, manage power and network connectivity in a single view or a few clicks

How do I manage the work? Are there approval processes?
Who does the work?
How do I know the work is done correctly?

Delays in processing work orders
Inability to ensure processes are followed

Fully integrated workflow management including automation of work orders and workflow activities for process assurance, tracking and auditing trails.

How much is being consumed?
How much is available?
How do I ensure uptime and availability?

Proprietary monitoring systems or sneakernet to the data center to manually take readings

Constant monitoring with alerts before circuits fail
Locate stranded capacity to avoid costly build outs

How can I better manage hot spots?
Am I over-cooling my data center?
How do I maintain a safe environment for IT equipment?

Wasted capacity due to inability to understand cooling requirements
Overcooling
Unknown hot spots

Identification of Hot Spots with thresholds and alerts
Know whether you are overcooling and wasting energy

How can I save energy?
What is the cost of it?
Who's using it and who is meeting their saving goals?

Information contained within multiple systems with no way to integrate the data

Intelligent PUE analytics and reporting tools provide the capability for bill-backs and management decision making