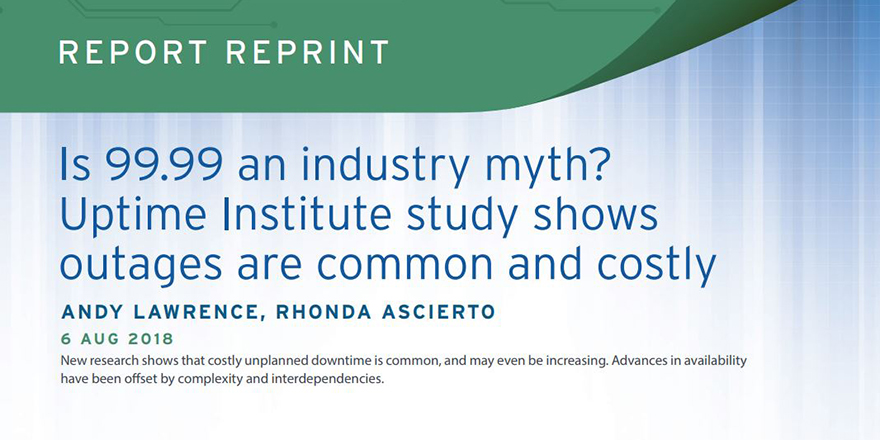 [451 Report] Is 99.99 an Industry Myth? Uptime Institute Study Shows Outages are Common and Costly
In July, TSB, the UK bank owned by Sabadell of Spain, announced its half-year results. The bank swung from a profit of £108.3m ($142.17m) in the first half of 2017 to a loss of £107m in the same period for 2018. The main cause: a £176m hit caused by a botched IT system upgrade, which from April to June resulted in data corruption, security flaws, cascading failures and tens of thousands of customers experiencing problems with their accounts.
TSB's problems meant it joined a growing list of big companies that have suffered big, costly public outages or serious IT service problems in the past two years. The causes range from issues with IT systems, network equipment or connections, data power or infrastructure, and (increasingly) problems beyond their control at colocation, hosting or cloud partners. United Airlines, Delta Airlines, British Airways, OVH, AWS and Nasdaq Europe are some of the others.
These big cases make headlines, but they are far from rare, according to research published by the Uptime Institute (an independent division of The 451 Group). The research paper 'Uptime data shows outages common, costly and preventable,' which draws on a two-year study of publicly reported outages and a global survey of IT and datacenter operators, finds that failures and downtime are not only common, but possibly even increasing. When problems do occur, recovery times can be lengthy, fault diagnosis can be complicated by interlocking or interdependent systems, and costs can be significant because of the evergreater reliance on IT in every area of society and business. Distributed cloud architectures solve many problems, but can lead to software issues that may be difficult to resolve.
Uptime also found that many organizations had not properly analyzed risks and consequences of failure in their organizations, and that most failures could have been preventable (four-fifths of survey respondents said their biggest/most recent outage was 'preventable'). Often, significant investment in risk-reduction technologies and processes could be misplaced, the research finds.
To read the full report, click here.