9 Tips to Maximize Data Center Efficiency
Did you know that data centers are some of the most energy-intensive buildings? They consume 10 to 50 times the energy per floor space of a typical office building.
As governments, industry regulators, and customers demand more energy efficient data centers, data center managers are tasked to comply with corporate sustainability initiatives by finding new ways to innovate and reduce energy consumption.
Fortunately, with modern Data Center Infrastructure Management (DCIM) software, there are many opportunities to cut waste and dramatically improve the efficiency of data center operations.
Here are some of the top ways that you can leverage DCIM software to maximize your data center's efficiency.
1. Monitor and manage power in real-time
Monitoring power consumption at every hop in your power chain helps you identify power hungry equipment, track energy usage trends, and implement energy-saving measures.
By collecting device-level data from outlet-metered intelligent rack PDUs, you can understand the energy consumption profiles of your assets and use this information to make better decisions about specific devices or areas that consume too much power.
You can run a built-in ghost server report to identify all the potential ghost servers in your data center that are wasting energy without performing any useful function. By decommissioning them, you not only free up the energy they were wasting, but all their associated resources like space and cabling.
Setting thresholds and alerts ensures you are automatically notified when devices or rack loads are reaching warning or critical levels. Then, you can proactively investigate the issue and perform any necessary remediations that will reduce the energy being consumed.
If you have switched PDUs, you can remotely power individual outlets off when certain devices are not needed to reduce energy waste.
2. Monitor temperatures to avoid overcooling
Instrumenting your data center with temperature sensors and collecting that data with DCIM software gives you tremendously valuable insights that can help you save a lot of money and energy.
According to Energy Star, you can save 4-5% on your energy bill for every 1-degree Fahrenheit that you increase server inlet temperatures.
DCIM software transforms your environmental sensor data into actionable insights with ASHRAE psychrometric cooling charts that show you exactly which cabinets are being overcooled. Then, you can safely raise temperatures without introducing risk of damaging equipment.
Setting temperature thresholds and alerts make you the first to know when a rack's temperatures is approaching the limits of your thermal guidelines so you can quickly adjust your temperature setpoints to ensure equipment is appropriately cooled without wasting energy.
Learn how Vodafone used this capability to increase their data center efficiency.
3. Make informed capacity planning decisions
The data center capacity planning capabilities offered by modern DCIM software allow you to get the most out of your existing facilities and defer capital expenditures.
Rather than planning based on manual math and assumptions, you can leverage historical trend charts and capacity gauges to accurately project when you will run out of capacity for space, power, cooling, or data/power ports.
By automatically assigning and updating device power budgets based on each device instance's actual load rather than derating the nameplate value, you can find massive amounts of stranded capacity that can be used for new deployments. For example, Comcast was able to get 40% more utilization out of their existing resources.
With what-if analysis, you can visualize the space and power utilization of all your planned projects to confirm if you have enough racks with underutilized resources to accommodate them. Using what you already have rather than building out new racks or even new data centers allows you to save money and roll out projects even faster.
4. Maintain an accurate asset inventory
DCIM software enables you to visually track and manage all your data center assets and their relationships and dependencies. This visibility enables efficient lifecycle management from procurement to deployment to decommissioning. By effectively managing your assets, you can optimize how they are utilized, reduce maintenance costs, and avoid unnecessary purchases.
By knowing all the assets that you have, you can identify underutilized or idle assets, consolidate workloads, and allocate resources more efficiently. This leads to better utilization of available capacity, reduced hardware redundancy, and cost savings.
Learn how UF Health increased asset tracking efficiency by 50% after switching from spreadsheets to DCIM software.
5. Automate change management
DCIM software automates change management processes, streamlining equipment additions, moves, and retirements. It provides a centralized platform for tracking changes, assessing their impact on power and cooling, and generating change documentation. By automating these processes, organizations can minimize human error and ensure efficient utilization of resources.
Plus, proper change management facilitates faster work and incident resolution. So, when there are energy efficiency initiatives under way, DCIM helps keep progress moving to get results faster.
6. Track PUE and other efficiency KPIs
Power Usage Effectiveness (PUE) is a KPI that quantifies the overall energy efficiency of a data center and is one of the most common data center metrics. It is the ratio of the total amount of power used by a data center to the power delivered to IT equipment.
With DCIM software, you can put down your calculator because the software automatically collects data from building feeds, IT loads, and non-IT loads to calculate the PUE for all your sites in real-time.
By continuously monitoring and analyzing PUE trends, you can identify areas for improvement, implement energy-saving measures, and validate the impact of your efficiency initiatives.
Plus, you can measure many other important data center sustainability metrics like delta T per cabinet and stranded capacity per cabinet.
7. Drive automation via integration
Reducing manual effort, increasing data accuracy, and driving collaboration across teams are key to implementing successful data center efficiency initiatives. To achieve this, leading data center professionals are driving data center automation via integration.
Integrating DCIM software with your CMDB, ticketing system, Dev Ops tools, BMS, and other software provides centralized visibility and management of all your data center resources and operations. Integration streamlines workflows and processes, enables better capacity planning, and enhances reporting and analysis which all ultimately lead to a more efficient data center.
See how Workday leverages DCIM to automate device provisioning and orchestration, device lifecycle state management, and more.
You can even integrate DCIM with your enterprise sustainability system and feed your data center energy consumption information into it to enable accurate enterprise sustainability reporting.
8. Report on energy consumption per business unit
Billing your internal groups for the energy they use drives efficiency by creating awareness and accountability for each group's resource consumption.
By providing customers with data about their energy usage and costs, you can inspire them to identify areas of inefficiency and waste and explore opportunities for improvement.
You can even use DCIM software to understand energy costs by service or application to compare efficiencies and enable a culture of sustainable practices.
9. Simplify consolidation and virtualization
DCIM software can simplify and improve your data center consolidation and virtualization projects to help maximize efficiency.
With DCIM, you can not only identify ghost servers and stranded capacity, but plan out your new, consolidated footprint before the move to ensure you will achieve improved efficiency without introducing risk.
You can also integrate DCIM with VMware to map your VMs to their physical hosts. This gives you the information you need to move your virtual instances to your most efficient servers, driving reduced hardware and energy costs.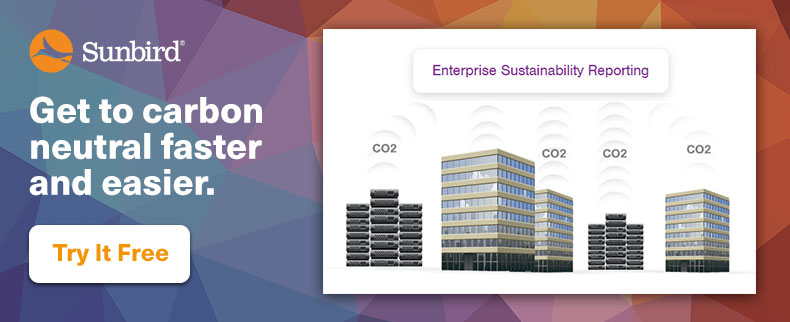 Bringing It All Together
Maximizing data center efficiency is continuous journey that requires the right tools and processes. DCIM software is a must-have to deliver the real-time monitoring, capacity planning, automation, and analytics you need to do more with less without risking downtime. By leveraging DCIM software and implementing these best practices, you can realize substantial efficiency gains, reduce operational costs, and ensure compliance with your corporate sustainability initiatives.
Want to see how Sunbird's second-generation DCIM software can help you maximize data center efficiency? Get your free test drive today.