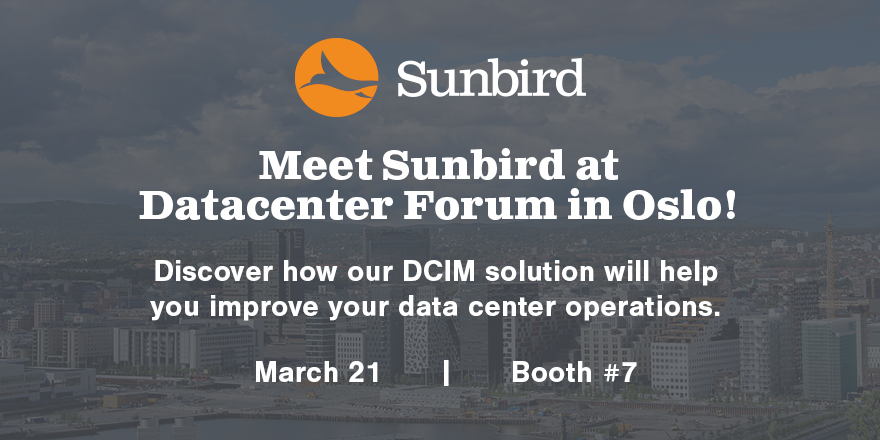 Don't Miss Sunbird at Datacenter Forum in Oslo
Sunbird is excited to be attending Datacenter Forum in Oslo, Norway on March 21, 2017 at the Radisson Blu Scandinavia Hotel. Stop by Booth 7 to meet our data center experts and get a demo of the new features and enhancements in our award-winning Data Center Infrastructure Management (DCIM) solution.
At Datacenter Forum, you'll have the opportunity to network with and learn from over 250 of your colleagues in the data center industry of Norway. Data center professionals who are involved with the managing and operations of their organization's IT infrastructure can attend for free. Learn more and register here.
Want to learn more about one of the burning issues facing today's data center managers and operational teams? Don't miss our DCIM expert Ben Neill as he explores the Top DCIM Dashboards for Tackling IT Operational Challenges from 13:00-13:45. Attendees will learn:
Why data center operations is a data and analytics problem.
Best practices for creating dashboards that track the most useful metrics for successful data center optimization.
Real-world examples of how DCIM can provide a wide range of security, inventory, networking, and connectivity intelligence in a single-pane-of-glass view.
How to maximize the value of your data.
Heading to Data Centre Forum in Oslo and want to chat one-on-one with a DCIM expert? Our local Sunbird representatives will be available for individual meetings. Let us know if you'd like to meet.