How to Make Data Center Asset Audits Faster and More Accurate
Many organizations perform periodic data center asset audits to report accurate asset information by cabinet and U position. This information is needed to remotely plan moves, adds, and changes and to facilitate corporate reporting.
Data center asset management is often a struggle due to the complex, distributed, and constantly changing environments of modern data centers. They are manual, time-consuming, and human error can result in inaccurate data. It's estimated that only 80% of asset information is correct on average.
However, new functionality in Data Center Infrastructure Management (DCIM) software dramatically simplifies data center asset audits so they can be performed faster, with fewer people, and more accurately.
First, let's review how leading data center managers are currently performing data center asset audits using the tools available to them.
How are Data Center Managers Conducting Data Center Asset Audits Today?
At a recent Asset Audit Workshop, leading customers from Akamai, Chevron, and KPMG shared their current asset audit practices and how they would like to improve them.
KPMG is Establishing an Asset Audit Process
KPMG's data center space spans four locations totaling 24,000 square feet. They have 732 cabinets and over 5,000 assets.
"Currently, we have no audit practice in place," said Tom Wysocki, Data Center Manager. "Our operators must walk around with a laptop and manually validate the cabinets. The challenges we run into is this is very time-consuming, we don't have enough manpower, our environment is constantly changing, and the big risk is that the potential for human error can cause devices to be missed."
KPMG's goal is to establish a simple and repeatable annual data center audit process to reduce maintenance costs, free up available power, and minimize ghost servers.
"To start us on this journey, we're now tagging all new hardware installations with asset barcode labels that could be traced back to the ServiceNow asset record and dcTrack record," said Jorge Bento, Data Center Manager. "When time allows, the operations team has been going cabinet to cabinet, slowly adding asset labels to the existing hardware on the floor. We need the audit process to be fast, easy, and foolproof. Most importantly, we need to make updates in real-time while standing in front of the cabinet so when an operator sees an error with an asset that is missing a tag, we can print labels and make corrections in dcTrack in real-time."
To be successful with their audit process, KPMG is changing the habits of how their team performs and tracks their work.
"We recently started tracking our consumable parts inventory in dcTrack to help us keep an accurate inventory of SFP modules, copper and fiber patch panels, server RAM, and hard drives," said Bento.
"Technicians can no longer just grab parts and go. They need to slow down and update the inventory before proceeding. This reinforces the need to track hardware and reminds the technicians that the assets need to be barcoded at the time of installation. The added benefit to tracking our consumable parts now allows us to be more efficient with installations and not cause any installation delays to our customers by running low on materials."
Watch KPMG's presentation (skip to 1 minute, 55 seconds).
Chevron Has Different Audit Processes Depending on the Location
Chevron has multiple large sites and a lot of remote locations. They are in the process of centralizing their physical inventory and expanding it to include not just their data centers but also their IDF closets.
"We utilize a process of separation of duties because we don't want the same person who installs the device to update dcTrack and also do the auditing of the location of that device," said Steve Lancaster, Product Owner Cloud Facilities Management. "That way, we have some checks and balances for our inventory. We're looking forward to a process that will take the human factor out."
For their different types of facilities, Chevron has different audit processes in place.
"If it's a large site, we have technicians that are onsite. In those sites, we typically do a wall-to-wall audit twice a year. These are larger sites with a few hundred cabinets," said Lancaster. "The technicians will perform the work, the updates, any changes that need to happen are done, and then we'll close our compliance task."
"For the remote smaller sites, we may not have a technician onsite so there are local folks that will do installations and decommissions in the racks," continued Lancaster. "We'll do a wall-to-wall inventory once a quarter. The difference being we may not have installed the equipment at the local site, so we have that separation of duties. Somebody else has installed it and told us where they installed it. We're just validating it was installed correctly."
Watch Chevron's presentation (skip to 4 minutes, 56 seconds).
Akamai Audits Assets in 20,000 Racks in 4,000 Locations
It requires a lot of assets to provide a fast, reliable, and secure service.
"We have many thousands of assets across many asset classes," said Michael Garito, Senior Data Center Program Manager. "These assets are distributed around the world in a variety of locations ranging from small locations with only a handful of assets to very large sites with hundreds of racks and tens of thousands of assets."
"Asset audits can be triggered by both internal processes and external requirements," continued Garito. "Because we are a global company with customers across many industries, we must adhere to a number of compliance requirements, each of which requires some level of audit."
Garito explained the manual effort of auditing assets.
"Though a technician would audit these assets as they are being packed up, that process today involves text files and emails. We're looking forward to enhancements that increase accuracy and reduce overhead on the teams onsite," said Garito.
Watch Akamai's presentation (skip to 9 minutes, 18 seconds).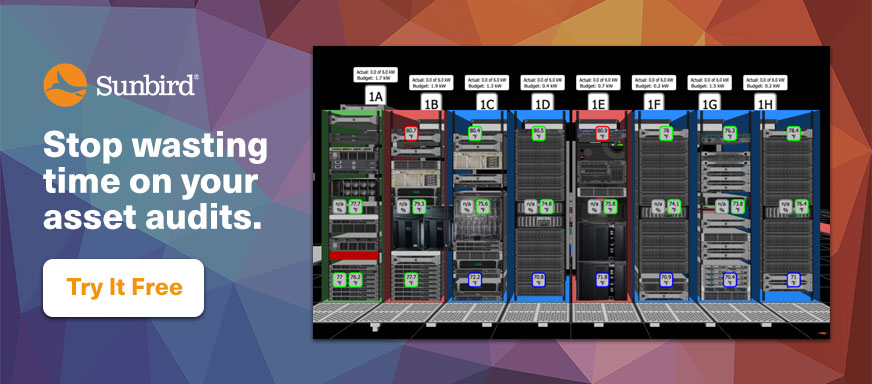 The New Way to Perform Data Center Asset Audits
Second-generation DCIM software now comes out of the box with an asset audit feature that dramatically simplifies the asset audit process. Built-in logic anticipates the next step in the audit process so you can perform asset audits faster, with fewer people, and more accurately.
Here's how it works:
Only one person is needed. Audits can be conducted by a single person. This improves productivity, saves money, and reduces potential security threats.
Barcode or QR code compatible. Audits can be performed on equipment that is barcoded or QR coded using a handheld scanner.
Customizable to your processes. You can choose to scan your assets individually or in bulk to maintain your existing processes and procedures.
Voice response. As the auditor scans equipment, the system provides a voice response about the assets and recommends changes if the scan doesn't match the database.
Improved data accuracy. If an item is found to be in a different cabinet than expected, you can easily update the cabinet and U position in the database without disrupting the audit.
Maintain an asset audit log. The system will maintain an audit log and timestamp for all asset audit activities so you can know who audited what equipment and when.
That's all there is to it. Audits can now be done as fast as a single person can scan the barcodes or QR codes on your equipment.
Watch a demo of this feature to see how fast and easy it is (skip to 13 minutes, 48 seconds).
After seeing the demo, 99% of participants polled said they are going to use or are considering using this feature.
"Anything we can do that's going to take the human factor out is going to make things better for us," said Lancaster.
"Take our Houston location with 250 cabinets. It takes our technicians about 4 months to do the inventory plus do all the other work that they've got going on," continued Lancaster. "We're really interested in this new inventory process because we feel like it's going to speed up our return which will allow our technicians to be available for other work as necessary and also increase our accuracy. We feel like it's going to be a good thing for us."
Want to see how Sunbird's second-generation DCIM software can help you perform faster and more accurate data center asset audits? Get your free test drive now!