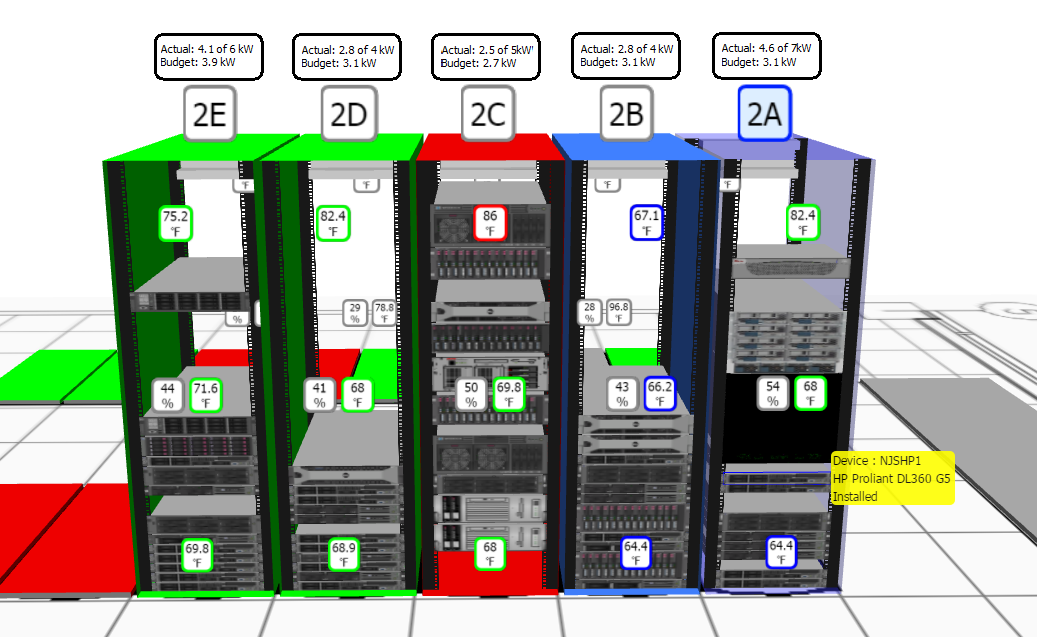 Introducing dcTrack® 5.1
We're thrilled to announce the general availability of dcTrack 5.1, the latest version of Sunbird's DCIM Operations software. User-requested features in dcTrack 5.1 make it faster and easier than ever for data center managers to get the information they need to plan and manage data center capacity more effectively.
 
The dcTrack 5.1 update is available worldwide on a cabinet/month subscription or perpetual license basis to all customers with valid maintenance contracts. Simply download the update file from Sunbird's support portal to upgrade today.
 
3D Visualizer
dcTrack 5.1 introduces the 3D Visualizer, which displays data center floor maps in 3D without the need to install additional software. Orbit the data center for bird's-eye perspective of the floor map or fly to a zoomed-in view to see the individual assets inside each cabinet.
Toggle seamlessly between 2D and 3D at the click of a button for the view that best meets your needs. While all existing 2D reports are now available in 3D, this release adds new reports and displays details for environment, power, and capacity–information critical for more accurate forecasting and change management–in views that take full advantage of the 3D functionality. With the 3D Visualizer, users gain the most comprehensive view of the data center to date.
 
Models Library Enhancements
Previously available only in the desktop client, Sunbird's extensive repository of over 30,000 Smart Models across over 450 manufacturers has been redesigned for the web with a clean, user-friendly grid interface that helps users access and manage model information faster. Search and filter information across a variety of stored attributes, including everything from a model's make and dimensions to the number of its data or power ports. Ensuring that you always have the latest model specifications is effortless with the Update Wizard, which takes administrators step-by-step through the streamlined update process right from the web. 
 
Other improvements in dcTrack 5.1 include bulk import and export of data panel ports and structured cabling, support for IPv6 asset configuration, additional real-time data integration with Power IQ® DCIM Monitoring, and updates to address customer-reported issues and security fixes.              
 
For more information on what's new on dcTrack 5.1, check out the press release[JS1] . Ready to upgrade? Download the upgrade file on the support portal.
 [JS1]Link to press release