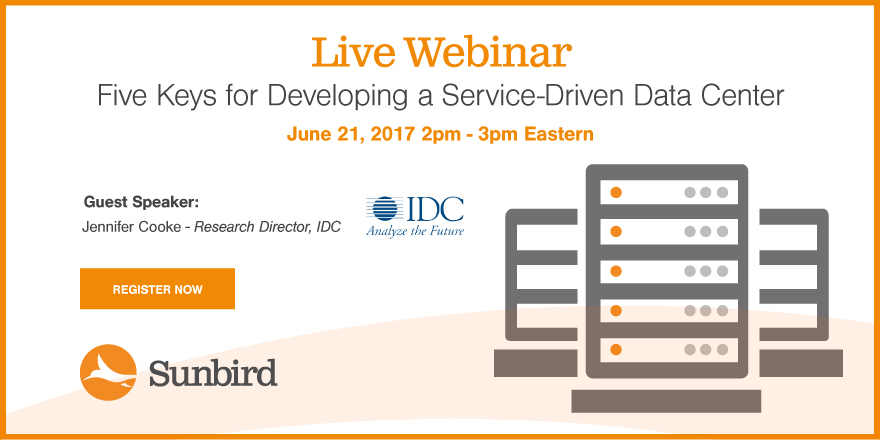 [New Analyst Webinar] 5 Keys to Developing a Service-Driven Data Center
Modern data center managers are living in a world where cloud is king. Today's data center customers prefer to pay as they go, with a need for fast, on-demand deployment of IT resources. Data center managers need to respond to this demand with flexibility, agility, and better customer service, or risk being left behind. But as the world shifts from on-premise data centers to off-premise and private cloud models, how should you adapt your approach to not just survive, but thrive, in this changing landscape?
Join us for our next live webinar, 5 Keys to Developing a Service-Driven Datacenter, on Wednesday, June 21, at 2 PM ET to explore how to adapt yourself and your data center in this new world. This interactive webinar will feature guest speaker Jennifer Cooke, Research Director, Datacenter Management, IDC. Jennifer will present IDC research that highlights notable digital transformation trends and analysis relevant to addressing your data center challenges.
You'll learn IDC's perspective on:
How organizations like yours are boosting flexibility and agility in their digital transformations with new IT architectures
What's driving the shift back to on-premise resources (and how to balance this shift with the need for speed)
Must-know tips for reorienting your data center for a service-driven model
If you're managing a data center now, transitioning to a hybrid/cloud environment, or wondering about what the future holds, you won't want to miss this data center webinar. You'll gain the insights and advice you need to futureproof yourself and your data center in this cloud-focused world. Register now to reserve your spot.
Can't attend the webinar? Register anyway, and we'll make sure you get a copy of the recording.
Event Details
Webinar: Five Keys for Developing a Service-Driven Datacenter
Start Time: 2PM ET
Duration: 60 minutes
Date: Wednesday, June 21, 2017
Registration Link: Sign up here!