Rack Diagrams: Why You're Doing Them Wrong
Rack diagrams, also known as rack elevations, are visual representations of the IT equipment in a server rack. They are used to track and manage what assets are in each rack and which U position they are in.
Rack diagrams are very useful and commonly used for data center asset management and capacity planning. The information rack diagrams provide allow you to know what equipment you have, where you have space to deploy more, and can improve the troubleshooting process.
However, many data center professionals are wasting time manually maintaining rack diagrams with legacy management tools like Visio and Excel.
These outdated rack diagram tools are:
Time-consuming. Rack diagrams must be manually updated every time there is a move, add, or change. Resources must be spent performing this tedious, repetitive task instead of on more strategic projects.
Inaccurate. The manual nature of updating rack diagrams inevitably leads to some amount of human error that can lead to stranded capacity and costly downtime.
Difficult to maintain. Legacy management tools are not designed for multiple users and suffer from poor version control. Different team members end up with different documentation which results in less collaboration around shared data.
Data centers are constantly changing. They are growing more complex and more distributed, and many organizations have an overwhelming number of IT assets that must be remotely tracked and managed. Yet, many data center managers still rely on the same spreadsheets and drawing tools used 20 years ago.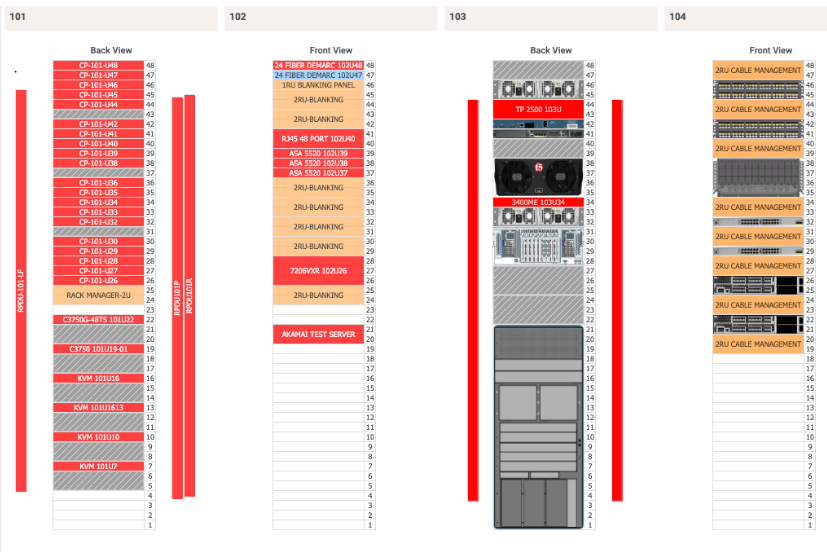 Rack elevation diagrams with device names or device images.
Easy and Accurate Rack Diagrams with DCIM Software
Don't let your legacy data center management tools lower your productivity and prevent you from getting the most out of your existing data center resources.
Leverage Data Center Infrastructure Management (DCIM) software to manage your rack diagrams and assets. With DCIM, you can:
Automatically create rack diagrams. Say goodbye to managing multiple spreadsheets and diagrams. With DCIM software, rack diagrams are automatically generated and updated based on the asset and location information in your system. You can even drag and drop assets from one rack diagram to another.
Remotely visualize your rack and assets in 3D. You don't have to visit the data center to confirm what equipment you have anymore. See all your assets to scale with high-fidelity front and back images in 3D. With augmented reality, overlaid live measured readings from power and environmental sensors, 3D data center visualization is even better than being onsite.
Leverage a vast model library of 40,000+ model templates. The model library provides the images, dimensions, weight, power requirements, and port information for every device you deploy, enabling fast and accurate asset management.
Search, sort, and filter assets. In a single pane of glass, track detailed asset information such as make, model, dimensions, weight, serial number, asset tag, server name, server function, owner, configuration, data ports, power connections, and unlimited custom fields. Search, sort, and filter assets to get the data you need.
See rack capacity in real-time at a glance. Correlate common rack capacity constraints like space, power, and cooling. With easy-to-understand red-yellow-green color coding, see exactly which cabinets have the available capacity to deploy more servers in.
Color code assets by their attributes. Visualize your assets in color by any attribute you track. For example, if your assets' customers are important to you, you can easily identify the owner of each rack and the individual items within them. Interactive visualization allows you to select one or more customers to zoom in on and generate reports on.
Get x-ray views of your racks. X-ray views visually remove the sheet metal from racks so you can see your assets to scale at angles you never could get physically. See detailed model, depth, alignment, and mounting information as well as sensor data for your devices.
Know what's connected to what. Visually document all structured, patch, and power distribution cabling so you know not just what's in each rack, but how those assets are connected. Data center cable management simplifies troubleshooting and impact analysis and maintains uptime.
Integrate with your existing tools. Out-of-the-box CMDB connectors enable you to automatically populate data in the system you want to see it in to eliminate swivel chair management. This not only reduces the manual effort required to track your assets but increases the accuracy of your data and enhances the presentation of information.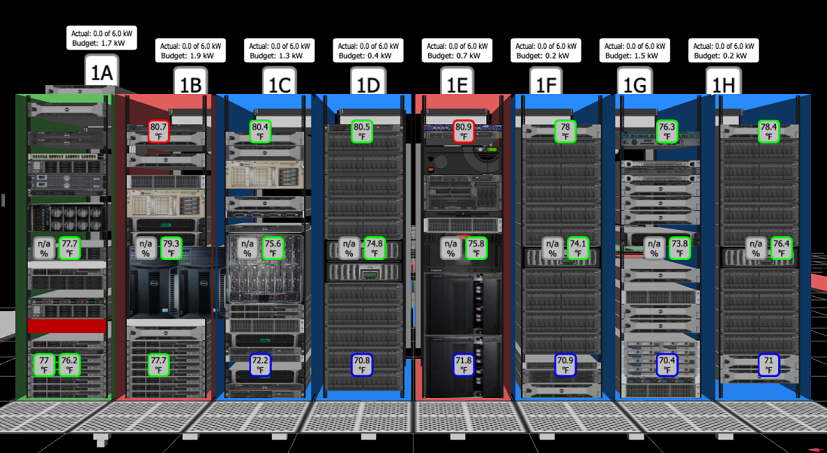 3D rack diagrams with overlaid power and environmental data.
What Are the Benefits of Using DCIM Software for Rack Diagrams?
The key benefits of leveraging a complete DCIM solution to create and manage your rack diagrams are:
Enabling a single source of truth. Instead of managing multiple spreadsheets and drawing files, having all your asset information in a single pane of glass that is multi-user allows for highly accurate, real-time views of your racks and their contents.
Increased collaboration across functional teams. Democratizing data across data center, operations, and facilities teams enables data-driven collaboration and better decision-making around shared data.
Improved productivity. Automatic rack diagrams enable you to stop wasting time creating, updating, and managing multiple files so you can focus on higher-priority projects.
Better instructions to remote hands. With 3D rack diagrams and port-level information, you can send remote technicians extremely accurate instructions and work orders so they make changes right the first time.
Reduced human error. Legacy rack diagram tools are manual and prone to human error. DCIM enables high accuracy of asset information that improves capacity planning, change management, and more.

Try Automatic Rack Diagrams Now
Modern data center managers that deploy DCIM software to help manage their assets are seeing a serious return on their investment. For example, Metro realized 90% savings on time spent checking equipment, UF Health reported a 50% increase in asset tracking efficiency, and Emerson spends 25% less time managing assets, locations, and connectivity.
Is it finally time for you to be the superhero of your data center and ditch Visio, Excel, and manual diagram management? Try Sunbird's second-generation DCIM software now.