Introducing dcTrack 8.2
Breaking News: dcTrack® 9.0 is now available with exciting new features including world map visualization and a dynamic single-line diagram. Read all about dcTrack 9.0.
We're proud to announce the general availability of dcTrack® 8.2, the latest version of Sunbird's DCIM Operations software. This release includes exciting new features including a ticket connector to drive automation via integration, automatic data network diagrams for remote visualization, and asset audit via barcode scanning.
dcTrack 8.2 Availability
This dcTrack 8.2 update is available worldwide on a subscription or perpetual license basis to all customers with valid maintenance contracts. Download the update file from Sunbird's support portal to upgrade today.
If you would like to try a full-featured test drive of dcTrack, get your login credentials to the free online demo system now.
What's New in dcTrack 8.2
The following features are new or enhanced in dcTrack 8.2 for an easy, fast, and complete second-generation DCIM solution.
Universal Ticket Connector
A new ticketing connector allows you to create and manage tickets between dcTrack and any external ticketing system that provides public REST API access to their ticketing data. This feature also supports manual tickets that are not integrated with any external system but allow you to track progress and tasks within dcTrack.
Out of the box, dcTrack supplies a standard config file for ServiceNow, BMC Remedy, and Jira. These configs will be automatically populated when you create a new connector and can be modified to suit your individual environment.
Data Network Diagrams
With a new automatic network diagram feature, you can visualize the entire data network for a single location or across multiple locations.
Network diagrams can be viewed in mesh view or in tier view. The nodes can be displays as device images, shapes, or icons. An items list displays all the items included in the diagram, and by clicking a node in the diagram, you can view that item in a cabinet elevation view.
Network diagrams are automatically created for each data center location in your database.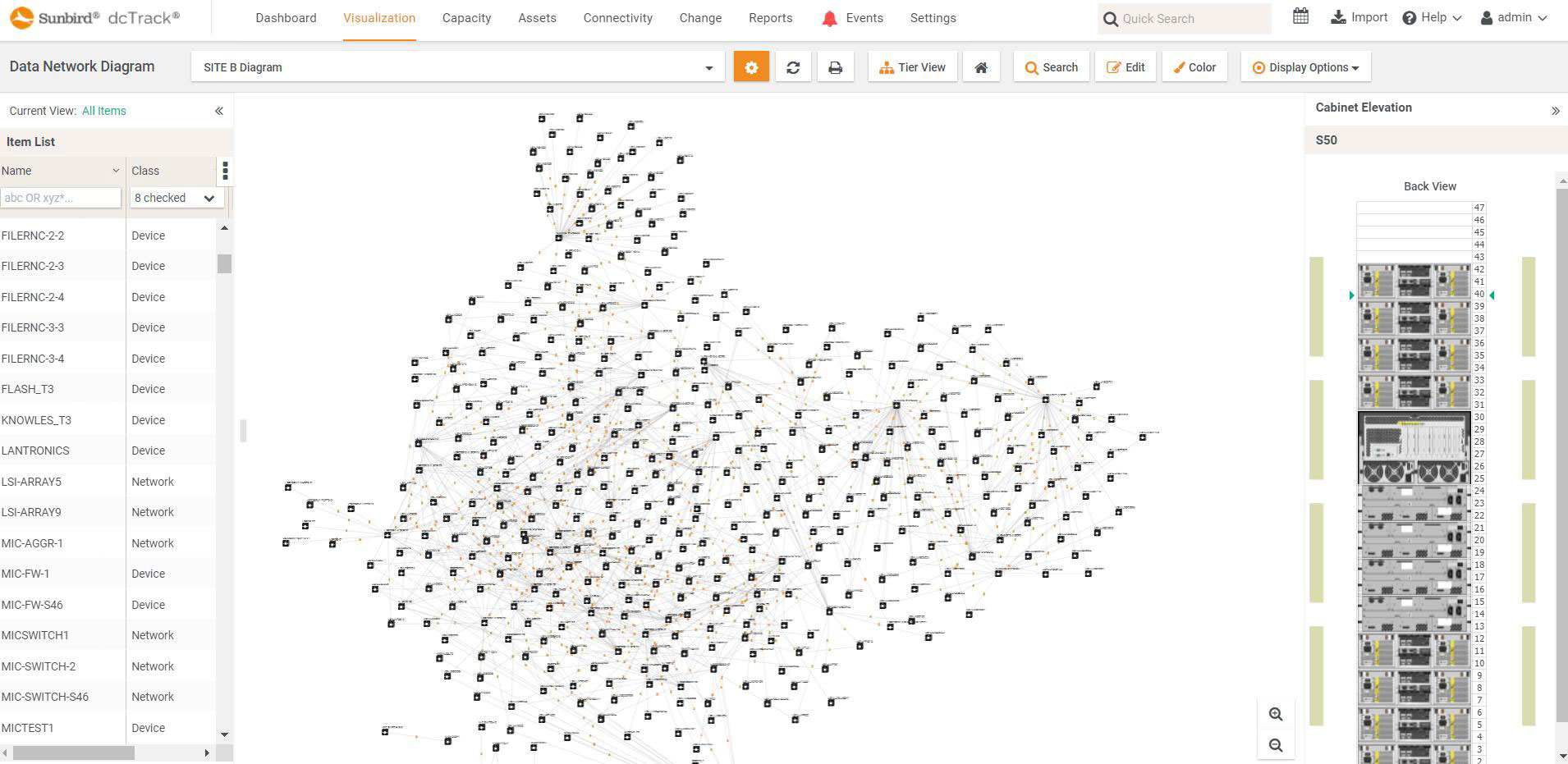 Asset Audit with Bar Code Scanning (Beta)
The asset audit feature introduced in dcTrack 8.2 is designed to provide an easy way to perform data center audits. Through the use of barcode/QR code scanning and a configurable voice response, audits can be completed quickly and efficiently by a single user.
Upon completed the audit, a summary can be generated and exported for review. After verifying the changes suggested in the export, you can simply import the file back into dcTrack to make the actual updates, ensuring your system always reflects the actual state of your data center.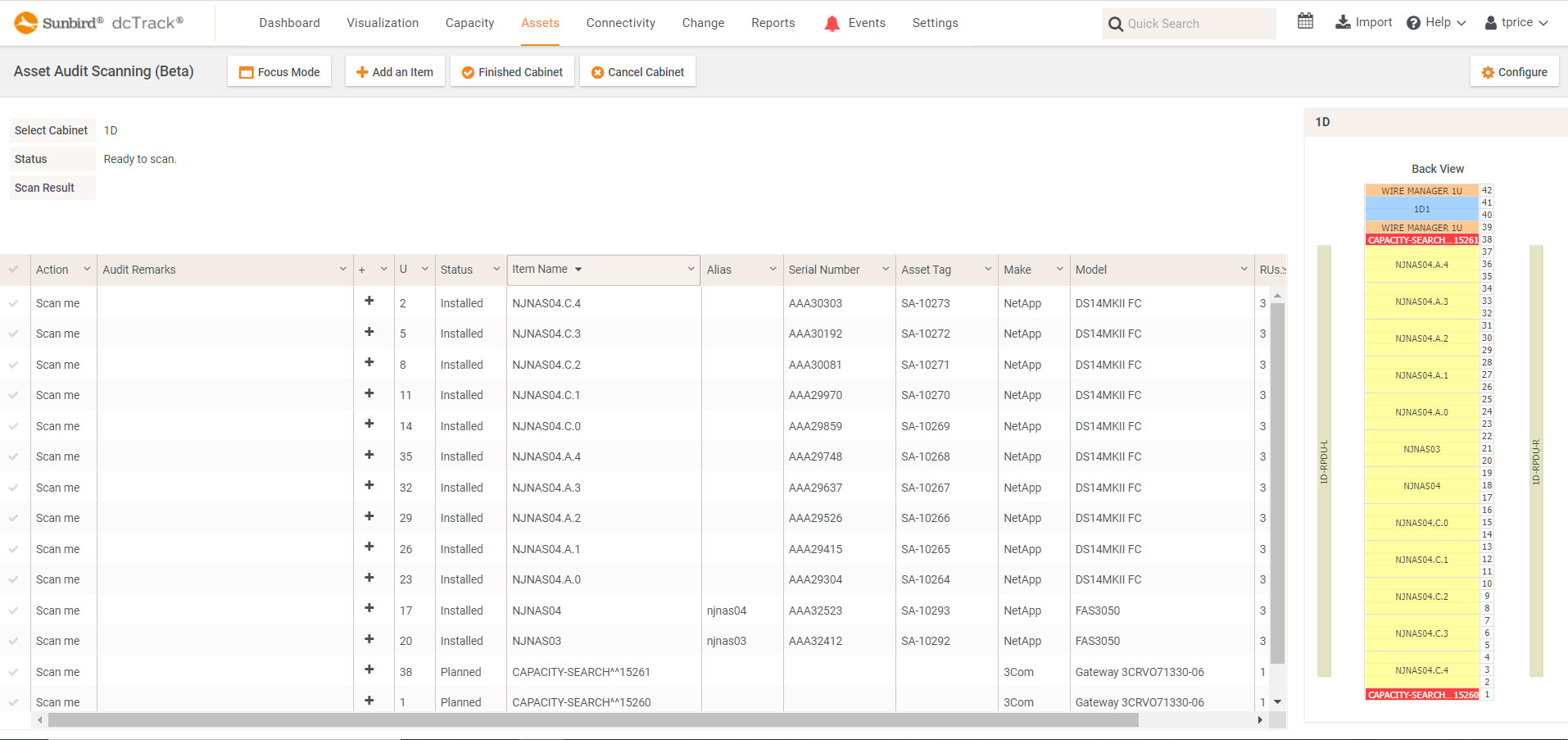 Native Support for Suspended Cabinets Place Above Free-Standing Cabinets
You can now visualize cabinets that are placed above another cabinet in floor maps and cabinet elevations.
Cabinets with suspended mountings can be rendered in the floor maps without adding them in the drawing file. You can set the position and the height of the suspended cabinets. You can even set negative values to place cabinets below the floor.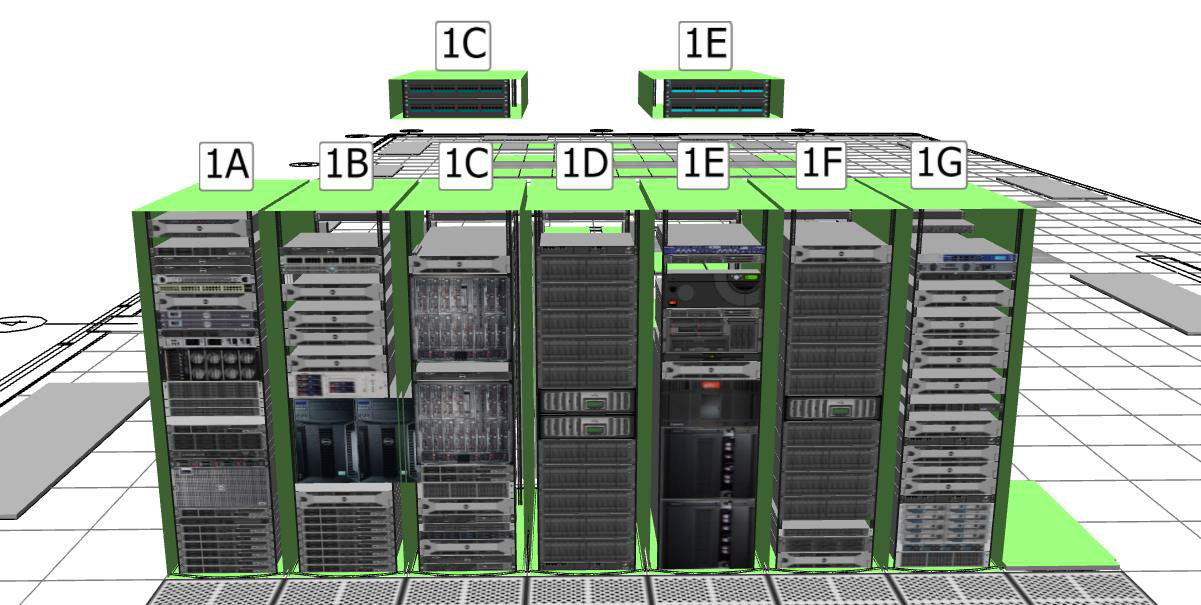 Cabinet Elevation Item Label Customization
You can now customize the item attribute that is displayed in cabinet elevation views such as Item Name, Asset Tag, IP Address, Serial Number. Up to 10 fields may be selected as options.

Facility Items
dcTrack 8.2 supports facility items including AC Bay, Switch, UPS Bank, Load Device, Power Panel, Transformer, Cooling Unit, Heat Rejection, Cooling Zone, Fuel Tank, Generator, and Utility Feed.
This is only the first phase of the full facility items feature. The next dcTrack release will include additional functionality and support for additional classes with more fields and connectivity.
Asynchronous Export
Exports have been enhanced to run in the background. This improvement allows you to continue working without interruption while large files are generated and downloaded. You can executive multiple exports of different types simultaneously and monitor the progress of each individually.
Ready to Upgrade?
For more information on what's new in dcTrack 8.2 including preview for structured cabling template creation, custom fields limited by subclass, models library cleanup, APIs, security enhancements, and bug fixes, read the release notes.
Ready to upgrade now? Download the upgrade file on the support portal.
Not a dcTrack customer, but interested in trying out these exciting new features? Get your free test drive today!