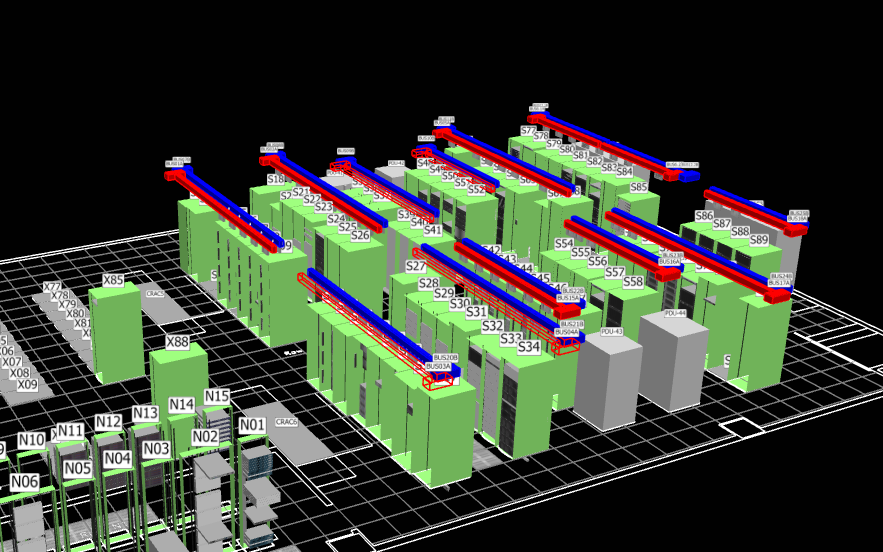 Top 3 Benefits of Busway Monitoring
Modern data centers are growing in density and complexity as IT devices require more and more power to racks. This can lead to issues with power distribution, cabling, and cooling, and challenges data center managers to keep pace with the ever-increasing demands of IT infrastructure.
To stay ahead of the rising power requirements for critical infrastructure in racks while reducing complexity, many data center managers deploy overhead busways for their power distribution architecture. The benefits of busways can be found in increased space capacity, flexibility, energy efficiency, scalability, modularity, reliability, customizability, and safety. Busways also reduce construction costs, construction time, maintenance time, and human error.
Yet, without a monitoring solution, you may not be getting the most out of your busways.
From hundreds of discussions with our customers, we have first-hand knowledge on how and why cutting-edge data center and lab managers monitor their busway tap boxes. Here, we have compiled their feedback on the three key benefits of busway monitoring and how to achieve them.
1. Busway Monitoring Maintains Uptime
Monitoring actual cabinet power loads from the busway in real-time makes it easy to know the health and capacity of your edge sites to improve uptime. For example, if you see a spike in a cabinet's load, but you have not made any changes to its equipment, this might be an early warning sign that there is a power supply issue or an issue with a piece of equipment. You can set thresholds on the busway power data and receive warning and critical alerts when thresholds are violated. This ensures you are the first to know of any potential problems so you can quickly resolve the issue before you experience costly downtime.
Also, monitoring actual rack PDU inlet currents allows you to track redundancy to ensure that power is always available to IT equipment even if there is a power failure on a single power supply or power path. By monitoring the actual PDU inlet current and performing failover analysis, you can be assured that power is redundant and uptime will not be impacted in a failover scenario.
And finally, monitoring the actual loads at every breaker point in the power path ensures breaker ratings will not be exceeded. If you add too many devices to the power path, you may approach or exceed thresholds that will trip a breaker and cause you to lose power on either side of your power path, losing redundancy or causing downtime. By monitoring the actual loads at every breaker point, you will be warned when a circuit breaker is about to trip so you can remediate the issue and maintain redundancy and uptime.
2. Busway Monitoring Improves Efficiency of Capacity Utilization
Busway monitoring allows you to identify cabinet-level stranded power capacity so you can utilize it and get the most out of your busways. It is not uncommon for stranded power to account for as much as 50 percent of all available power, letting resources go to waste. By utilizing stranded power, you can delay the expense of building out new cabinets or even new sites, saving enormous sums of money.
Monitoring busways allows you to maintain a three-phase load balance. Unbalanced power can lead to premature circuit trips and high voltages that can reduce the life of equipment. Monitoring power consumption on all three phases in real-time and setting thresholds to receive alerts on unbalanced conditions allows you to maintain a balanced load, maximize uptime, optimize power resource utilization, and extend equipment life.
Further, busway monitoring lets you track the power capacity at each breaker connection to know if breakers or panels are underutilized. With this information, you can know if you have additional power capacity to deploy to maximize the utilization of your power resources.
Last, you can measure and trend chart your Power Usage Effectiveness (PUE) to report on data center energy efficiency in real-time. Automatically measuring power loads provides highly accurate PUE calculations, giving you an instant understanding of how efficient your resource utilization is. You can also see the impact of your efficiency optimizations by trending PUE over time.
3. Busway Monitoring Increases the Productivity of People
Busway monitoring saves you time and money by eliminating the need to send technicians on physical trips to the data center to read power meters. A modern monitoring solution can collect billions of data points every single day and store them for long periods of time to provide insightful reports, charts, and visual analytics on the health and efficiency of all your sites.
Also, reports and trend charts are accessible via any web browser to enable data-driven collaboration across all data center teams from any location. At-a-glance views of data center KPIs such as circuit breaker utilization, power redundancy per cabinet, actual power per cabinet, and power capacity per cabinet allow you to know the status of your data centers in seconds and get actionable insights with virtually zero time or manual effort required.
Finally, busway monitoring with Data Center Infrastructure Management (DCIM) software simplifies data sharing and makes it easy to send management reports with over 100 out-of-the-box dashboard charts. You can schedule weekly reports for auto-creation and distribution to save time and effort, enabling you to focus on managing the data center instead of collecting, analyzing, and sharing data manually.
Conclusion
Busway infrastructure combined with DCIM software form a complete busway monitoring solution that maintains uptime, improves the efficiency of capacity utilization, and increases the productivity of people. If you have busways in your data center sites, follow best practices and monitor your tap boxes with DCIM software to transform power meter data into easy-to-understand information that enables you to optimize your data center.
For more information, read our new eBook Top 10 Reasons to Monitor Busway Tap Boxes.
Want to see for yourself how Sunbird's second-generation DCIM software allows you to get the most out of your busways? Take a free test drive today.