Top 8 Benefits of Data Center Automation
Data center management traditionally requires a lot of manual effort, and the same data often must be entered into multiple disparate systems. Not only does this waste time, but it leads to inaccurate data due to human error.
To simplify data center management, data center experts are driving "automation via integration" by deploying and integrating modern Data Center Infrastructure Management (DCIM) software solutions with out-of-the-box connectors that automatically populate data in the appropriate systems.
Data center automation provides many benefits and a dramatic return on investment. The top eight benefits of automating your data center operations are:
Enable a single source of truth. A common challenge for data center managers is that different teams use different tools which result in information siloes. You either have to manually enter the same data multiple times into each tool or go to many sources to get all the information you need. Automation via integration enables a centralized, accurate view of all your data center assets, resources, and activities in a single pane of glass. For example, many organizations use a traditional IT CMDB such as ServiceNow. By integrating it with a Data Center CMDB, you can obtain a single source of truth that includes additional detailed asset information, visuals such as the exact site and rack location, and 3D rack elevation visualizations.
Eliminate human error. When you have to manually enter the same data into multiple systems, it is only natural for mistakes to occur. Over time, mistakes can compound and cause serious issues because data centers need accurate and reliable asset documentation to maintain uptime, plan and utilize capacity efficiently, and have highly productive employees. Integrating data center tools automates data entry and other manual processes to eliminate the risk of human error so that you can trust the accuracy of your data.
Improve collaboration across functional teams. It is difficult to collaborate around common KPIs and shared data when data center operations, IT, facilities, and other groups have their own disparate tools. When you enable to create a single source of truth with automation via integration, all teams have access to the same charts, reports, visuals, and underlying data to communicate and collaborate more effectively. With DCIM software, charts and reports can even be automatically scheduled and emailed to all stakeholders. The result is a highly efficient and productive data center where everyone is on the same page.
Increase utilization of existing power capacity. A common challenge data center managers face is the complexity of accurately planning rack power capacity. When determining how many devices can be deployed in a cabinet, many data center managers derate the servers' nameplate value to around 60-70%. However, since this is a manual effort based on assumptions, it is often too conservative and results in stranded power capacity and unnecessary expansions into new cabinets or even new sites. By integrating DCIM software with outlet-metered intelligent rack PDUs, you can automate server power budgeting by allowing the software to automatically calculate an accurate power budget number for each device in your facility based on its actual load in your environment. With this feature, Comcast was able to get 40% more utilization out of their existing resources.
Maintain uptime and meet service-level agreements. With data center automation, you can be alerted of potential issues before they become problems that cause downtime. To achieve this, you must instrument your data center with power meters and environment sensors and use DCIM software to monitor the data they provide.You can then set warning and critical thresholds on power loads, three-phase balance, circuit breaker state change, temperature, and humidity so that you are automatically notified of threshold violations so you can proactively eliminate threats of downtime.
Improve workflow and productivity. Automating data center operations dramatically enhances workflow and productivity. By integrating DCIM software with your ticketing system (i.e., ServiceNow, Jira, BMC, or Ivanti/Cherwell), you gain seamless automated workflow. Ticketing integration minimizes swivel chair management, eliminates work requests through random emails, and enables an organized worklist with real-time statuses updated automatically between systems.
Focus on more strategic projects. When your routine data center operations tasks are automated, you have more time to focus on higher priority projects. Multiple data entry becomes a thing of the past so you can devote more resources to integrating even more systems, consolidating tools, increasing energy efficiency, or any other strategic project that you haven't had the capacity for.
Simplify data center security management. System integration allows for easier maintenance of user permissions across all systems to ensure that your security policies are adhered to. With granular role-based permissions, you can ensure that users can only see or edit the right information for them.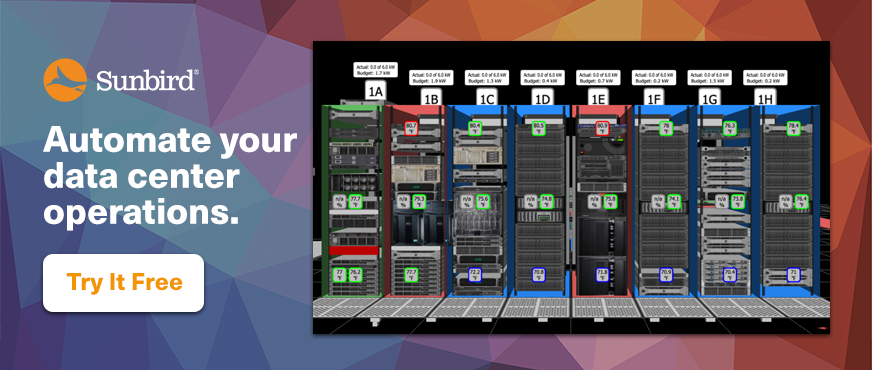 Bringing It All Together
Data center automation has become a top priority for data center managers and is changing the industry. Leveraging the built-in automation capabilities of modern DCIM software plus integrating it with other systems to enable automation via integration can save you serious time and money.
Don't just take our word for it. See how leading data center professionals are leveraging automation today:
Want to see how Sunbird's second-generation DCIM software can help automate your data center? Take a free test drive today.