Introducing dcTrack 9.0
We're proud to announce the general availability of dcTrack® 9.0, the latest version of Sunbird's DCIM Operations software. This release includes exciting new features including new facility items, a power single-line diagram, and world map visualization.
dcTrack 9.0 Availability
This dcTrack 9.0 update is available worldwide on a subscription or perpetual license basis to all customers with valid maintenance contracts. Download the update file from Sunbird's support portal to upgrade today.
If you would like to try a full-featured test drive of dcTrack, get your login credentials to the free online demo system now.
What's New in dcTrack 9.0
The following features are new or enhanced in dcTrack 9.0 for an easy, fast, and complete second-generation DCIM solution.
New Facility Item Classes for Asset Management
dcTrack 8.2 introduced new classes to track the inventory associated with all the equipment typically found in the "gray space" from the commercial utility feed and emergency generators down to the distribution level including switchgear and switchboards, transformers, and power panels. dcTrack 9.0 includes enhancements to the facility items to allow you to capture additional details specific to each as well as support for power ports and connections.
Power Single-Line Diagram
dcTrack 9.0 includes a new power single-line diagram (SLD) feature. This feature allows users to visualize the entire power chain and use this view to understand connectivity and relationships. Users can also view readings and capacities at a glance to better understand load balancing and fail-over impacts.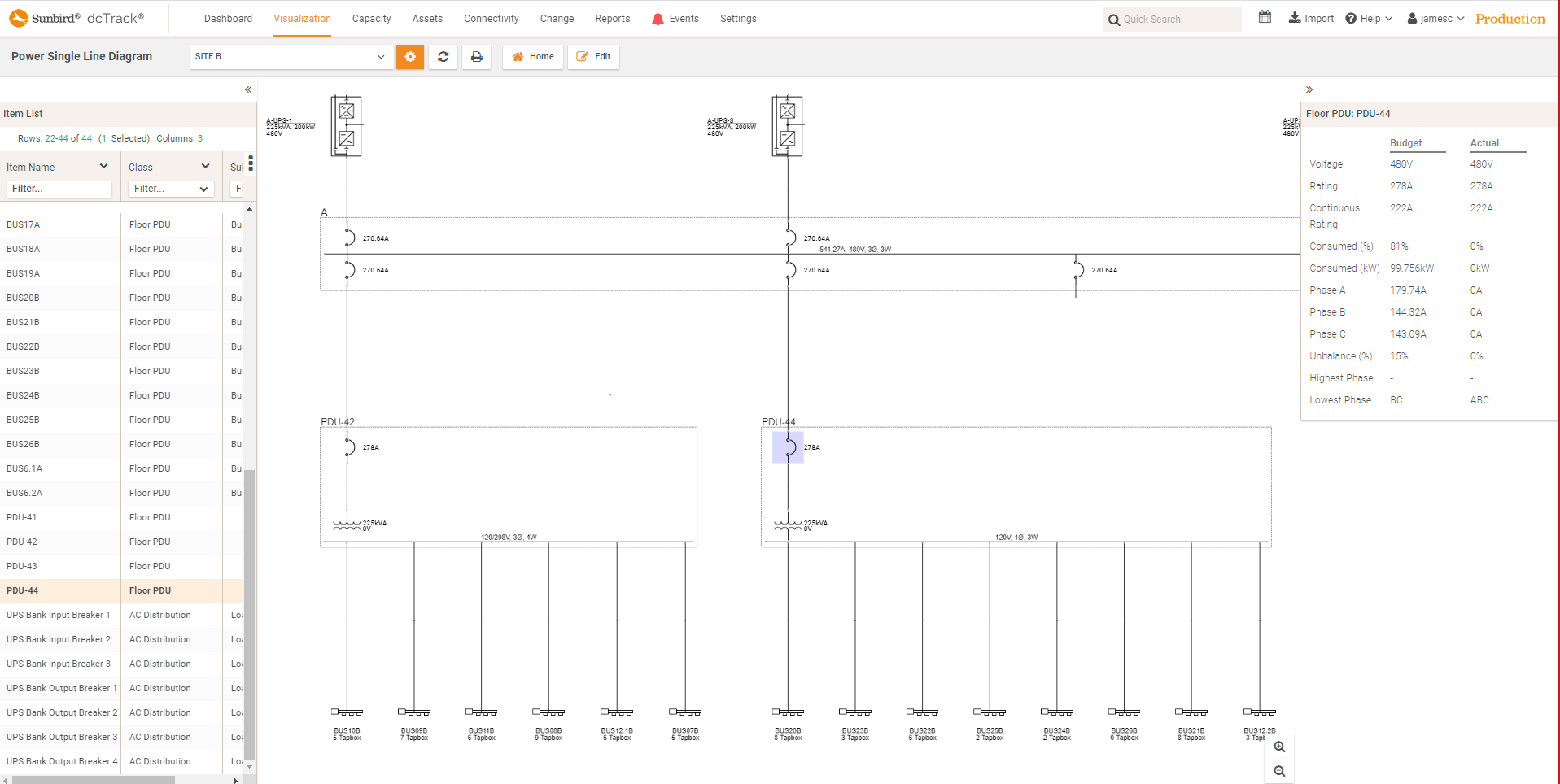 World Map
dcTrack 9.0 includes a world map feature that enables you to visualize your data center locations across the world.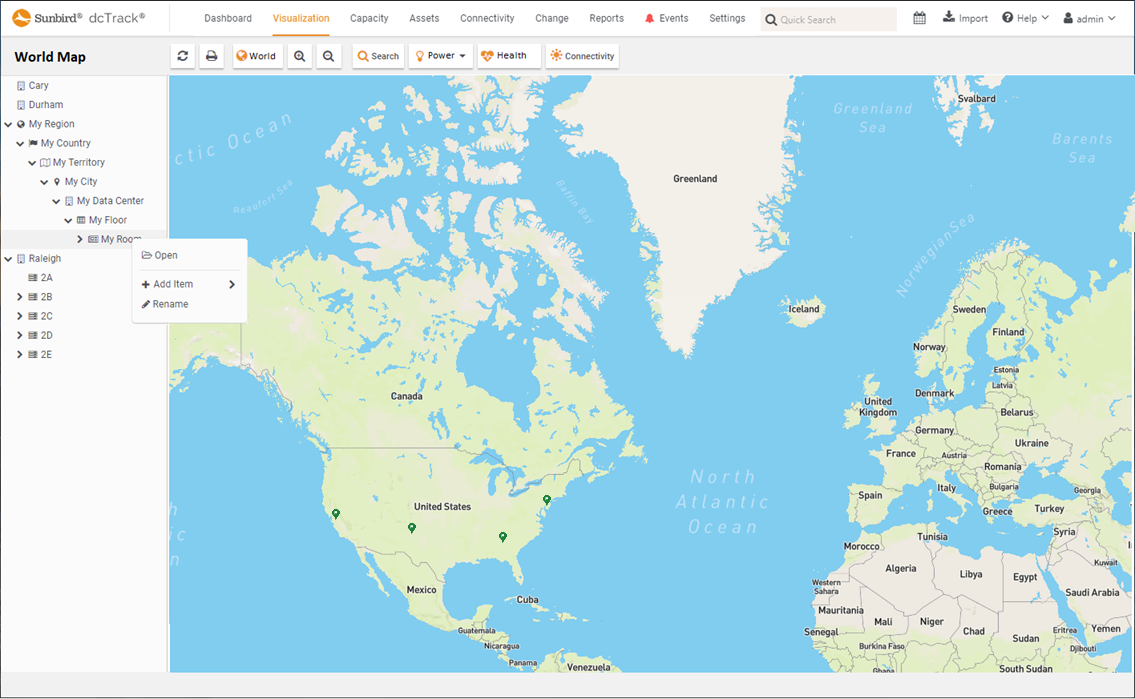 Custom Color Assignments for Floor Maps and Data Network Diagrams
Users can now assign colors for items on floor maps or in data network diagrams based on their standard or custom field values. For example, users can highlight and quickly see all of the items for a single project or multiple projects.
Simultaneous Search and Color Highlighting on Floor Maps
The floor map search feature has been enhanced to allow users to apply color coding in conjunction with search.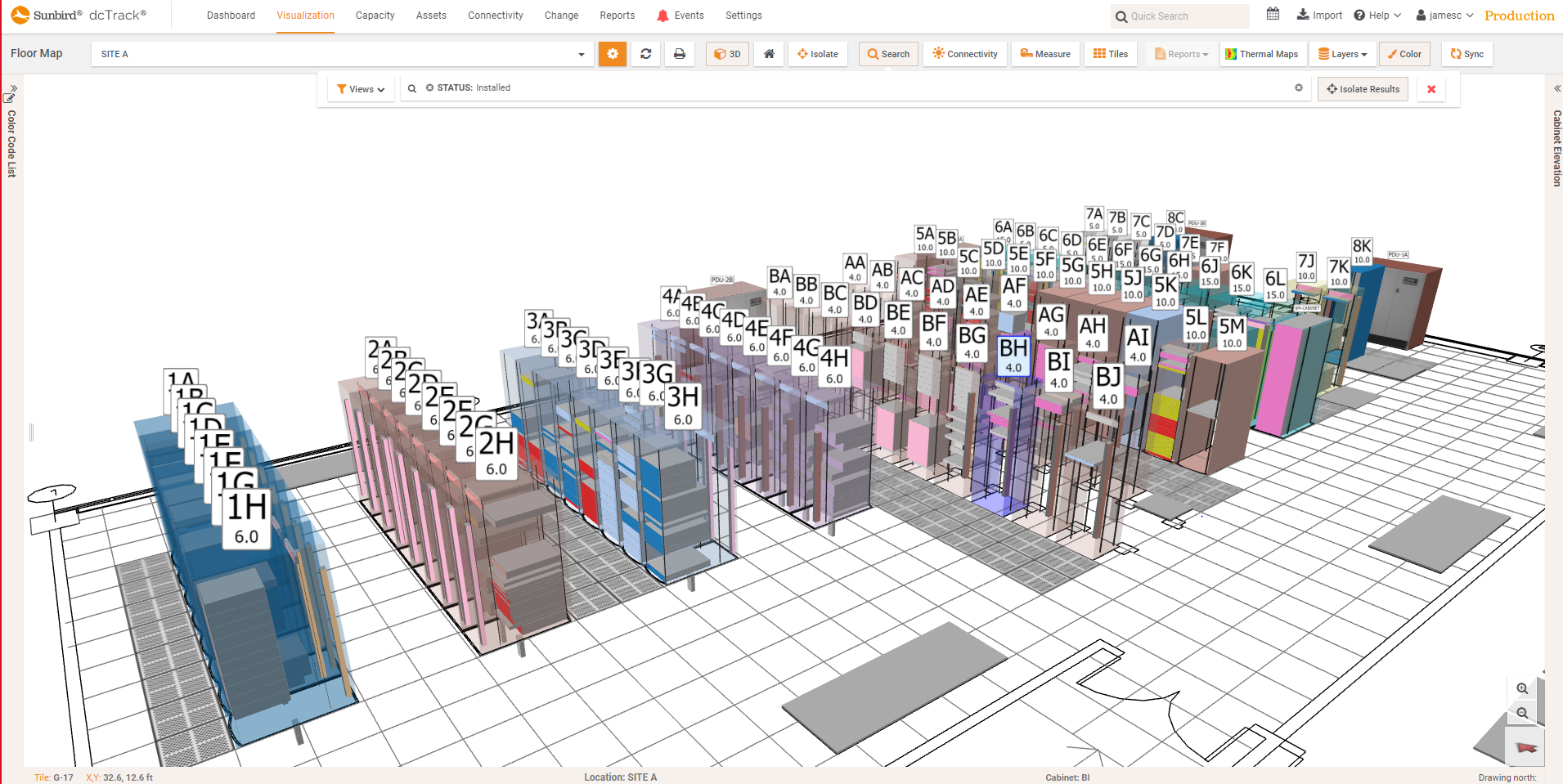 Schedule and Email Reports with SQL Grid Widgets and Chart Widget Data Emailed as CSV Files When Scheduled
dcTrack enables users to create a report that can be emailed immediately or scheduled to be generated automatically and emailed on a set frequency. dcTrack 9.0 supports scheduling SQL grid widgets in addition to HTML chart widgets. Char widgets have also been enhanced to allow users to include the detail behind the chart as a .csv attachment on the email.
And Much More!
Ready to Upgrade?
For more information on what's new in dcTrack 9.0 including adding part number, description, and other new fields for item models, managing makes in the models library, initiating cabinet search for an existing planned item, and scanning blades and more with asset audit enhancements, read the release notes.
Ready to upgrade now? Download the upgrade file on the support portal.
Not a dcTrack customer, but interested in trying out these exciting new features? Get your free test drive today!