What is Direct Current Power for a Data Center?
Power is the most important aspect to be considered for data centers. Most data centers use alternate current (AC) power distribution systems. Recently, however, there has been a growing interest in the industry to explore and utilize direct current (DC) power distribution systems as another option. Leading telecommunication companies like Comcast and Verizon already run their data centers on DC power. There are servers on the market that can operate on both DC and AC power, so it is imperative to make both options available to the data center simultaneously to be ready for the future.
History of AC vs DC Power
In 1800, Thomas Edison invented an electrical distribution system based on direct current, but he lost the War of the Currents against Nikola Tesla, who invented the AC power distribution system with George Westinghouse. AC won because of its ability to easily transmit power over long distances with minimal loss. Hence, use of AC became the obvious choice for Standard Power Distribution System.
AC can transmit power over thousands of miles, while DC power plants can only transmit power up to a few miles. It is sufficient when we think about uses such as lighting streetlamps, but in a data center, the energy transport is limited to the data center facility itself. Therefore, the consideration of transport loss when using DC in the data center is less critical.
Key Differences Between AC and DC Power
In AC power, the current changes directions periodically. It reverses 60 times per second (North America) or 50 times per second (Europe), and the voltage is easily transformed. This is one of the reasons why AC can be transported easily.
In an AC power data center, the power is distributed to the facility at 600V AC or 480V AC. This power is then stepped down to 208V AC or 120V AC for distribution to racks for use by servers and other IT equipment.
For power interruption and disturbances in AC power data centers, an uninterruptible power supply (UPS) and energy storage system such as batteries are used for power backup. This involves converting incoming AC power to DC for storage. During power interruption, power backup is maintained by converting the DC power to AC which transmits the power to floor PDUs and further downstream to rack PDUs which distribute the power to servers and IT devices placed in those racks.
Direct current is linear, flowing in one direction. Cell phones, solar cells, computers, TVs, and hybrid and electric vehicles run on DC power.
DC power data centers get power from the utility in AC which gets converted to DC using rectifiers, which also charge the battery. DC power from these rectifiers goes to the battery distribution circuit breaker bay (BDCBB) which transmits the power to servers placed in racks directly or through fuse alarm panels.
During power interruption or disturbance, the charged batteries are used for power backup and, unlike with AC power, conversion is not required.
Key Benefits of DC Power
Less complex. DC power conversion is less complex when compared to AC power, resulting in less data center space and equipment required. In addition, the simpler design of DC power architecture eliminates the need for phase load balancing.
Less space. Real estate gets reduced to 25 percent when using DC power equipment compared to an AC power data center. That space in the data center can be used to install more racks and servers. As such, the cost of space and equipment maintenance is less in a DC power data center.
Power quality. The quality of power is better in DC and the power loss is less in DC compared to AC. In AC, there are some losses of power every time the current changes the directions.
Modular and scalable. DC power systems can be built over time as the load increases by adding more battery strings. Unlike AC power where a UPS needs to be installed with maximum power capacity from day one. Energy storage devices like batteries can be added as needed and without changing the existing architecture. As the facility grows, upgrades and installations are faster.
Integration with other sources. DC power systems in data centers can help in integrating with energy sources like solar panels and fuel cells.
Longer run time. During power failure the run time provided by batteries in DC power data centers is greater than a UPS for the same load.
Limitations of DC Power
Lack of knowledge. Since very few companies have their data centers run by DC power, there is a lack of experience among data center owners, operators, and contractors. The support available from the hardware vendors is limited because of the lack of knowledge and experience.
Lack of standard. DC power distribution systems are still missing an agreement on a standard for electrical voltages and electrical connectors. There is no industry-defined standard design for a DC power data center.
Refactoring cost. There is a cost involved in retrofitting the existing architecture. The industry may not be in favor of DC power because of the expense of changing the existing AC power architecture to support DC power.
Limited DC power resources. There are a limited number of servers available on the market that run on DC power supplies. The lack of air conditioning systems and fire protection systems that run on DC power make it a difficult choice to opt for a DC power distribution system in the data center.
DC and AC are two alternative approaches for data centers. Since most data centers use AC power, it would be difficult to change their existing architecture to DC. However, when designing a new data center, DC power certainly is a promising option.
Easily Manage DC Power in Your Data Center
Sunbird's Data Center Infrastructure Management (DCIM) software supports both AC and DC power. You can also easily manage your data centers with Sunbird DCIM if some of your facilities run on AC and others on DC.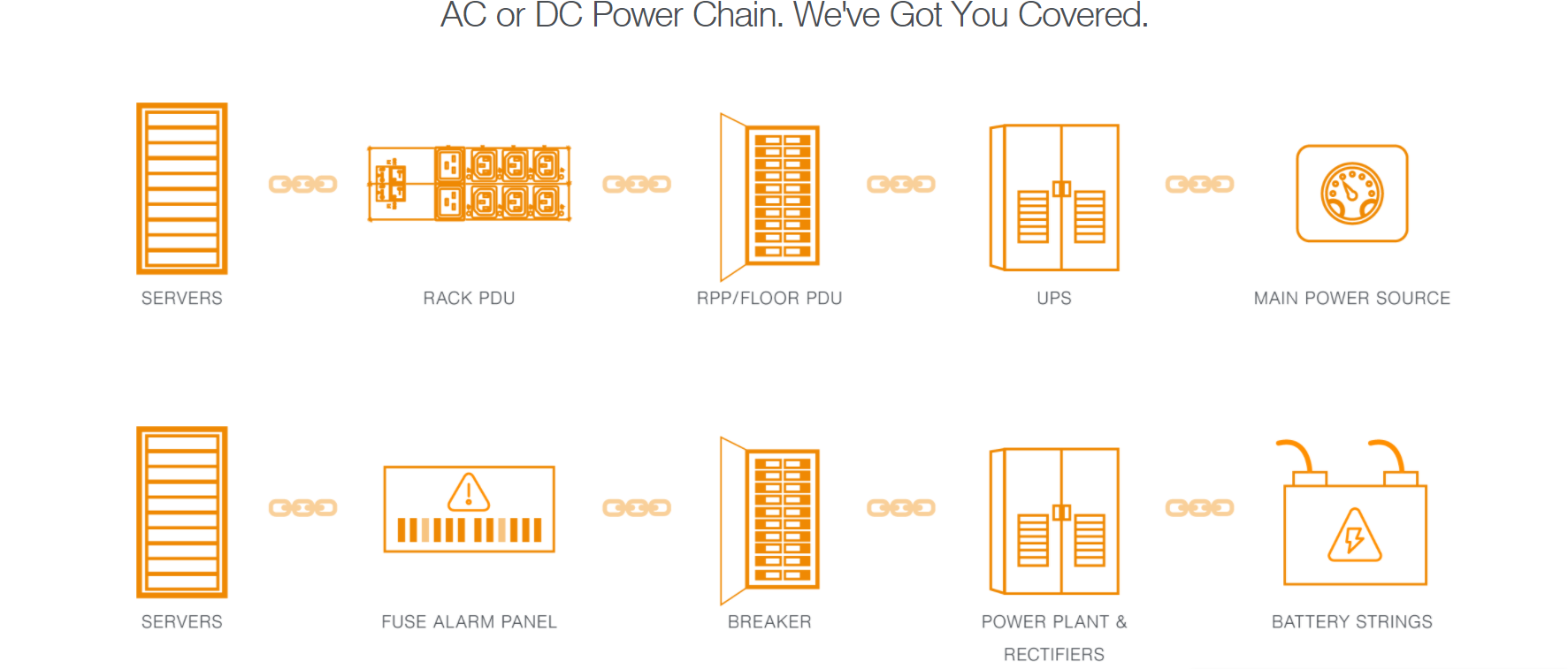 Do you want to see for yourself how Sunbird's DCIM software provides intuitive capabilities to efficiently manage your DC power data center? Then take a free test drive today.