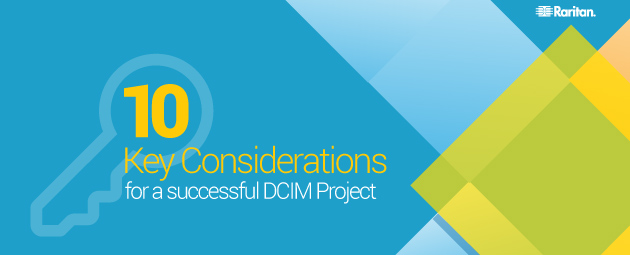 10 Key Considerations for a Successful DCIM project
There's a lot of hype and discussion about Data Center Infrastructure Management (DCIM) and associated DCIM Companies.   You might be like many others in that are just learning about what DCIM in of itself provides.  Or you might be more experienced but confused by all features that different DCIM Vendors have to offer.  While the market is still in the early adopter phase we have seen successful DCIM deployments.   The keys to these successes have been based on a lot of discussion, review and priority setting.  To ease in selecting a DCIM vendor and solution, we suggest that you review these 10 key considerations:
1.  Be clear on the data center problems you are trying to solve.  Select and prioritize the ones that are most important.
2.  Define processes and outcomes.  Identify what you like, what you don't like, and what your future data center management processes look like.
3.  Evaluate based on "must haves."  When evaluating DCIM solutions, don't get caught in the feature comparison trap. 
4.  Partner with peers.  Identify and engage those organizations that may be impacted by the project
5.  Clearly define ownership.  Identify a data center management team to own and maintain the system.
6.  Start small and expand over time.  Focus on your most critical business problems first and expand your DCIM deployment as you achieve success.
7.  Expect integration.    You will have existing systems, processes, and databases that will benefit from integration, but you may not need to address these immediately.
8.  Expert Services.  Ask for help to expedite and simplify your DCIM deployment
9.  Monitor Usage.  Ensure that your team is trained and monitor the DCIM Tool usage to ensure responsibilities are known.
10.  Partner with Experienced Vendors.  Team with vendors that have a proven track record for delivering data center management solutions .
For a more detailed description of the items to consider when selecting a DCIM vendor, download our eBook – 10 Key Considerations for a Successful DCIM project.