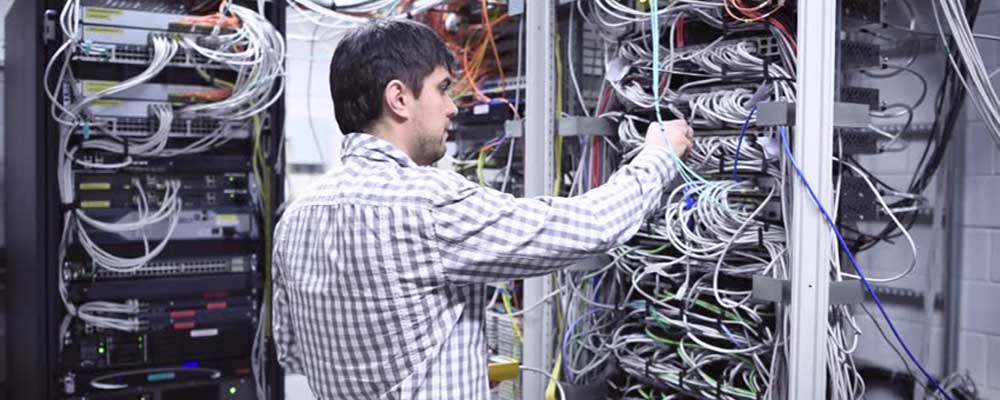 5 Ways DCIM Software Can Help You Get More Out of Your Intelligent Rack PDUs
Today's data center managers—facing data center uptime expectations, PUE compliance, budget concerns, and a general expectation to do more with less—are hard pressed to find creative, cost-effective solutions to the challenges of power management. So it's no surprise that many forward-looking data center managers are turning to intelligent rack PDUs to provide power-metering data that can inform decision making, saving costs and improving efficiency in their data centers.
 
But how can you be sure that the time, money, and other resources dedicated to your iPDUs are well spent?
 
That's where DCIM tools can make a difference. Whether you are just starting to roll out your iPDUs or have been using them in your data centers for some time, here are five key ways that DCIM software can help you get more out of your intelligent rack PDU data:
 
1. Manage Customer Billback and PUE More Accurately
Many rack PDU vendors provide smart or intelligent models that feature granular power metering, including at the inlet, outlets, and branch circuit breaker levels. Current, voltage, energy costs, and other power-specific metrics are also tracked. This granularity combined with the variety of tracked information across hundreds or thousands of rack PDUs results in an overabundance of data readings, making it difficult to effectively analyze what this data actually means for your data center.
 
DCIM software enables you not only to obtain these iPDU readings to better understand the exact amount of power used and which devices are using it, but also to know who is using it. When combined effectively with intelligent rack PDUs, a good DCIM solution presents this data in easy-to-understand reports that can be used to accurately bill back costs to the appropriate departments or customers, determine who will be most affected by outages, drive PUE initiatives, and ultimately save money and energy. (See one example of an integrated iPDU and DCIM offering here.)
 
2. Log and Trend Data Over Time for Predictive Power and Capacity Planning
Most intelligent rack PDUs are able to log a certain amount of data points over a short time period (typically several hours to a few days, depending on storage). While this might be sufficient for immediate-term analyses, such a small dataset limits your ability to plan and manage future capacity.
 
DCIM extends this functionality so you can collect real-time data over years, not just days, and so the data capture supports planning and capacity management operations. Multiple data points over longer periods create the opportunity to explore trends, allowing you to spot and address potential issues before they become debilitating and to predict important events, such as when you will run out of power. Being able to forecast based on your historical consumption rate will help you improve power capacity planning and uptime.
 
3. Monitor, Set Thresholds, and Get Alerts on the Health of Your Data Center
Reliable power distribution and metering are the main reasons most data center managers look to intelligent PDUs. However, many models also support optional sensor probes that collect data on environmental factors, specifically temperature and humidity.
 
DCIM software combines this environmental sensor data with power monitoring for a complete view of your data center's health. Some iPDUs are optimized for high ambient temperatures, but in general, using DCIM to set minimum and maximum thresholds for temperature and humidity helps ensure that your mission-critical IT equipment is operating within an optimal environment, without the additional costs of overcooling or hot spots.
 
4. Visualize Your Intelligent PDU Data for Faster Asset Management
Intelligent PDUs can collect a large volume and variety of data for power monitoring as well as environmental management. But making sense of this vast quantity of data to accelerate decisions about IT equipment placement within your data center can be difficult and time consuming without visualization.
 
With DCIM software, you have access to multiple visualization options that simplify data analysis and reporting. Dashboards display a wealth of information across a variety of charts of graphs and can be customized to show the information most relevant to you. Based on your own AutoCAD or Visio floor map drawings, supplemented with detailed model information, DCIM software provides interactive 3D floor and rack diagrams for a bird's-eye view or zoomed-in perspective of your data center assets and their associated power and environmental data—with a just few clicks. Not only are you able to quickly place new assets or move assets around, but you also know that your decisions are based on data that is accurate and complete.   
 
5. Bring It All Together in a Single-Pane-of-Glass View
Intelligent PDUs can log so much data that it's often necessary to use many different tools, homegrown or otherwise, to track and analyze it. As a result, keeping this data accurate and up to date across systems can be a source of frustration for your data center team.   
 
DCIM software overcomes the need for different systems by enabling you to see and analyze all of your intelligent rack PDU data through a single pane of glass. You don't need to learn multiple tools to see power usage and environmental data. With DCIM, you simply view data and take action on it in the same interface, saving you time on making data center changes, placing new equipment, and training to get your team up to speed.
 
For many data center professionals, intelligent rack PDUs are a not-so-secret weapon in the ongoing struggle for optimal power capacity management. DCIM tools can help you maximize the value of your intelligent rack PDUs by extending basic capabilities and enabling advanced analytics to help you make decisions that improve your data center's health and capacity planning.
 
Want to explore the advantages of using DCIM software with intelligent rack PDUs for yourself? Take our DCIM software for a spin today.
Published August 2, 2016. Updated March 23, 2018.