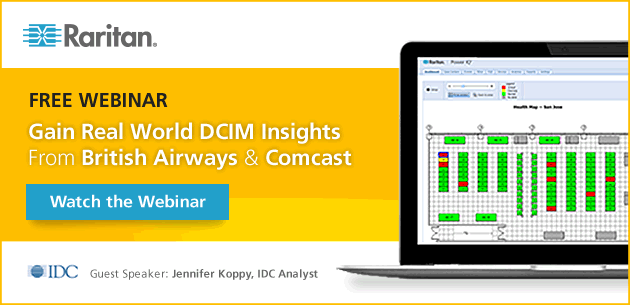 Gain Real World DCIM Insights with British Airways and Comcast
Often the best lessons learned are from those that have experience.  Listen and learn as British Airways and Comcast, two companies that have successfully deployed DCIM, discuss the benefits they have received from their DCIM implementations. 
 
In this hour long webinar, Keith Bott, Comcast, and Micah Petty, British Airways, spoke with Jennifer Koppy, IDC Research Director, and provided valuable insight into lessons learned, pitfalls to avoid, and gave viewers tips on how to be successful with a DCIM deployment.
 
As many data center managers are tasked to do more with less, and deliver services faster and more economically, improving the management of data center resources becomes a critical step. DCIM tools help data center operators more efficiently utilize their data center resources including power, assets and people.
 
When asked to name a few strengths of Sunbird that made it a choice vs. others in the market, Bott identified simplicity and ease of use, the overall value, and noted that "the main thing you find with Sunbird is they listen to what you want, rather than saying this is what we got and this is how you use it."  These are all key strengths that have led many customers to choose Sunbird's DCIM solution for their data center operations.
 
Take the time now and listen to the replay to learn how you too can successfully deploy DCIM in your data center.