How to Measure Data Center Sustainability
Sustainability is one of the biggest, if not the biggest, topic in the data center industry today. A sustainable data center is a facility that can maintain operations at a high level of efficiency over time. It is important for data centers to be as sustainable as possible because they use a lot of resources which makes reducing their environmental impact and carbon footprint top priorities. It is also important because these facilities need to comply with corporate sustainability initiatives.
Being able to measure your data center sustainability is critical because to gauge where you need to be, you need to know where you are. This data is also necessary to demonstrate compliance.
Still, many data center managers struggle to measure their data center sustainability. They may lack the data needed to analyze and improve upon sustainability, not have the appropriate tools to collect and report on the data, or not even be sure of what to measure.
However, there are many metrics that can be analyzed to understand how sustainable your data center is. To ensure that your data center is taking steps to be more sustainable, you can look at measuring and improving several key areas.
Energy Usage
Data center energy consumption refers to the amount of power used on an annual basis, measured in kilowatt-hours (kWh), to run the facility. Over the years, there has been a steep increase in the amount of energy being used by data centers due to increasing rack densities and a greater reliance on digital services to carry out work and activities. Today there is a larger emphasis on reducing carbon footprints, lowering energy consumption, and improving sustainability. This can be done by adopting better strategies aimed at improving sustainability and setting new specific goals that target lowering energy consumption.
In addition to creating strategies to improve energy efficiency, you should know exactly what is consuming energy and how much. In the average data center, servers and cooling systems account for the greatest amount of energy consumed. The remaining energy is consumed by storage and network drives. The traditional cooling systems used in many data centers use a vast amount of energy to remove the heat generated by the IT equipment. You should invest a lot of time trying to make the cooling system as green and efficient as possible as it has the greatest impact on overall sustainability efforts.
It is estimated that data centers account for about 1-3% of the world's electricity usage and consume up to 50 times more energy per floor space than the average commercial building. Data centers are one of the most energy-intensive building types and organizations should consider how they can reduce their energy consumption as much as possible. Since so much energy is consumed, it accounts for the number one expense for data centers. Reducing the amount of energy used is crucial as it will not only help the environment but also lower financial costs for data centers.
The infrastructure and equipment within the data center are what consume the most amount of energy. For instance, cooling equipment uses lots of energy to ensure stable temperatures, humidity levels, and properly functioning servers so that maximum uptime is achieved. If you want to improve your energy consumption, you must start by measuring it with certain tools. Intelligent rack PDUs are valuable for measuring power usage and available capacity at each rack. You can use outlet-metered PDUs to provide data at the device level which can also help identify ghost servers, energy usage, cost by the customer, and compare IT efficiencies. Switched PDUs with outlet control can remotely power individual outlets on and off, saving energy when equipment is not in use.
Carbon Footprint
The carbon footprint of a data center is the amount of carbon emitted from the total amount of electricity used by the facility. It represents a data center's dependence on fossil fuels and its potential environmental impact. Geographical location and the local electricity mix are strong determining factors of a data center's carbon footprint.
When fossil fuels are burned, it releases greenhouse gases like carbon dioxide into the atmosphere. This process contributes to the greenhouse effect which is when greenhouse gases get trapped in the atmosphere and make the planet hotter causing climate change. As energy needs have increased in the data center industry, so have carbon emissions. Data centers that aren't focused on sustainability have large carbon footprints which impact the health of our planet. Data centers that want to reduce their carbon footprint can start by:
Upgrading to new equipment. Older equipment in data centers might not be as efficient as it needs to be. If reducing carbon emissions is a priority, reliable equipment is needed so it is only consuming the energy it absolutely needs and not burning unnecessary fossil fuels.
Recycle or reuse equipment. Data centers can recycle and potentially reuse their equipment to reduce the number of unnecessary emissions released into the atmosphere. If this process is done on a large scale, the impact it can have on a data center's carbon footprint could be extremely positive.
Use renewable energy. As technology advances, renewable energy sources are more cost-effective. Solar panels, wind turbines, and hydroelectric plants are all examples of renewable energy. The burning of fossil fuels is a non-renewable energy source and greatly hurts the environment. By shifting some practices to use renewable energy sources, data centers would be able to improve their carbon footprint and sustainability.
Water Consumption
Water consumption is the amount of water used within a data center for numerous functions. Data centers require excessive amounts of electricity, energy, and water to operate. The average data center uses 1.8 L of fresh water per kWh of IT power consumed and in the U.S. it takes 57 L of water to produce 1 kWh of electricity. While energy usage is a focus of sustainability, water consumption is also an area of concern.
One reason that data centers require a lot of water is for cooling. Data center water cooling is a liquid cooling process in which water is used to lower the temperature of server components. Water conducts heat about 30 times better than air and is an extremely effective method of data center cooling. According to a Nasa-led study, the freshwater sources around the world are being drained at unprecedented rates and not being properly replenished. This puts data centers that rely on this water source for cooling at risk as the supply is quickly running out.
One way that data centers can become more sustainable through water is by measuring the Water Usage Effectiveness (WUE) of the facility. WUE is a metric that was developed by The Green Grid to measure sustainability in terms of water usage and its relation to energy consumption. If your data center does not have a satisfactory WUE, there are several ways that it can be improved:
Raise temperature and humidity. Increasing the temperature and humidity in a data center reduces the amount of heat that needs to be dissipated by the evaporative cooling process at the cooling tower. By doing so, the facility is able to take more advantage of free cooling strategies by leveraging a waterside economizer as opposed to the chiller and tower system.
Use recycled water. Recycling water can lead to a drastic decrease in the amount of water supply needed. If the water is treated using acid treatments such as sulfuric, hydrochloric, or ascorbic acids, water can be reused for numerous cycles, reducing the amount of additional water needed.
Increase cycles of concentration. Cycles of concentration is the ratio of the volume of water supplied to the cooling tower (makeup water) to the volume of water removed from the system (blowdown water). While systems typically operate at two to four cycles of concentration, six cycles are recommended for maximum concentration. Operating at six cycles reduces cooling tower makeup water requirements by 20% and cooling tower blowdown by 50%.
Heat Waste
When cooling systems operate, the heat removed from equipment is often released into the air. Large amounts of this hot building exhaust can be extremely damaging to the environment and to humans. The emissions released from data centers can pollute the air and lead to illnesses such as heart disease, stroke, lung cancer, and respiratory infections. Additionally, these emissions contain nitrogen oxides that contribute to poor air quality in the form of smog and acid rain which can also lead to health effects.
Instead of letting released heat go to waste and damage the environment, companies are exploring new avenues to reuse the heat instead. One way that the exhausted heat can be recycled is by pumping it into nearby homes or buildings. Facebook has started experimenting with this method in Denmark by redistributing the heat from its 50,000 square-meter data center into the nearest community's radiators. By using this new process, Facebook claims to be able to heat 6,900 homes in the area. This can create a direct heat network and convert the wasted heat to a source of renewed energy. Apple is also planning to recycle the heat generated from their new data center and use it to warm surrounding buildings. Telecity is distributing the heat to an on-site Climate Change Arboretum where climate change effects are studied.
Other ways to reuse heat from data centers include running the ducts from the heat exhaust systems to nearby buildings or using it to warm greenhouses. This new concept of heat recycling, or energy reuse effectiveness (ERE) has given companies the chance to become heat suppliers instead of sole consumers. Finding methods to recycle the heat from your data center can improve energy management, the atmosphere, and sustainability. 
Environmental Building Assessment
An environmental building assessment is something that buildings can receive to indicate that the structure was designed and constructed to maintain a certain level of environmental responsibility. There are various assessments you can get to grade your data centers' design and sustainability such as:
BREEAM – Building Research Establishment Environmental Assessment Methodology (BREEAM) is an accreditation given out by Building Research Establishment (BRE). BREEAM is the oldest method of assessing, rating, and certifying data center environmental sustainability and is the most used in the UK. This system uses licensed assessors who examine the building and determine if it meets the standing requirements. To obtain a BREEAM rating, you choose the BREEAM standard that's applicable to your project and then begin the process with a pre-assessment from a licensed assessor. Following the certification process, if your building is deemed BREEAM certified, you will receive one of the following ratings: acceptable, pass, good, very good, excellent, and outstanding.
LEED. Leadership in Energy and Environmental Design (LEED) is a certification program run by the nonprofit U.S. Green Building Council (USGBC). This rating system looks at design, construction, operation, and maintenance. In contrast to BREEAM, LEED does not use licensed assessors to collect evidence for certification. LEED's building design team collects data and then sends it to the USGBC, and if the building meets the requirements, the LEED certification is awarded. The process to get a LEED certification starts with selecting the appropriate rating system and registering the project. The LEED method consists of categories with a specific number of points assigned to them. All the categories add up to 110 points and if your building meets at least 40 points, you are deemed certified. The higher number of points you receive, the higher the certification awarded is.
Green Globes. Green Globes is a rating system used for building environmental assessments that are gaining popularity in the US and Canada. Compared to LEED which has nine credit categories, Green Globes has seven from which points are obtained. The Green Globes rating system is also designed to be more of a self-assessment using a project manager and a design team. Green Globes awards different certifications for different types of buildings but follows the same kind of point system. Besides the points, Green Globes does look at other criteria such as design and size. The assessment and certification process is available on the Green Building Initiative website along with the breakdown of the points.
Having a certification from assessments such as these indicates that you have a green building, and it comes with many benefits. It indicates to others that your building is focusing on reducing carbon emissions, energy usage, and water consumption. Plus, a study by the U.S. Green Building Council found that employees in LEED-certified buildings are happier, healthier, and more productive.
Data Center Sustainability KPIs
As data centers focus more on improving sustainability, it is important to know what metrics or KPIs are available to measure that can help you gauge where you are. Below is a list of several sustainability metrics that data center managers should use to start improving their sustainability:
Power Usage Effectiveness. Power Usage Effectiveness (PUE) is one of the most popular sustainability metrics that data centers use. PUE measures overall energy efficiency and can be calculated by dividing facility energy by IT energy.
Carbon Usage Effectiveness. Carbon Usage Effectiveness (CUE) is a metric used to measure data center sustainability from a carbon footprint perspective. It is the ratio of the total carbon emissions caused by total data center energy consumption to the energy consumption of IT equipment.
Water Usage Effectiveness. Water Usage Effectiveness (WUE) is a metric developed by The Green Grid to measure data center sustainability in terms of water usage and its relation to energy consumption. WUE is the ratio between the use of water in data center systems (water loops, adiabatic towers, humidification, etc.) and the energy consumption of the IT equipment.
Data Center Infrastructure Efficiency. Data Center Infrastructure Efficiency (DCiE) is a sustainability metric that measures how much of total facility energy is used by the existing IT equipment. DCiE is the reciprocal of PUE.
Energy Reuse Factor. Energy Reuse Factor (ERF) is a sustainability KPI metric that measures how much energy in the data center is reused elsewhere in the facility. To find ERF, you divide the reused energy by the total energy in the data center.
Green Energy Coefficient. Green Energy Coefficient (GEC) is a metric that measures how much renewable energy is generated onsite. The GEC of your data center can be found by dividing the total amount of green energy by the total energy.
Grid Utilization Factor. The Grid Utilization Factor (GUF) measures the percentage of time when the data center is powered by energy generated onsite.
Stranded Power Capacity Per Rack. This metric measures how much additional equipment can be deployed in existing cabinet resources to defer building new facilities. This can be calculated by subtracting actual rack power from budgeted rack power.
Delta-T Per Cabinet. The Delta-T Per Cabinet metric measures how effectively cold air is cooling the IT equipment in each cabinet. It can be calculated by subtracting the intake temperature from the exhaust temperature.
Technology Carbon Efficiency. Technology Carbon Efficiency (TCE) is another sustainability KPI that measures how clean the energy consumed by your data center is. To calculate TCE, you divide facility energy by total CO2 emissions.
Air Economizer Utilization Factor. The Air Economizer Utilization Factor (AEUF) is a metric that measures how often outside air is being used for free cooling. To find AEUF, you take divide the time the air economizer is in use by the total time. A similar metric for Water Economizer Utilization Factor (WEUF) can be used.
For more KPIs, see the complete list of the Top 30 Data Center Sustainability Metrics.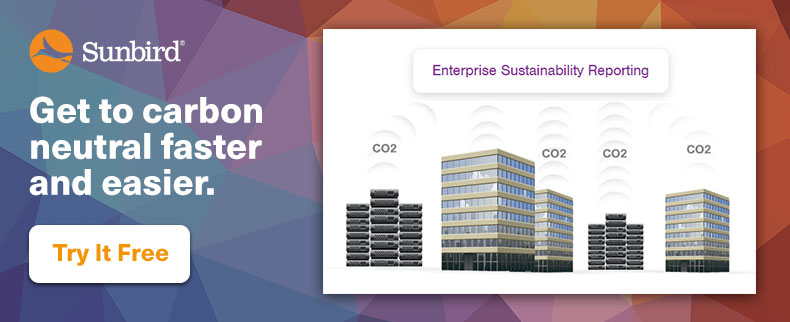 How to Measure and Improve Data Center Sustainability with DCIM Software
Data Center Infrastructure Management (DCIM) software is a new class of software that gives data center managers the ability to run more efficient and sustainable data center operations. This new software also improves data center infrastructure planning and design to defer the energy-intensive construction of new facilities. There are many benefits to using DCIM software in your data center that can massively improve your sustainability levels such as:
Automatically calculate PUE in real-time. DCIM software automatically calculates your data center's PUE in real-time and consolidates that information into actionable reports to enable you to save power and money.
Easily identify ghost servers and power hogs. Ghost servers are idle servers that perform no valuable function while still consuming energy and space. It is common for about 30% of all servers in data center to be ghost servers. However, some facilities might struggle identifying these ghost servers, but with DCIM software you can do it instantly. DCIM software allows you to run a ghost server report and with the results, you can decide to either power off, decommission, or make use of the ghost servers to save energy and maximize the utilization of existing resources. Additionally, you can see which servers are your power hogs that consume more energy than your other devices.
Drive efficient behavior with bill back reports. DCIM software can be used to drive more efficient behavior from customers with bill back reports. These reports encourage internal and external customers to follow energy efficiency best practices. By charging customers for the energy that their equipment consumes, they will be financially impacted and incentivized to reduce their energy consumption.
Make more informed energy management decisions. DCIM software collects the live readings from power meters and environmental sensors and transforms them into useful insights that can help you get to carbon neutral faster and easier. You can also trend the collected data and see the impact of your energy sustainability initiatives in real-time.
Track your carbon footprint. DCIM software allows you to see your carbon footprint by location, set a target, and track your performance over time. Plus, you can measure energy consumption at every connection point of the power path within your facility including rack PDUs, floor PDUs, branch circuits, and uninterruptible power supplies (UPSs).
Want to see how Sunbird's world-leading DCIM solution can help improve your data center sustainability? Get your free test drive now!