5 Ways DCIM Software Improves Data Center Sustainability
Data centers account for more than 2% of total global energy consumption. If action is not taken, it is estimated that data centers will be responsible for 8% of global energy consumption by 2030.
Data center managers are under increased pressure to comply with sustainability initiatives such as the EU Code of Conduct for Energy Efficiency in Data Centres and dramatically increase their efficiency. To support their efforts, many data center professionals are turning to Data Center Infrastructure Management (DCIM) software.
DCIM software helps you improve data center sustainability by enabling you to:
1. Stop wasting energy by overcooling equipment.
One of the biggest roadblocks to data center sustainability is the overcooling of equipment. The average data center has 3.9 times more cooling capacity than the IT load requires. This is a large waste of energy and money.
ASHRAE recommends that temperatures at the server intake should be between 65-80° F, yet many data centers are either at the low end of that range or even below it due to risk-averse data center managers who do not want to risk downtime due to overheated equipment. However, you can save 4-5% in energy costs for every 1° F you increase the temperature and increasing temperatures can be done without introducing the risk of downtime.
DCIM makes it easy to stop wasteful overcooling by monitoring temperature sensor data and transforming it into actionable insights. For example, ASHRAE cooling charts show you which cabinets are operating outside recommended ranges, 3D thermal map time-lapse videos make it easy to identify the formation of hot spots, and threshold alerts automatically notify you when a cabinet is getting too cool or warm.
You simply have to identify where you can raise temperature set points in your DCIM tool and slowly make those adjustments while monitoring the temperatures to ensure they don't exceed your recommended range.
Learn how Vodafone uses DCIM software to safely raise temperatures and become more sustainable.
2. Find and shut down energy-wasting ghost servers.
Ghost servers are servers physically running in your facility but not performing any useful function. In an average data center, up to 30% of all servers could be ghost servers and all they do is waste energy and resources. It is crucial to identify and remove them so you can save energy and free up power, space, cooling, and cabling capacity.
With DCIM software, it's easy to know which of your servers are ghost servers. DCIM software monitors live measured data from intelligent rack PDUs and modern solutions have a built-in ghost server report.
With this report, you can see which servers are drawing less than 50W over time. Add up their energy consumption to know how much energy and money you can save by removing them. DCIM software provides the exact rack and U position for each server and the change management capabilities allow you to create requests to decommission them. After removing the ghost servers from your data center, you can use your DCIM tool to track your improvements in energy consumption, PUE, and available capacity in real time.
3. Improve the energy efficiency of your private cloud or virtual environment.
Modern organizations have large estates of servers in which some are older and less efficient than others. If you operate your data center like a cloud in a virtualized environment, your virtual instances may differ in efficiency depending on the physical servers they are located on.
Second-generation DCIM software allows you to automate and optimize virtual machine management by integrating with VMware. The integration lets you register for "events" including a new cluster, host, or virtual machine being deployed that will automatically populate into your DCIM. Customers report that the integration is a simple set up with an out-of-the-box connector and only takes 3 to 4 minutes.
You can achieve your sustainability goals faster by moving virtual instances to the most efficient servers. This can also decrease hardware costs, quicken the provisioning of resources, and help identify and decommission non-functioning servers.
4. Track sustainability metrics like PUE
One of the most common ways to measure data center sustainability is through the metric Power Usage Effectiveness (PUE). PUE measures the overall efficiency of a data center and indicates how much of the total facility's total energy consumption is being used by IT equipment in ratio form, with a PUE of 1.0 being 100% efficient. While the Uptime Institute reports that the average PUE is 1.58, your goal should be under 1.4 or 1.5 depending on your facility.
Tracking PUE helps sustainability because you can monitor energy efficiency over time and spot changes at certain points in time like at peak loads or by season. Access to this information can help you make more informed decisions about energy consumption and how to better increase efficiency.
DCIM software provides automatic PUE charts in real-time so you don't have to waste time collecting energy bills and power meter readings and performing manual calculations. Instead, you can focus that time on projects that will improve your energy efficiency.
While PUE is important, there are many data center sustainability metrics that, together, provide a more holistic view of your sustainability. DCIM software can be used to track how many of your cabinets are compliant with ASHRAE standards, delta-T per cabinet, stranded power capacity per rack, temperature per cabinet, carbon footprint, and more.
5. Drive more efficient behavior with customer bill back reports.
Since internal and external customers might not always comply with energy efficiency best practices, it's important to drive awareness and accountability by charging them for the energy they actually use. DCIM software can generate bill back reports so you can monitor the cost of energy per customer, business unit, or application with extreme accuracy. When customers see their report, they can be encouraged to become more conscious of their energy consumption and contribute to improving sustainability.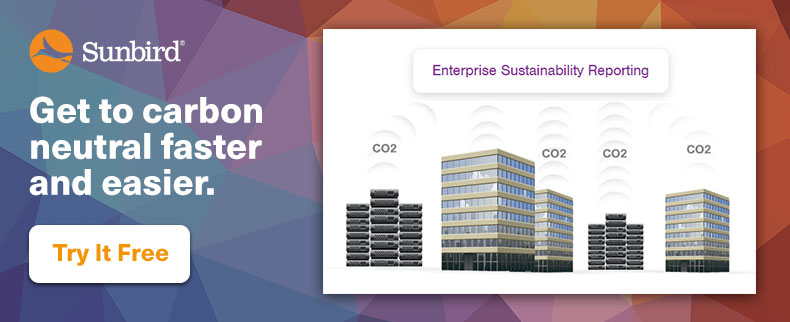 Bringing It All Together
Are you looking for a solution to help you report on and improve your data center's sustainability? Second-generation DCIM software can help you get to carbon neutral faster and easier by providing the information you need to make the smartest data center management decisions and increase your energy efficiency.
Want to see how Sunbird's world-leading DCIM solution can help improve your data center sustainability? Get your free test drive now!