What is a Single-Line Diagram and What is It Used For?
A single-line diagram (also known as an SLD or one-line diagram) is a simplified representation of an electrical system. Symbols and lines are used to represent the nodes and connections in the system, and electrical characteristics may be included as well.
In a data center, a single-line diagram is used to visualize the power distribution system to improve planning and troubleshooting, ensure redundancy, and reduce potential outages.
What Does a Single-Line Diagram Look Like?
Single-line diagrams use standard symbols for the different nodes of power systems. The power source is displayed at the top of the diagram so that the power path can easily be followed downstream from node to node and redundant power paths can be visualized side-by-side.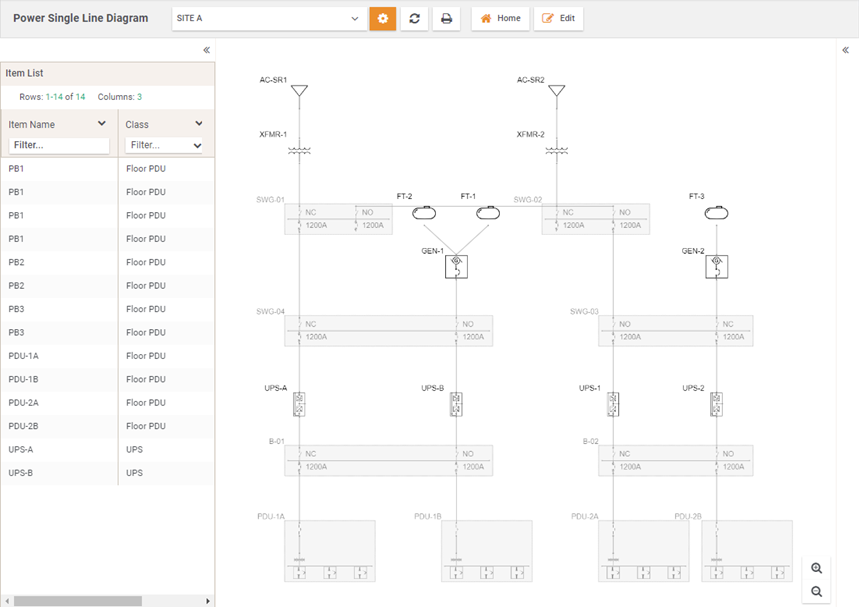 An example of a single-line diagram via Sunbird DCIM.
What Equipment is Included in a Data Center's Single-Line Diagram?
A single-line diagram clearly shows the redundant power paths from the data center facility's power source down to the floor power distribution units.
The nodes of a data center's single-line diagram typically include:
Utility feed. The main power source from the utility.
Generators and fuel tanks that deliver backup power during an outage.
Transformers that convert electrical power from one voltage or current to another voltage or current.
Switchgears that control, protects, and isolates electrical equipment.
Switchboards that divide and distribute power into branch circuits.
Automatic transfer switches (ATS) that switch to a backup power source when there is an outage.
Uninterruptible power supply (UPS) units that provide emergency power during an outage until the power returns or a longer-term backup system turns on.
Floor power distribution units (PDUs) that transform raw power feeds into lower capacity feeds that feed into remote power panels or busways and rack PDUs.
DC power plants that provide uninterrupted DC power.
DC bays that divide and distribute individual loads from the DC power plant to equipment downstream.
What is a Single-Line Diagrams Used For?
A single-line diagram is used to depict the distribution of power through a facility. The diagram should be kept accurate and updated as equipment in the facility is added, removed, or changed.
The benefits of using a single-line diagram in your data center include:
Becoming familiar with your power distribution system layout and design
Documenting redundant power paths to ensure system reliability
Simplifying planning, troubleshooting, and increasing the efficiency of maintenance activities
Ensuring compliance with codes and regulations such as NFPA-70E
Maintaining safe operations to protect personnel

Get Automatically Generated, Dynamic, and Interactive Single-Line Diagrams
Creating and maintaining single-line diagrams is commonly a manual and time-consuming process. However, new functionality in second-generation Data Center Infrastructure Management (DCIM) software dramatically simplifies and enhances single-line diagrams.
DCIM software allows you to centrally track all your IT assets and supporting infrastructure equipment in a single pane of glass and map their relationships and dependencies. Based on the existing asset and circuit information that you have already populated in the tool, the software automatically generates an always-accurate single-line diagram. If you make a change to an item or connection in your system, the single-line diagram will update automatically.
The single-line diagram capability in modern DCIM software is far more useful and versatile than traditional static diagrams because you can overlay real-time power and capacity data which makes data center power management easier.
Both AC and DC power chains are supported, allowing you to visualize and see details of your utility feed, generator and fuel tanks, transformers, load devices, UPS units, AC panels, floor PDUs, DC power plants, and DC bays.
You can track the key electrical characteristics and interconnections for all the facility items in your power chain, track all draw-out breaker and disconnect switches, understand the capacity and load of all nodes, track breaker states, and see a details panel for each node that includes budgeted and actual values for voltage, current, power rating, highest/lowest phase, and more.
All you have to do is create the assets and connections, and the software does all the hard work for you.
These modern single-line diagrams are easily navigable, editable via drag-and-drop, and printable.
Want to see how Sunbird's award-winning DCIM software automates single-line diagrams? Get your free test drive now.