DCIM Blog. Food for the brain.
Featured Read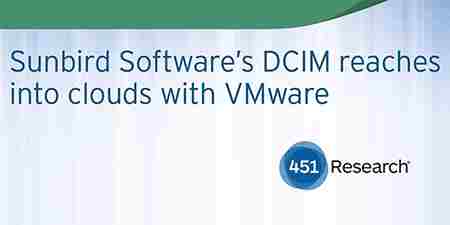 By Julia Sine | June 30, 2018
"Since spinning off from Raritan a few years ago, Sunbird has grown into a serious contender in the crowded DCIM space. By re-architecting and steadily expanding the functionality of its DCIM platform, Sunbird has attracted a solid customer base with...
Stay updated on new Blogs
More great reads...
Sunbird is excited to be attending Datacenter Forum Copenhagen on September 20, 2018 at the Radisson Blu Scandinavia Hotel. Stop by stand 5 to meet our data center experts and get a demo of the new features and enhancements in our award-winning Data Center Infrastructure Management (DCIM) solution. Interested in learning more about Reducing the Complexity of Data Center Management with Second-Generation DCIM? Then you don't want to miss our DCIM expert, Niall Bannon's presentation from 13:00-13:40 in Hall 1. During his presentation attendees will learn: Why data center operations is a data and analytics problem. Best practices for creating dashboards that track the most

Power Distribution Units (PDUs) are a critical aspect of your data center power management. Alongside your UPSs, CRACs, patch panels, and other items in your data center, they help ensure a reliable supply of power to your devices. Back when data centers were still called data rooms, basic or "dumb" PDUs were sufficient for most power distribution needs. However, as data centers have become increasingly complex and dense, data center managers have found that they need newer, more functional power solutions designed for modern data center environments. That's where intelligent or "smart" PDUs (iPDUs) come in. With the global intelligent PDU market expected to reach $2.01 billion by

Modern data center environments are more complex than ever. They are becoming increasingly dense, have more instrumentation, sensors, and smart devices like intelligent PDUs, and are trending towards distributed, hybrid models that comprise traditional enterprise data centers, colocation data centers, and public/private clouds or managed services. As a result, many modern data center professionals are turning to new, second-generation Data Center Infrastructure Management (DCIM) software to reduce the complexity of managing today's data centers. Unlike many legacy tools, which lacked features, were difficult to use, and ultimately disappointed early DCIM adopters,

Sunbird's Models Library release for August is now available: Version 3.108. Download and update to Version 3.108 to get all the most recent model data! Sunbird's Models Library simplifies your data center asset management. The library includes detailed information—such as U space, dimensions, weight, power ports, and data ports—for over 30,000 models across over 450 manufacturers. Updating the Models Library after you have implemented Sunbird's DCIM software helps to ensure that you are using the most accurate and up-to-date model information. This information also ensures that your data center change management tickets and reservations are error free. Can't find a specific

Sunbird will be at 2018 BICSI Fall Conference & Exhibition on September 9-13 located at the Henry B. Gonzalez Convention Center in San Antonio, Texas. Stop by Booth 515 for a demonstration of our award-winning Data Center Infrastructure Management (DCIM) solution. You don't want to miss this opportunity to network with like-minded professionals, get real-world tips from DCIM experts, and explore how Sunbird can help you simplify your data center management. See for yourself how easy power, network, and cable management can be with key features like: · 3D data center health

Data center monitoring is critical for tackling many of the most difficult tasks facing modern data center managers. It provides insights and visibility into the health and status of your data centers by tracking specific metrics in real time and sending alerts or notifications when readings exceed or fall below the set thresholds. Although exactly what you monitor will vary based on your data center environment and objectives, most data center managers typically focus on cabinets and their contents, cooling units, doors and locks, and other facility equipment to address their typical use cases. Given the distributed nature of modern data center environments, you may even be monitoring

Data center racks are becoming denser, with IT equipment and a supporting infrastructure that consumes more power than ever before. When power was cheap, few companies gave any thought to how well they managed their power resources. But with electricity costs reaching historic highs, companies have had no choice but to investigate energy efficient technologies and practices that can help lower those costs and keep them competitive in a tighter global market. With this in mind, we have put together a list of top five best practices to help you efficiently manage your data center racks in this continually changing and cost-conscious environment. 1.

Keeping an eye on data center energy consumption is one of the most difficult tasks of maintaining data centers today. Organizations are facing never-ending requests for IT resource capacity to store and process the data and applications required for innovative technologies like big data, IoT, AI, and machine learning. As a result, modern data center environments are becoming increasingly complex and dense. Today's data center teams are being tasked to be more efficient with fewer resources, including energy and cooling. But how can data center managers maintain a safe environment for their intelligent PDUs, UPSs, and other hardware equipment while also keeping costs low? That's where

Sunbird will be at DCD Sydney on August 23- 24 located at the International Convention Centre in Sydney, Australia. Stop by Stand 501 for a demonstration of our award-winning Data Center Infrastructure Management (DCIM) solution. You don't want to miss this opportunity to network with like-minded professionals, get real-world tips from DCIM experts, and explore how Sunbird can help you simplify your data center management. See for yourself how easy power, network, and cable management can be with key features like: · 3D data center health map with real-time power data. ·

Sunbird's Models Library release for August is now available: Version 3.107. Download and update to Version 3.107 to get all the most recent model data! Sunbird's Models Library simplifies your data center asset management. The library includes detailed information—such as U space, dimensions, weight, power ports, and data ports—for over 30,000 models across over 450 manufacturers. Updating the Models Library after you have implemented Sunbird's DCIM software helps to ensure that you are using the most accurate and up-to-date model information. This information also ensures that your data center change management tickets and reservations are error free. Can't find a specific

Although intelligent rack PDUs (iPDUs) are becoming more common in today's data centers, many organizations are still choosing and using basic or "dumb" PDUs instead of the "smart" devices. iPDUs have several advantages over their unintelligent counterparts, particularly when it comes to efficiently managing power and energy. However, the costs of managing these expensive and often power-hungry facility items can make data center managers wary of purchasing them. To some data center professionals, iPDUs may appear to bring extra expenses and complications without tangible benefits. However, when used in conjunction with Data Center Infrastructure Management (DCIM) software or

We're thrilled to announce the release of Power IQ® 6.2, Sunbird's Data Center Infrastructure Management (DCIM) Monitoring software. If you're ready to upgrade to Release 6.2, simply download the update files from Sunbird's support portal. If you'd like more information, check out our release notes or continue below to read our DCIM software highlights. What's New in Power IQ Power IQ 6.2 extends Sunbird's best-in-class intelligent PDU management to include Server Technology iPDUs. Mass Configuration of Server Technology Facility Items Deploy, manage, and update Server Technology facility items faster with Power IQ's mass configuration features. In Release 6.2.0, users can now

Accurate data center power monitoring is critical for managing modern data center environments. With many data centers rapidly running out of capacity and energy costs increasing, it's more important than ever to know how much power is being used, when you expect to run out of capacity, and where you can make improvements to boost data center efficiency. Data center power monitoring can help you with all these things and more. However, with the massive amounts of data points generated by your PDUs, UPSs, CRACs, and other devices, you need data center monitoring software to help collect the data and then transform it into information. That's where Data Center Infrastructure Management (DCIM

Data center security is a constant struggle for modern data center managers. With the threat of both physical breaches and cyberattacks hanging over their heads, data center managers must adhere to the strictest security compliance regulations while simultaneously ensuring that their technicians and contractors have the access they need to maintain availability and reduce downtime. Most managers turn to data center software specifically designed for security to address compliance efforts and best practices. But did you know that modern Data Center Infrastructure Management (DCIM) software – the same solution you use for asset management and power monitoring – also includes several features

Sunbird's Models Library release for July is now available: Version 3.106. Download and update to Version 3.106 to get all the most recent model data! Sunbird's Models Library simplifies your data center asset management. The library includes detailed information—such as U space, dimensions, weight, power ports, and data ports—for over 30,000 models across over 450 manufacturers. Updating the Models Library after you have implemented Sunbird's DCIM software helps to ensure that you are using the most accurate and up-to-date model information. This information also ensures that your data center change management tickets and reservations are error free. Can't find a specific make

It's no surprise that most data center managers and operators are becoming more educated about what's available in Data Center Infrastructure Management (DCIM) software, and more importantly, which features make it easier to complete daily tasks. Part of the reason for this increase in data management software knowledge is practical experience. Many organizations are on round two (or three or even four) of their DCIM deployments. Previous attempts at DCIM may have ended in failure, but even successes may have left data center managers wanting more from their tools. That's where the new generation of DCIM software tools comes in. Second-generation DCIM software addresses many of the

Colocation data centers have increasingly become a major part of the modern data center landscape. According to 451 Research, over 40 percent of enterprise end users are renting space from colocation data center providers. The prevailing rationale behind the shift to colocation is based on resource management. Colocation data centers tend to be more cost effective and less resource intensive, since the data center is outsourcing all the hardware and services required for data center management to the colocation data center provider. When calculating data center colocation pricing, you may only be focused on how much space you need; after all, the more racks or RUs that you need, the more

We're proud to announce with the general availability of dcTrack® 6.1.0, the latest version of Sunbird's DCIM Operations software. Our biggest release yet includes VMware® cloud integration, enhanced 3D views, shareable links, and other features that enable hybrid IT and data center management. dcTrack 6.1.0 Availability This dcTrack 6.1.0 update is available worldwide on a cabinet/month subscription or perpetual license basis to all customers with valid maintenance contracts. Simply download the update file from Sunbird's support portal to upgrade today. What's New in dcTrack 6.1 The following features are new or enhanced in dcTrack 6.1.0 for an easy, fast, and complete

If you look at online reviews before buying the latest phone or trying a new restaurant, you're not alone. Over 90 percent of consumers read online reviews before visiting a business, and 88 percent trust online reviews as much as a personal recommendation. You may rely on online reviews to make your personal purchases, but did you know that they can also be an important tool in your Data Center Infrastructure Management (DCIM) software evaluation? Customer reviews from reputable sites can yield a wealth of customer satisfaction and use case data. This data can inform your data center software selection process and help ensure that you buy the best DCIM software for your organization.

"Since spinning off from Raritan a few years ago, Sunbird has grown into a serious contender in the crowded DCIM space. By re-architecting and steadily expanding the functionality of its DCIM platform, Sunbird has attracted a solid customer base with some big-name clients." – Rhonda Ascierto, 451 Research We're pleased to announce that 451 Research, an information technology industry analyst firm focused on the business of enterprise IT innovation within emerging technology segments, has published a report on Sunbird Software. Titled "Sunbird Software's DCIM reaches into clouds with VMware," the report highlights Sunbird's growth in the Data Center Infrastructure Management (DCIM)

Downtime continues to be one of the biggest data center management headaches faced by modern data center professionals. For owner-operated and colocation data centers alike, an unplanned outage can wreak havoc on business-critical systems and applications and result in unhappy customers. Additionally, downtime can be expensive, with the average cost of an unplanned outage reaching over $740,000. Avoiding unplanned downtime starts with addressing one of its chief causes: human error. According to the Ponemon Institute, humans account for 22 percent of unplanned data center outages. While data center training and certification programs can help to educate data center staff to reduce the risk

Sunbird's Models Library release for June is now available: Version 3.105. Download and update to Version 3.105 to get all the most recent model data! Sunbird's Models Library simplifies your data center asset management. The library includes detailed information—such as U space, dimensions, weight, power ports, and data ports—for over 30,000 models across over 450 manufacturers. Updating the Models Library after you have implemented Sunbird's DCIM software helps to ensure that you are using the most accurate and up-to-date model information. This information also ensures that your data center change management tickets and reservations are error free. Can't find a specific make

Gaining the financial resources to invest in Data Center Infrastructure Management (DCIM) software is a common struggle for modern data center managers. It might seem counterintuitive; after all, most organizations acknowledge data centers as mission-critical facilities. However, even though nearly 75 percent of enterprise data center budgets have increased or stayed consistent in 2017 compared with last year, today's data center managers continue to face scrutiny associated with increasing data center operational costs while also being tasked to do more with less. Gaining the funds that you need to get your DCIM project off the ground requires careful planning and consideration of

Data center monitoring is one of the most common use cases for Data Center Infrastructure Management (DCIM) software. Whether in an enterprise facility or a colocation data center and regardless of whether you are keeping an eye on power, environment, or security, data center monitoring helps ensure that the business-critical systems and equipment in your data center stays up and running smoothly. However, in addition to maintaining uptime, data center monitoring tools can also help data center managers in their never-ending quest to do more with less. Let's look at what data center monitoring is and how it can help you increase your data center team's productivity. What Is Data Center

Today's data center professionals are increasingly tasked with managing hybrid data centers. These modern data center environments combine traditional, on-premises enterprise data centers as well as off-premises data center capacities, which might include cabinets and containment areas in colocation data centers, private or public clouds, or managed services. A recent 451 Research Voice of the Enterprise: Datacenter Transformation, Budgets and Outlook survey found that 59 percent of enterprise end-user respondents owned and operated server rooms, while 57 percent utilized cloud service providers, 54 percent owned and operated their data center facilities, and 41 percent rented space from

From enterprise to colocation to cloud, data centers are rapidly modernizing. Today's data center professionals need to improve their skills and knowledge to keep pace with changes in the industry, or risk being left behind. But how can they accomplish this goal while still meeting all the objectives of their full-time careers? That's where data center certifications and training programs come in. A wide variety of specialized and general data center credentials are available to both experienced and novice data center professionals to help them learn what they need to learn to adapt to the changing data center industry. To help data center professionals choose the

Whether they focus on maintaining enterprise data centers or monitoring colocation facilities, data center managers have tough jobs. They are responsible for the day-to-day operations and activities as well as 24/7 monitoring and management of data center sites and equipment. Their daily tasks may include anything from predictive maintenance and firmware updates to troubleshooting network issues to investigating unexpected downtime events with root cause analysis. True, many data center managers report high levels of job satisfaction and compensation—data center managers in the United States earn anywhere from $63,000 to $140,000 per year, depending on their level of experience. However,

Sunbird's Models Library release for May is now available: Version 3.104. Download and update to Version 3.104 to get all the most recent model data! Sunbird's Models Library simplifies your data center asset management. The library includes detailed information—such as U space, dimensions, weight, power ports, and data ports—for over 30,000 models across over 450 manufacturers. Updating the Models Library after you have implemented Sunbird's DCIM software helps to ensure that you are using the most accurate and up-to-date model information. This information also ensures that your data center change management tickets and reservations are error free. Can't find a specific make

We're thrilled to announce that Sunbird has been recognized once again as one of the 20 Most Promising Data Center Solution Providers by CIOReview for holistic and cost-effective Data Center Infrastructure Management (DCIM) software that is transforming the way data centers are managed. CIOReview creates an annual listing of 20 companies that are at the forefront of providing innovative data center solutions and impacting the marketplace. The main focus of this ranking is to spotlight companies who have successful proven track records in delivering data center solutions. Sunbird was recognized for providing a complete and easy-to-use DCIM solution for data center managers.

Sunbird will be at Data Centre World Hong Kong on May 16-17 at the Hong Kong Convention and Exhibition Centre. Stop by Booth S25 for a demonstration of our award-winning second-generation DCIM software. Register for free and join over 10,000 international data center & infrastructure experts at North Asia's largest tech event. Heading to Data Centre World and want to chat one-on-one with a DCIM expert? Sunbird representatives also will be available for individual meetings. Let us know if you'd like to meet.

For many organizations, cloud storage and processing seems to be increasing, so it might surprise you that enterprise data centers and colocation data center providers still hold the majority of workloads. According to Uptime Institute, 65% of workloads are in enterprise-owned/operated data centers, a percentage maintained since 2014. Thus, even if cloud storage and processing solutions continue to be prevalent, it's safe to assume that most organizations maintain at least some of their mission-critical applications in house. Why might data center managers stick with their enterprise data centers? Consider these five reasons to keep your enterprise data centers in favor of or in

In today's world, it is more important than ever before to consider the amount of energy we use and how we are impacting the environment, and data centers are no exception. The "green data" revolution is in full effect, and data center managers need to optimize their data centers to be more efficient and comply with government regulations—without increasing costs. To celebrate Earth Day, we've rounded up our favorite resources to help you learn how to "green" your data center. Companies like Facebook and Apple are two of the top Green Data Centers Around The World. Check out our infographic and see what steps the top data centers leading the green movement are making.

Sunbird will be at DCD>Enterprise in New York on May 1-2 at the Marriott Marquis. Stop by Booth #92 for a demonstration of our award-winning second-generation DCIM software. Register for free if you're a qualified end-user or consultant and join over 1,500 of your colleagues for this event that will cover how enterprise data centers are being re-defined and re-shaped. Heading to DCD>Enterprise and want to chat one-on-one with a DCIM expert? Sunbird representatives also will be available for individual meetings. Let us know if you'd like to meet.

Modern data center environments are becoming increasingly complex and difficult to manage. Traditional enterprise data centers are now being combined with or replaced by colocation facilities and private/public clouds. Today's data center managers need to modernize their facilities and operations to address the challenges of managing these complex hybrid environments, or risk losing their relevance in this new world. How can data center professionals adapt so they will thrive, not just survive, in a world where cloud is king? What tools do they need to accurately manage physical infrastructure, IT service management, and virtual assets? And how can Data Center Infrastructure Management (

When you initially consider data center training programs, you might first think of popular data center professional certifications, such as Cisco's CCNA credential or BICSI's popular RCDD designation. These industry-recognized certifications have several benefits to both trainees and organizations, including higher job satisfaction, faster work performance, and improved efficiency. Training is also an effective method of motivating your team, especially if it helps them keep their jobs. According to PwC's Workforce of the Future survey, about 75 percent of respondents said that they were ready to learn new skills or completely re-train to stay employable in the future. Professional

Sunbird will be at Datacenter Forum in Helsinki on April 26 at the Crowne Plaza Hotel. Stop by Stand 4 for a demonstration of our award-winning second-generation DCIM software. You don't want to miss Niall Bannon, DCIM Technical Sales EMEA, present "Reducing the Complexity of Datacenter Management with Second-Generation DCIM" at 10:15. Learn how you can modernize your operations to tackle the challenges of modern data centers. If you're involved with the managing and operations of your organization's IT infrastructure, register for free to join 200 of your colleagues from the data center sector in Finland and the Baltics. Heading to Datacenter Forum and want to

Sunbird's Models Library release for April is now available: Version 3.103. Download and update to Version 3.103 to get all the most recent model data! Sunbird's Models Library simplifies your data center asset management. The library includes detailed information—such as U space, dimensions, weight, power ports, and data ports—for over 30,000 models across over 450 manufacturers. Updating the Models Library after you have implemented Sunbird's DCIM software helps to ensure that you are using the most accurate and up-to-date model information. This information also ensures that your data center change management tickets and reservations are error free. Can't find a specific make

When choosing a Data Center Infrastructure Management (DCIM) software, you might think that the most difficult part of the process would be documenting requirements, comparing vendors, or even the deploying the data center software itself. However, for many data center professionals, the challenges start much earlier: when you're pitching the idea of data center management software to your boss. Indeed, deciding to use a DCIM solution might be the easy part. According to a survey by Intel and Dell, over 50 percent of IT managers are already using DCIM systems. But for those who aren't yet utilizing data center management tools or who are looking for a second data center software to replace

For many data center managers, moving your data center assets to a colocation data center may seem like an obvious choice. After all, carrier hotels and other colocation facilities provide data center managers with scalability, reliability, and security for applications, data, and systems—without the pressure to build, staff, and maintain increasingly complex enterprise data centers environments. These benefits, coupled with market expansion into new geographic areas, are driving the growth of the colocation data center at a CAGR of 15.4%. Once you've decided that moving to a colo facility is right for you, it might be tempting to sit back, relax, and wait for your colocation data center

Modern data center managers have a difficult job. They need to maintain uptime, drive efficiency, and boost team productivity while dealing with the ever-growing demand for just-in-time provisioning of IT resources. They need to manage increasingly complex environments, including colocation data centers, hybrid public and private clouds, and edge sites. And they are expected to meet resource demand and optimize operations while under pressure to do more with fewer resources. How can modern data center managers address this increasing demand with responsiveness and agility? Our President Herman Chan shared his thoughts on this topic in a recent article in Data Center Frontier, an online

Today's data center managers—facing data center uptime expectations, PUE compliance, budget concerns, and a general expectation to do more with less—are hard pressed to find creative, cost-effective solutions to the challenges of power management. So it's no surprise that many forward-looking data center managers are turning to intelligent rack PDUs to provide power-metering data that can inform decision making, saving costs and improving efficiency in their data centers. But how can you be sure that the time, money, and other resources dedicated to your iPDUs are well spent? That's where DCIM tools can make a difference. Whether you are just starting to roll out your

We're thrilled to announce the release of Power IQ® 6.1, Sunbird's Data Center Infrastructure Management (DCIM) Monitoring software. If you're ready to upgrade to the latest version, simply download the update files from Sunbird's support portal. If you'd like more information, check out our release notes or continue below to read our DCIM software highlights. What's New in Power IQ Power IQ 6.1 continues to further Sunbird's mission of developing fast-to-deploy, easy-to-use, complete data center management software. Mass Configuration of iPDUs Deploy, manage, and update facility items faster with Power IQ's mass configuration features. In Release 6.1, users can now bulk update IP

With more organizations on their second rounds of Data Center Infrastructure Management (DCIM) software, it's more important than ever for data center professionals to ensure that the data center management solution they select is the correct one. But how do you avoid buyer's remorse when choosing and deploying B2B technology like DCIM software? How do you avoid major pitfalls and obstacles that can derail the implementation? And what are the must-have capabilities that you should look for in a DCIM software solution? These questions and others are difficult to answer without significant experience with buying, implementing, and using DCIM software in a real-world environment. That's why

Certifications are one of most rewarding ways for a data center professional to stand out from the crowd. Completing a data center certification will help you gain knowledge, learn new skills, and prove to yourself and your colleagues that you have valuable expertise. However, contrary to popular belief, data center certifications don't benefit just the individuals who complete them. Among IT leaders, 68 percent do not believe they have the skills in-house required to address their needs. Data center managers and technology leaders who struggle to find and retain talent can bridge the IT skills gap by recommending certifications to team members or making a specific credential a data center

Next week, Sunbird will be busy attending three tradeshows in the span of two days! If you're in London, Oslo, or Paris, be sure to stop by to meet us. London: Data Centre World (Stand D245) We'll be at Data Centre World from March 21-22 at ExCeL London. Stop by Stand D245 to meet us and explore how to radically simplify your data center management. Register for free to join the world's largest independent data center event with over 20,000 of your peers, hundreds of leading data center and technology providers and hundreds of the world's brightest minds & industry practitioners. If you'd like to set up an individual meeting, let us know. Oslo: Datacenter Forum (Stand 3) On

Anyone involved in buying Data Center Infrastructure Management (DCIM) software or any B2B technology knows that selecting your final product can be a long, tedious, and risky endeavor. Despite many rounds of vendor assessments and lengthy Requests for Proposals (RFPs), choosing and implementing the right DCIM software can feel like a matter of luck. In fact, more and more modern data center managers are becoming dissatisfied with their initial data center management software solutions and are moving on their second rounds of DCIM software. Their unhappiness with traditional DCIM tools stems from a variety of factors. In some cases, the software may be difficult to

Sunbird's Models Library release for March is now available: Version 3.102. Download and update to Version 3.102 to get all the most recent model data! Sunbird's Models Library simplifies your data center asset management. The library includes detailed information—such as U space, dimensions, weight, power ports, and data ports—for over 30,000 models across over 450 manufacturers. Updating the Models Library after you have implemented Sunbird's DCIM software helps to ensure that you are using the most accurate and up-to-date model information. This information also ensures that your data center change management tickets and reservations are error free. Can't find a specific make

If you're involved in data centers in the United States, you've probably heard about the Data Center Optimization Initiative (DCOI), a comparatively new government mandate aimed at improving energy efficiency and reducing expenditures in physical federal data centers. But whether you're managing a federal data center or simply want to learn more about boosting data center efficiency, knowing these five things about the DCOI will help you in your own data center optimization efforts. Here's our list of five things that you should know about the DCOI: 1. What the DCOI is The DCOI was established by the Office of Management and Budget (OMB) memorandum M-16- 19 in 2016 and

Sunbird will be presenting a customer case study with Chevron at Data Center World Global 2018 in San Antonio, TX from March 12-15 at the Henry B. Gonzalez Convention Center. You won't want to miss Steve Lancaster, Chevron DCA Facilities Lead, present key learnings from five years of using Sunbird's Data Center Infrastructure Management (DCIM) software solution in Chevron's data centers. Sunbird's own James Cerwinski, Director of Product Marketing, will be facilitating this interactive discussion. Steve has more than 18 years of experience in managing data centers and providing IT support. Steve has worked at Chevron for four years with primary responsibility for

Data center migrations are complex projects. In colocation data center moves, it's especially difficult to manage the migration since the space isn't your own. Colocation data center providers often offer moving services, but nothing is as reassuring as doing the data center move planning yourself. Reducing risk is key to a successful data center move. So, when you're moving to a colocation data center, what can you do to mitigate risks, simplify the transition, and give yourself the best chance of success? Sunbird's own President Herman Chan recently shared his thoughts on this topic in an article in The Stack, a London-based technology news site covering a range of verticals from the

The rise of micro data centers as part of modern data center deployments may seem counterintuitive. After all, many organizations are consolidating large, complex deployments to reduce their data center footprints, reduce costs, and simplify their data center management. Yet, at the same time, organizations are increasingly leveraging micro data centers, to the point where sales are expected to grow from $18 million in 2017 to almost $30 million in 2018, and the global market for micro data centers is expected to grow to $6.3 billion by 2020. Given the rising popularity of micro data centers, it's important to consider this trend and how it might affect your own data center

Sunbird is thrilled to announce that we have just joined the VMware® Technology Alliance Partner (TAP) program as an Access level partner. "We welcome Sunbird as a valued member of the VMware TAP program," said Kristen Edwards, director, Technology Alliance Partner Program, VMware. "This membership means customers can take full advantage of a streamlined cloud infrastructure experience. By joining the program, Sunbird is working with VMware to develop technologies that can transform customers' environments." As a member of the TAP program, Sunbird collaborates with VMware to deliver innovative solutions for virtualization and cloud computing through our Data Center

Many data center teams are so focused on data center monitoring and keeping an eye on the health of their data centers that they often neglect the softer side of things, like their emotional health. But data center professionals have feelings, too. This Valentine's Day (or any day), make sure to share the love with that special data center someone. To make it fast and easy for you, here are our ten best data center management pickup lines: 1. You raise my temperature outside the ASHRAE allowable range. 2. Are you a critical event? Because you're making me turn red. 3. You've got me tied in knots like spaghetti cabling. 4. You and I go together like two iPDUs in a

2018 looks to be a year of data center management innovation. Several of last year's DCIM trends will likely evolve alongside disruptive technologies and market drivers that could significantly change the way you manage your data center. If you're already ahead of the curve—keeping track of emerging trends and using Data Center Infrastructure Management (DCIM) software in your organization—then it's an exciting time to be managing a data center. However, even if these trends aren't affecting your current data center management practices, it's important to stay up to date with the technologies and other factors that could have an impact on your data center in the future. In fact,

Sunbird's Models Library release for February is now available: Version 3.101. Download and update to Version 3.101 to get all the most recent model data! Sunbird's Models Library simplifies your data center asset management. The library includes detailed information—such as U space, dimensions, weight, power ports, and data ports—for over 30,000 models across over 450 manufacturers. Updating the Models Library after you have implemented Sunbird's DCIM software helps to ensure that you are using the most accurate and up-to-date model information. This information also ensures that your data center change management tickets and reservations are error free. Can't find a specific

It may be only two months into the New Year, but between recovering from the holidays and getting back to the grind, it's no wonder that so many New Year's resolutions fall by the wayside. Even if you employ various strategies, tools, and technologies in an effort to stay on track, in the end, it's easier said than done. However, you can still start the year off right—at least when it comes to data center management. Did you know that the New Year's resolutions you made for yourself can also apply in your data center as well? Here's our list of four common New Year's resolutions for your data center and how Data Center Infrastructure Management (DCIM) software can help you make them a

Sunbird will be exhibiting at the 2018 BICSI Winter Conference & Exhibition in Orlando on February 4-8 at the Orange County Convention Center. Stop by Booth #433 in the exhibit hall for a demo of our award-winning Data Center Infrastructure Management (DCIM) solution. At BICSI in Orlando, you'll see forward-thinking and motivational presentations and gain insight into new technologies and industry trends. Don't miss this opportunity to network with like-minded professionals, get real-world tips from DCIM experts, and explore how Sunbird can help you simplify your data center power and cable management. Learn more and register here.

If you're looking for ways to optimize your data center management around this time of year, you might go to events like the BICSI Winter Conference & Exhibition, where you can learn from data center experts and network with your peers. But what if some of the best tips for data center management could actually be found in the biggest football event of the season? The Super Bowl might be the last place you'd think to find key learnings to help you manage your data center, but don't be so quick to disregard its merits. Here are five lessons that you can learn from football about managing your data center and how Data Center Infrastructure Management (DCIM) can help: Lesson #1:

Whether you're expanding your data center operations, moving to a colocation facility, or transitioning applications and services to a hybrid/cloud environment, a data center migration can be a difficult, challenging project. Experienced data center managers might leverage checklists, spreadsheets and other data center migration tools to keep track of the tasks and teams involved. However, even with careful planning, details are still likely to slip through the cracks. Yet, modern data center managers face the challenges of data center moves every day. Data center migrations are becoming more prevalent thanks to current data center trends. More organizations are looking to consolidate

Modern data center managers are increasingly relying on data to make more informed decisions. Having the right information to make faster data-driven decisions means that data center managers can reduce downtime, better utilize power and cooling resources, plan capacity more accurately, and improve Power Usage Effectiveness (PUE). However, data center management is also more complex than ever before. Today's data center managers don't have the time or formal training to do sophisticated data analyses. Moreover, with the massive volume and variety of data generated by equipment like CRACs, UPSs, intelligent rack PDUs, floor PDUs, RPPs, meters, branch circuits, racks, environment sensors and

Sunbird's first Models Library release of 2018 is now available: Version 3.100. Download and update to Version 3.100 to get all the most recent model data! Sunbird's Models Library simplifies your data center asset management. The library includes detailed information—such as U space, dimensions, weight, power ports, and data ports—for over 30,000 models across over 450 manufacturers. Updating the Models Library after you have implemented Sunbird's DCIM software helps to ensure that you are using the most accurate and up-to-date model information. This information also ensures that your data center change management tickets and reservations are error free. Can't find a specific

We're proud to kick off the New Year with the general availability of dcTrack® 6.0.3, the latest version of Sunbird's DCIM Operations software. Shareable links in dcTrack 6.0.3 make it faster and easier than ever for data center managers to disseminate information to their teams effectively—regardless of whether they are expert users or are brand-new to our data center management software. Additionally, new API enhancements help users better manage data connections, search results, and custom field picklists. The dcTrack 6.0.3 update is available worldwide on a cabinet/month subscription or perpetual license basis to all customers with valid maintenance contracts. Simply download the

In 2017, data center managers saw several significant shifts in the activities and technologies that shape and transform modern data center management practices. A surge in available data center business intelligence, increasing focus on the benefits of data centers at the edge, and renewed interest in security are just a few of the changes data center managers are facing with 2018 just around the corner. As 2017 comes to a close, let's look back at some of the year's data center trends and the challenges they pose to how modern data center managers monitor and operate their data centers: Data-driven decision making. Intelligent hardware and other facility items in modern data

Migrating a data center can be one of the most challenging projects a data center manager or operator can face. You have to coordinate multiple aspects of your data center move, manage its impact on the IT, facilities, network, power, and other teams, and limit downtime as much as possible – and then realize that your initial asset inventory database may not be as accurate as you once thought. With the increasing focus on colocation data centers and data center asset consolidation, such migrations are more prevalent than ever. Every data center manager knows that these moves require careful planning and efficient execution to be successful. But how do you know which tips are helpful and

When you hear the words "data center certification," the first thing you might think of is a data center tier certification, especially if you work at a physical enterprise location or colocation data center facility. However, tier certifications, which indicate a data center's reliability and availability as measured against industry standards, aren't the only certifications that can benefit you and your data center. Completing a data center professional certification is a key way for you to advance your skills and professional development. Whether you're new to data center management and looking to build foundational credentials or want to refresh your existing knowledge,

Micro data centers may have a small footprint, but they can have a big impact on your data center infrastructure, especially for edge-based computing and storage. "It's just not practical anymore to be sending data back and forth between a head office and a satellite office," says Angie Keeler, CEO and Cofounder of Zellabox, a leader and specialist in micro data centers based in Western Australia. "Also, the existing infrastructure may be old, outdated, or difficult to expand. With micro data centers, you don't need to have a dedicated building or server room." Micro data centers are much-smaller versions of the traditional data center have all the same components as their enterprise

Sunbird's newest Models Library release of 2017 is now available: Version 3.099. Download and update to Version 3.099 to get all the most recent model data! Sunbird's Models Library simplifies your data center asset management. The library includes detailed information—such as U space, dimensions, weight, power ports, and data ports—for over 30,000 models across over 450 manufacturers. Updating the Models Library after you have implemented Sunbird's DCIM software helps to ensure that you are using the most accurate and up-to-date model information. This information also ensures that your data center change management tickets and reservations are error free. Can't find a specific

Integrating your existing ITSM service desk and Configuration Management Database (CMDB) with Data Center Infrastructure Management (DCIM) software is key to getting the most out of both software deployments. CMDBs typically have much of the same information related to ticketing and data center change management processes that are found in DCIM software databases. With a standards-based open approach to integration, you can leverage open APIs and ODBC access to support process flow through and data synchronization with the DCIM database. Once integrated, all change requests across both your ITSM and DCIM software can be handled consistently and automatically, leading to more accurate

Compliance with the Data Center Optimization Initiative (DCOI) is top of mind for today's federal data center managers. The most recent government mandate to focus on optimization and consolidation of federal data centers, the DCOI sets forth specific optimization and cost-reduction goals. With the DCOI deadline of September 30, 2020 fast approaching, federal data center managers need to quickly ramp up their optimization efforts, or risk being among the first facilities to close. To help federal data center managers understand how DCIM software can enable them to quickly achieve their data center optimization goals, our white paper provides an overview of the DCOI, including goals and Key

Sunbird is excited to be participating with our strategic alliance partner Raritan, Inc. at the Gartner IT Infrastructure, Operations Management & Data Center Conference from December 4-7, 2017 at The Venetian in Las Vegas, Nevada. Come talk to us at Booth #154, get a demo of our award-winning Data Center Infrastructure Management (DCIM) solution, and discover how our solution will work with Raritan iPDUs to optimize your data center management. Network with more than 2,500 of your end-users and peers and hear from over 60 Gartner analysts and guest speakers. Learn more and register to attend the conference here. Heading to Gartner Las Vegas

We're thrilled to announce the general availability of dcTrack 6.0.2, the latest version of Sunbird's DCIM Operations software. Release 6.0.2 features over 75 new interactive reports to help customers make the most of their data center business intelligence and visual analytics. The dcTrack 6.0.2 update is available worldwide on a cabinet/month subscription or perpetual license basis to all customers with valid maintenance contracts. Simply download the update file from Sunbird's support portal to upgrade today. Interactive Reporting Capabilities dcTrack 6.0.2 builds on the dashboard and chart enhancements in previous releases to provide new interactive reports. This feature

Sunbird is excited to be attending Datacenter Forum Stockholm on November 29, 2017 at the Clarion Sign Hotel. Stop by to meet our data center experts and get a demo of the new features and enhancements in our award-winning Data Center Infrastructure Management (DCIM) solution. Join over 300 of your colleagues from the data center sector in Sweden. You won't want to miss our very own Niall Bannon, DCIM EMEA Techical Sales, give his presentation on the Top DCIM Dashboards for Tackling IT Operational Challenges. Learn more and register here. Heading to Datacenter Forum Stockholm and want to chat one-on-one with a DCIM expert? Our local Sunbird

Edge data centers are among the hottest topics in data center management today. But what exactly is an edge data center? How can you tell if a facility is truly an edge data center, or if it's simply a data center in an underserved market? Unsurprisingly, it's difficult to nail down a standard definition. That's due in part to the relative infancy of edge data centers as an established trend. Another reason may be that data center professionals tend to define edge data centers from the perspectives of their own roles, industries, or priorities. While some may say that an edge data center is one that serves up large amounts of online content to the majority of the user population

Join Sunbird at DataCentres Ireland on November 22-23, 2017. Stop by Stand 343 for a demo of our award-winning Data Center Infrastructure Management (DCIM) solution. DataCentres Ireland addresses every aspect of planning, designing and operating your data center, server room, or storage facility. Don't miss this opportunity to network with like-minded professionals, get real-world tips from DCIM experts, and explore how Sunbird can help you simplify your data center power and cable management. Learn more and register here. Heading to DataCentres Ireland and want to chat one-on-one with a DCIM expert? Sunbird representatives will also be

More organizations are looking to strategically use data to guide their data center management practices, but few know how to get started or what to track—especially when it comes to capacity, one of the most challenging data center operational constraints. Data Center Infrastructure Management (DCIM) software is a critical enabling technology for today's data center managers to maximize the value of their data. Data center business intelligence, visual analytics, and other components integral to DCIM software allow for greater transparency into data center operations, including capacity management. "For organizations adopting DCIM, typically visibility is a starting point," said Rhonda

Sunbird's newest Models Library release of 2017 is now available: Version 3.098. Download and update to Version 3.098 to get all the most recent model data! Sunbird's Models Library simplifies your data center asset management. The library includes detailed information—such as U space, dimensions, weight, power ports, and data ports—for over 30,000 models across over 450 manufacturers. Updating the Models Library after you have implemented Sunbird's DCIM software helps you ensure that you are using the most accurate and up-to-date model information. This information also ensures that your data center change management tickets and reservations are error free. Can't find a

Join Sunbird at France's largest gathering of data center experts, Data Centre World Paris, on November 15-16, 2017 with our partner, EFIRACK. Stop by Stand C40 for a demo of our award-winning Data Center Infrastructure Management (DCIM) solution. At DCW Paris, you'll have the opportunity to meet 150 key market players and learn from 250 industry stakeholders. Don't miss this opportunity to network with like-minded professionals, get real-world tips from DCIM experts, and explore how Sunbird can help you simplify your data center power and cable management. Learn more and register here. Heading to DCW Paris and want to chat one-on-one with a

Edge data centers are currently one of the hottest trends in the data center industry. Deployed in "Tier-2" locations, these smaller, cost-effective, remotely managed facilities help organizations decrease latency when providing core content, applications, and functionality to end users and devices. Whether they're used for streaming services like Netflix, online gaming, big data analytics, or self-driving cars, edge data centers are rapidly becoming just as mission critical as their larger, enterprise counterparts. However, edge data centers come with their own set of management challenges. Our President Herman Chan shared his thoughts on these challenges in a recent article in Data

Sunbird will be exhibiting at Europe's most anticipated digital infrastructure transformation event, Zettastructure London on November 7-8, 2017 at Old Billingsgate. Stop by Stand 52 for a demo of our award-winning Data Center Infrastructure Management (DCIM) solution. At Zettastructure London, you'll join 1,500+ digital infrastructure professionals including operators, technology specialists, and end-users. Don't miss this opportunity to network with like-minded professionals, get real-world tips from DCIM experts, and explore how Sunbird can help you simplify your data center power and cable management. Learn more and register here.

Just as our client, a leading medical center and research facility in the United States, has always been on the leading edge of medicine, their data centers have also been regarded as at the forefront of technology. The medical facility already implemented Sunbird's Power IQ® DCIM Monitoring software to manage their innovative power and cooling environment, and the data center team was pleased with its performance. However, the DCIM tool and homegrown systems used for their asset and change management left much to be desired. In fact, their DCIM was rapidly approaching end-of-life and quickly needed to be replaced. Data Center Management Challenges The legacy DCIM tool was difficult to

According to Gartner's Market Share: Servers, Worldwide, 1Q16 Update, global server revenue was down 2.3 percent in the first quarter of 2016, but hardware shipments were up 1.7 percent. This seemingly contradictory figure highlights the decline in prices of hardware during 2015, which in turn is mainly attributed to the rise of cloud-based services and virtualization. That said, over 10 million new servers were shipped in the last 12 months. The affordability of hardware means that more organizations have access to faster, smarter devices for use in their data centers. These devices are housing mission-critical data and applications that end users need to drive business

Data center management professionals often are haunted by the specters of human error and inefficiency. Whether you're worried about lowering power and energy costs or keeping track of moves, adds, and changes in your asset inventory, it's easy to see how today's data centers could induce chills in even the most seasoned managers and operators. But data center management doesn't have to be ghastly. Here are five tips and tricks to make managing your data center efficient, easy, and even enjoyable: 1. Configure your dashboards for data center management Struggling through the volume and variety of data collected from your data center may leave you feeling like a zombie. Fortunately, a

Modern data center managers are constantly being asked to do more with less, and a data-driven approach can mean the difference between success and failure. But how do you identify which Key Performance Indicators (KPIs) are right for your organization? How do you manage power and network capacity as well as space? Can you wait to invest in additional equipment or will you experience a shortfall of resources? And how can Data Center Infrastructure Management (DCIM) help? Join us for our next live DCIM webinar, Data Center KPIs to Optimize Capacity Utilization, on Tuesday, November 7, at 2 PM ET to explore how making the most of your data can help you maximize the value of your data center

Unlike a weak fly ball to the outfield, managing your data center is no can of corn. Today's data center managers need to worry about maintaining uptime, driving efficiency, and boosting productivity – all while being asked to do more with less. Meanwhile, issues ranging from equipment failures to natural disasters seemingly come out of left field to wreak havoc on your data center. It's enough to make even the most experienced data center manager break down in tears. But just like in baseball, there's no crying in data centers. While you may not be able to watch this year's World Series on a NOC screen, data center management has more in common with baseball than you might think. When

What makes a data center "intelligent"? What trends are driving data center transformation? And where does Data Center Infrastructure Management (DCIM) software fit in? Sunbird's own James Cerwinski, Director of Product Management and Marketing, was recently interviewed by Betty Yu for NetAdmin, a Taiwanese publication aimed at IT professionals, on these topics and more. During the interview, Cerwinski shared his thoughts on modern data center management and how DCIM software is critical for today's intelligent data centers. He also shared how Sunbird's 3D visualizations provide data center managers with a wealth of information and visual analytics. (You can read the article in the

Sunbird's newest Models Library release of 2017 is now available: Version 3.097. Download and update to Version 3.097 to get all the most recent model data! Sunbird's Models Library simplifies your data center asset management. The library includes detailed information—such as U space, dimensions, weight, power ports, and data ports—for over 30,000 models across over 450 manufacturers. Updating the Models Library after you have implemented Sunbird's DCIM software helps you ensure that you are using the most accurate and up-to-date model information. This information also ensures that your data center change management tickets and reservations are error free. Can't find a

It seems like it was only yesterday that we were celebrating Sunbird's first anniversary. A year later, a lot has changed. As a company, we've grown significantly, with new faces added to almost every team. Our Data Center Infrastructure Management (DCIM) solution has grown as well. This past summer saw our biggest and most content-rich DCIM software releases to date. Power IQ 6.0 featured RFID card reader support for data center security, bulk PDU configuration improvements, and dashboard enhancements. Meanwhile, dcTrack 6.0 incorporated new dashboard and widget capabilities, our patent-pending QuickConnect for making data and power connections faster and more efficiently, and a new

Based out of Sunbird's headquarters in Somerset, New Jersey, our Inside Sales Representatives (ISRs) love to chat with prospects and customers, host sales demos, and—most of all—win. Whether they are competing for the highest number of sales demos for the month or first place in the Sunbird fantasy football league, our ISRs are always ready for battle. This focused and winning attitude even extends to the serious business of furniture. With the Data Center Infrastructure Management (DCIM) industry poised for continued expansion, Sunbird—including our ISR team—has grown significantly to meet the ever-increasing demand for data center management software. In fact, we'd grown so much that

Sunbird focuses on creating a single-pane-of-glass view for global data center operations that makes it easy to get data into the system and meaningful information out. This case study explores how Sunbird's preconfigured dashboards enabled our client to optimize their data center management practices by replacing their outdated, inefficient homegrown tool with more effective dashboards for analyzing and sharing data. Challenge Our client, a multi-billion-dollar, global consumer products organization, had multiple enterprise-class data centers with over 4,000 cabinets maintained by a staff of over 30 people. With such an expansive data center environment, the global data center manager

Sunbird will be exhibiting at the 2017 BICSI Fall Conference & Exhibition in Las Vegas on September 25-27, 2017 at the Mandalay Bay Hotel & Convention Center. Stop by Booth #706 in the exhibit hall for a demo of our award-winning Data Center Infrastructure Management (DCIM) solution. At BICSI in Las Vegas, you'll see forward-thinking and motivational presentations and gain insight into new technologies and industry trends. Don't miss this opportunity to network with like-minded professionals, get real-world tips from DCIM experts, and explore how Sunbird can help you simplify your data center power and cable management. Learn more and register

Whether as part of a data center move or when switching to a new Data Center Infrastructure Management (DCIM) software, most data center managers will need to migrate their asset management information from one database to another sometime in their careers. Unfortunately, that's easier said than done. Inaccurate inventory data, tracking devices in multiple spreadsheets, and inadequate reporting can wreak havoc on asset management. These issues also make it difficult to locate and troubleshoot your hardware. In our experience, certain data values are foundational for migrating from one database to another at the asset level. These values enable you to quickly identify and locate your assets

Sunbird is excited to be attending Datacenter Forum Copenhagen on September 21, 2017 at the Radisson Blu Scandinavia Hotel. Stop by to meet our data center experts and get a demo of the new features and enhancements in our award-winning Data Center Infrastructure Management (DCIM) solution. Join over 200 of your colleagues from the data center industry that are involved with managing the operations of their organization's IT infrastructure. You won't want to miss Niall Bannon, DCIM EMEA Techical Sales, give his presentation on the Top DCIM Dashboards for Tackling IT Operational Challenges. Learn more and register here. Heading to Datacenter Forum

Sunbird's newest Models Library release of 2017 is now available: Version 3.096. Download and update to Version 3.096 to get all the most recent model data! Sunbird's Models Library simplifies your data center asset management. The library includes detailed information—such as U space, dimensions, weight, power ports, and data ports—for over 30,000 models across over 450 manufacturers. Updating the Models Library after you have implemented Sunbird's DCIM software helps you ensure that you are using the most accurate and up-to-date model information. This information also ensures that your data center change management tickets and reservations are error free. Can't find a

Sunbird is excited to be attending the Uptime Institute Executive Symposium: Las Vegas on September 18, 2017 at the Bellagio. Stop by Booth 3 to meet our data center experts and get a demo of the new features and enhancements in our award-winning Data Center Infrastructure Management (DCIM) solution. The Uptime Institute Executive Symposium is "an executive-level, highly focused, one-day program for Infrastructure Leadership and Operations stakeholders who have been tasked with improving the performance, efficiancy, and reliability of their business-critical infrastructure." Learn more and register here. Heading to the Uptime Institute Executive

Some of today's biggest technology trends—like big data, Internet of Things (IoT), and artificial intelligence (AI)—are enabling business innovation across organizations in healthcare, financial services, government, telecommunications, retail, and other industries. Yet these trends can wreak havoc on data center capacity planning by requiring significant compute resources. How can modern data center managers address this increasing demand with responsiveness and agility? Our President Herman Chan shared his thoughts on this topic in a recent article in Data Center Frontier, an online data center industry publication focused on cutting-edge innovation in design, efficiency, and scalability

We're thrilled to announce the general availability of dcTrack 6.0, the latest version of Sunbird's DCIM Operations software. New dashboards and visualizations in dcTrack 6.0 make it faster and easier than ever for data center managers to get the information they need to plan and manage data center capacity more effectively. Additionally, improvements to requests and work orders ensure that the work required for more effective capacity management gets done right. The dcTrack 6.0 update is available worldwide on a cabinet/month subscription or perpetual license basis to all customers with valid maintenance contracts. Simply download the update file from Sunbird's support portal to

Challenge Our customer, a water services utility provider, was struggling to manage their data center assets and change requests through spreadsheets. With multiple versions of the same spreadsheets floating around, it was difficult and time consuming to gain an accurate picture of the locations of assets and how much power, space, and network capacity was available. Managing the statuses of change requests and who was doing the work was similarly challenging because the data center space was not well organized and the information was frequently out of date. These issues were compounded by the fact that the spreadsheet system depended on the legacy information held by a few key players

What do you believe is the biggest barrier to implementing a Data Center Infrastructure Management (DCIM) solution? A recent survey, conducted by Morar Consulting in conjunction with Intel DCM and Schneider Electric, asked this question to over 200 IT decision makers across the United States and the United Kingdom involved with data center management. The results of the survey were recently published in a report titled "DCIM Solution Deployment." Unsurprisingly, the answers centered around budgetary concerns, inadequate education about DCIM solutions, and lack of support from C-level executives. Tackling these challenges is the first step to being able to deploy DCIM in your organization

Today's data center managers are tasked to do more with less and are continuously facing additional demands on their time and their teams. Remembering to follow best practices for proper data center maintenance is ideal in theory but can be difficult even when your data center is running smoothly. That's why we've compiled a list of nine best practices for data center maintenance. As Data Center Infrastructure Management (DCIM) experts, we've helped our customers learn to better manage their data centers, and along the way, we've learned a thing or two about data center maintenance and how DCIM can help. These best practices can serve as reminders for common maintenance tasks. Each best

Sunbird's newest Models Library release of 2017 is now available: Version 3.095. Download and update to Version 3.095 to get all the most recent model data! Sunbird's Models Library simplifies your data center asset management. The library includes detailed information—such as U space, dimensions, weight, power ports, and data ports—for over 30,000 models across over 450 manufacturers. Updating the Models Library after you have implemented Sunbird's DCIM software helps you ensure that you are using the most accurate and up-to-date model information. This information also ensures that your data center change management tickets and reservations are error free. Can't find a

Sunbird is excited to be participating with our strategic alliance partner Raritan, Inc. at the Defense Intelligence Agency's 2017 Department of Defense Intelligence Information System Worldwide Conference from August 13-16, 2017 at America's Center Convention Complex in St. Louis, Missouri. Come talk to us, get a demo of our award-winning Data Center Infrastructure Management (DCIM) solution, and discover how our solution will work with Raritan iPDUs to optimize your data center management. If you're a government or military data center manager or a federal data center professional looking to network with your industry peers as well as senior leaders from the

We're thrilled to announce the release of Power IQ® 6.0, Sunbird's Data Center Infrastructure Management (DCIM) Monitoring software. If you're ready to upgrade to Release 6.0, simply download the update files from Sunbird's support portal. If you'd like more information, check out our release notes or continue below. What's New in Power IQ Power IQ 6.0 continues to further Sunbird's mission of developing easy, modern, and complete data center management software. This version features several features and enhancements designed to help data center managers and operators better analyze data, save time, and reduce human error in their daily tasks. Dashboard Technology Refresh The

Data center maintenance is key to keeping your business-critical systems up and running smoothly. Yet, despite the ever-present threat of disasters and the financial implications of unplanned downtime, many data center managers struggle to ensure that their facilities and equipment are maintained regularly. Given the versatility of Data Center Infrastructure Management (DCIM) software and the variety of problems it can solve, it's no wonder why today's data center managers are increasingly looking to data center software as a tool to help them manage maintenance. Consider just a few of the common maintenance headaches data center managers face and how DCIM can help. 1.

Data center security threats are a constant worry for many data center managers. Whether you manage a traditional enterprise facility or a colocation data center, protecting your and your customers' assets and data is rapidly becoming just as important as maintaining uptime and operating efficiently. The concerns around physical data center security breaches are so significant that they are even driving some organizations to migrate from hybrid environments back to on-premise data centers. What steps can you take to safeguard your data centers from physical security risks? That's where Data Center Infrastructure Management (DCIM) software comes in. A comprehensive data center

Identifying your top data center management problems is a foundational point for any Data Center Infrastructure Management (DCIM) project. Knowing the data center problems that you're trying to solve helps you create your RFPs and RFIs, evaluate POCs, select and implement a DCIM software solution, and ultimately determines your criteria for initial success. Unfortunately, defining your data center management challenges is more difficult than it sounds. And with so many competing priorities from the data center, facilities, IT, infrastructure, network, and other teams, how can you whittle your problems down to the few that will everyone agree on? Once you have an idea what your data center

To most data center managers, data center disasters are the stuff of nightmares. Disasters can strike your data center at any time. Disaster recovery, assuming you can recover, often requires a great deal of time-intensive and cross-functional effort in sub-optimal conditions. Additionally, while dealing with the disaster, you need to worry about the costly effects of unplanned downtime on your reputation, customers, and bottom line. However, perhaps most terrifying is the perception that data center disasters occur without warning. With so many fears around disasters in your data center, it's easy to think that a reactive approach is your only course of action and that data center

Sunbird's newest Models Library release of 2017 is now available: Version 3.094. Download and update to Version 3.094 to get all the most recent model data! Sunbird's Models Library simplifies your data center asset management. The library includes detailed information—such as U space, dimensions, weight, power ports, and data ports—for over 30,000 models across over 450 manufacturers. Updating the Models Library after you have implemented Sunbird's DCIM software helps you ensure that you are using the most accurate and up-to-date model information. This information also ensures that your data center change management tickets and reservations are error free. Can't find a

If you're like most data center management professionals, you might start your Data Center Infrastructure Management (DCIM) software selection process with an RFP or RFI that largely resembles a checklist of need-to-have features. Understanding the capabilities that are most important to you is a great start, but choosing the right data center software takes more than simply seeing which vendor checked the most boxes. And with more organizations on their second tries with DCIM, it's more important than ever to make the right decision. What Is the DCIM Software Feature Comparison Trap? The DCIM software feature comparison trap is the tendency to evaluate and select your data center

Whether you're migrating to an owner-operated facility, a colocation data center, or a cloud/hybrid environment, managing the risks and complications involved in a data center move is a challenge even for experienced data center professionals. Checklists and other resources to manage the tasks required for moving your data center are a good start. Data center colocation services often include assisting customers with the migration. But did you know that Data Center Infrastructure Management (DCIM) software also can help you simplify planning and avoid many of the risks associated with migrations? Although data center management software is often considered a tool to be implemented after

Sunbird is excited to be attending Data Center World Local in Chicago, Illinois on July 12, 2017, at The Art Institue of Chicago. Come by Table 15 to meet with our data center experts and get a demo of our award-winning Data Center Infrastructure Management (DCIM) solution. This event brings together over 150 of you peers in the data center industry in your local area. Connect with your peers in real-world conversations and gain insight and education that you can use in your environment today. Get in-depth sessions across a broad range of topics like IT operations, facilities operations, data center topics, and security and disaster recovery. Heading to Data Center World

Modern data center managers and operators are often assailed by fears of losing their jobs to the cloud. This concern has only become louder and more frequent with the rise of cloud-based data center management and technology trends like virtualization and IoT. With today's data center customers preferring to pay as they go for fast, on-demand deployment of IT resources, it's easy to think that the future seems grim for physical, on-premise data centers and the teams that operate them. As a data center professional, what can you do to futureproof yourself and your data centers in a world where cloud is king? Common suggestions often include career changes, like making the jump to a cloud

Whether you're implementing Data Center Infrastructure Management (DCIM) software, migrating to a new data center, or integrating with a third-party CMDB system, changes to your established data center management software and processes are stressful efforts that require the careful coordination of multiple moving parts. With the high potential for risk, it's easy to see how your project could get behind schedule, exceed budget, or fail altogether. Regardless of the size of your project, smart planning often can mitigate risks and lead to a better outcome. Here are four steps that will help you get on the path to a successful data center management project. 1. Appoint a Project

Sunbird's newest Models Library release of 2017 is now available: Version 3.093. Download and update to Version 3.093 to get all the most recent model data! Sunbird's Models Library simplifies your data center asset management. The library includes detailed information—such as U space, dimensions, weight, power ports, and data ports—for over 30,000 models across over 450 manufacturers. Updating the Models Library after you have implemented Sunbird's DCIM software helps you ensure that you are using the most accurate and up-to-date model information. This information also ensures that your data center change management tickets and reservations are error free. Can't find a specific make and

Editor's Note: Modern data center environments are facing critical challenges resulting from technology trends like IoT, big data, and cloud/hybrid environments. Today's data center managers need to adapt themselves and their data centers in this age of digital transformation, or risk irrelevance. That's why we were interested in "IDC's Datacenter Facilities Infrastructure Management and Operations Special Study," a special report published by global analyst firm IDC and sponsored by our partner Raritan®. Led by Jennifer Cooke, IDC Research Director, Datacenter Management, the report highlights not only the challenges facing organizations today but also the tactics and technologies that

Most data center professionals view 3D data center visualizations with a jaundiced eye. They see 3D as a gimmick that may look flashy but ultimately doesn't provide any relevant or helpful information. In Data Center Infrastructure Management (DCIM) software specifically, 3D floor map visualizations are thought to simply be resource intensive and add load without value. Keeping in mind all these myths around 3D in data center management software, can 3D floor map visualizations ever be useful, or are they always just for looks? Our Director of Product Marketing James Cerwinski addresses this topic in an article in Enterprise Management 360° (EM360°) Tech Magazine. Titled "Think 3D in Your

Sunbird is thrilled to be attending 7x24 Exchange Spring Conference in Orlando, Fl from July 11-14, 2017 at the Hilton Orlando Bonnet Creek. Stop by Table #31 to meet our data center experts and get a demo of our award-winning Data Center Infrastructure Management (DCIM) solution. This conference is designed for anyone involved with 7x24 infrastructures. Attendees and their organizations will have the opportunity to improve reliability with proactive plans and cooperation from diverse corporate functions. Past conferences have enabled teams of attendees to better communicate the critical importance of a proactive approach to continuous uptime.

When it comes to data center management, downtime, power, and cooling are consistently among the most common problems facing modern data center professionals. Why link these three issues together? Because ineffective power management and environmental cooling are two of the biggest contributors to downtime. In fact, balancing power and environmental cooling in your data center is critical to reducing downtime. Data Center Infrastructure Management (DCIM) software can help you achieve this goal by not only monitoring your environment but also accelerating data analysis, leading to better, more efficient data center energy management. Power and Environmental Cooling Risks in Your Data

Modern data center managers are living in a world where cloud is king. Today's data center customers prefer to pay as they go, with a need for fast, on-demand deployment of IT resources. Data center managers need to respond to this demand with flexibility, agility, and better customer service, or risk being left behind. But as the world shifts from on-premise data centers to off-premise and private cloud models, how should you adapt your approach to not just survive, but thrive, in this changing landscape? Join us for our next live webinar, 5 Keys to Developing a Service-Driven Datacenter, on Wednesday, June 21, at 2 PM ET to explore how to adapt yourself and your data center in this new

We're pleased to announce that the newest versions of Sunbird's Data Center Infrastructure Management (DCIM) Operations and Monitoring software are now generally available for download. Want to upgrade and see what's new for yourself? Simply download the update files from Sunbird's support portal. New in This Release This newest version is comprised of dcTrack® DCIM Operations 5.2.2 and Power IQ® DCIM Monitoring 5.2.3. These maintenance releases address a small number of bug fixes to provide you with the best user experience to date. For more information, see the release notes on the support portal. How to Upgrade To download the upgrade for either product, you

Sunbird is excited to be participating in CAPRE's Greater Portland Data Center Summit from May 30-31, 2017 at the World Trade Center Portland. Come talk to us, meet our data center experts, and get a demo of our award-winning Data Center Infrastructure Management (DCIM) solution at this upcoming event. If you're active in Portland's data center industry, looking to network with your data center peers, or are simply looking for tips and best practices to improve your data center management, you won't want to miss the Greater Portland Data Center Summit. You'll gain a comprehensive understanding of data center market and technology infrastructure

Data center migrations are complicated projects. With so many moving parts and people involved across tight timelines, the biggest challenge is mitigating the risks—like extended downtime, unexpected delays, and nonfunctioning hardware—inherent in migrating your data center. Even with the most experienced data center move teams, migration-breaking issues can come up. So, when you're moving your data center, what can you do to mitigate risks and give yourself the best chance of success? Scott Sandal, our Director of DCIM Support and Services, shared his thoughts on this topic in a recent article in Data Center Frontier, an online data center industry publication focused on cutting-edge

Sunbird's newest Models Library release of 2017 is now available: Version 3.090. Download and update to Version 3.090 to get all the most recent model data! Sunbird's Models Library simplifies your data center asset management. The library includes detailed information—such as U space, dimensions, weight, power ports, and data ports—for over 30,000 models across over 450 manufacturers. Updating the Models Library after you have implemented Sunbird's DCIM software helps you ensure that you are using the most accurate and up-to-date model information. This information also ensures that your data center change management tickets and reservations are error free. Can't find a specific

If you're still using Excel and Visio to manage your data centers or struggling with a DCIM solution that didn't deliver as promised, you might be surprised to see just how much DCIM has improved in recent years. Check out this two-minute video to see for yourself what today's DCIM has to offer. Join us for our next live DCIM webinar with our DCIM expert, Justin Capone, How Modern Day DCIM Helps Solve Your Most Common Data Center Headaches on Thursday, May 18. Focusing on real-world DCIM use cases, this webinar will: Define the six categories of challenges most commonly faced by data center managers and operators. Demonstrate how modern DCIM can address

Sunbird is excited to be attending Datacenter Forum in Helsinki, Finland on May 9, 2017 at the Crowne Plaza Hotel. Stop by Booth 4 to meet our data center experts and get a demo of the new features and enhancements in our award-winning Data Center Infrastructure Management (DCIM) solution. At Datacenter Forum, you'll have the opportunity to network with and learn from over 200 of your colleagues from the datacenter sector in Finland and the Baltics. Data center professionals who are involved with the managing and operations of their organization's IT infrastructure can attend for free. Learn more and register here. Want to learn more about one of the burning

Whether you are a veteran of data center migrations or are just getting started, moving your data center is a risky, complicated project for any organization. Extended downtime, damage to equipment, and inaccurate installation are just a few of the headaches that migrating a data center can cause. However, when planned and executed well, it can also lead to cost savings, improved efficiency, and other rewards. What is a data center migration? A data center migration is any movement of data center assets from one location to another. Examples include moving to a new data center, moving to a colocation facility, moving from one room or floor to another within the same data center, and

Sunbird will be exhibiting at the 2017 BICSI Canadian Conference & Exhibition in Vancouver from May 8-11, 2017 at the Vancouver Convention Centre. Stop by Booth #602 for a demo of our award-winning Data Center Infrastructure Management (DCIM) solution. See for yourself how easy power, network, and cable management can be with key features like: 3D data center health map with real-time power data. Ability to visually build data circuits, including structured cabling, between any combination of devices, network equipment, and patch panels—all at the click of a mouse. Visual trace routes of power and network paths for faster and more

We're pleased to be recognized as one of the 20 Most Promising Data Center Solution Providers by CIOReview for transforming the way data centers are managed. CIOReview creates an annual listing of 20 companies that are at the forefront of providing innovative data center solutions and impacting the marketplace. The main focus of this ranking is to spotlight companies who have successful proven track records in delivering data center solutions. Sunbird was recognized for providing a complete and easy-to-use DCIM solution for data center managers. "Our solution empowers modern data center managers to overcome the limitations of Excel and Visio and boost efficiency and

Managing network connectivity in your data center is a critical part of ensuring that your operations runs smoothly. Failing to understand or neglecting connectivity can lead to critical problems in your data center, such as a security breach or a massive power outage. Although these problems may loom over any data center manager's head, they can be avoided with the right DCIM software—one that provides both data center power monitoring and network connectivity management. Risks of Not Managing Connectivity in Your Data Center In a traditional data center without DCIM, you would need to be onsite to understand the intricate details of physical connections, such as which devices are

Sunbird's newest Models Library release of 2017 is now available: Version 3.089. Download and update to Version 3.089 to get all the most recent model data! Sunbird's Models Library includes detailed information—such as U space, dimensions, weight, power ports, and data ports—for over 30,000 models across over 450 manufacturers. Updating the Models Library after you have implemented Sunbird's DCIM software helps you ensure that you are using the most accurate and up-to-date model information. Can't find a specific make and model? Contact Sunbird's Professional Services team, and we'll make sure it's added to the next Models Library update. New in This Models Library Release

We're thrilled to announce that the newest version of Sunbird's DCIM Monitoring software has just been released. If you're ready to upgrade to Power IQ® 5.2.2, simply download the update files from Sunbird's support portal. This release follows our recent update to dcTrack®, our DCIM Operations software. What's New in Power IQ 5.2.2 Power IQ 5.2.2 provides the most user-friendly, secure experience to date with an updated, more modern look and feel. This version features multi-vendor support enhancements, Electronic Access Control for supported CPI doors and locks, GUI usability improvements, fixes for bugs and customer-reported issues, and security updates. Multi-Vendor Support

Worldwide, data centers consume around 30 billion watts of electricity, but the majority—as much as 90 percent or more—is wasted. This and other power management inefficiencies can cost modern data center environments in terms of not only energy expenditure but also money, time, and other resources. Do you know how much energy your data center is using? Are you aware of how much power capacity is available at any given point in time? Are you trending your power utilization data so you can accurately predict when you will run out of capacity? Without the answers to these basic questions, efficient and environmentally friendly data center power management may be

Sunbird is excited to be exhibiting at Data Center World in Los Angeles from April 3-6, 2017 at the Los Angeles Convention Center. Stop by Booth 1215 to meet our data center experts and get a demo of the new features and enhancements in our award-winning Data Center Infrastructure Management (DCIM) solution. The theme of this year's Data Center Global conference in Los Angeles is Data, Automation, Scale: Building and Managing the Data Center of the Future. As an attendee, you'll have access to vendor-neutral educational sessions, discussion sessions, and an exhibit hall full of best-in-class vendors - all aimed at helping you find solutions to today's biggest data

We're thrilled to announce that the newest version of Sunbird's DCIM Operations has just been released. Want to upgrade to dcTrack® 5.2.1 and see what's new for yourself? Simply download the update files from Sunbird's support portal. New in dcTrack 5.2.1 This version features API enhancements, fixes for bugs and customer-reported issues, and security updates to provide the most user-friendly, secure web experience to date. See how fast and easy DCIM can be with dcTrack 5.2.1. TLS 1.0 Disabled; Internet Explorer 10 and Below No Longer Supported To provide a more secure web experience, TLS 1.0 is disabled in dcTrack 5.2.1. Transport Layer Security (TLS) is an encryption protocol

Sunbird is excited to be attending Datacenter Forum in Oslo, Norway on March 21, 2017 at the Radisson Blu Scandinavia Hotel. Stop by Booth 7 to meet our data center experts and get a demo of the new features and enhancements in our award-winning Data Center Infrastructure Management (DCIM) solution. At Datacenter Forum, you'll have the opportunity to network with and learn from over 250 of your colleagues in the data center industry of Norway. Data center professionals who are involved with the managing and operations of their organization's IT infrastructure can attend for free. Learn more and register here. Want to learn more about one of the burning issues facing

Sunbird's newest Models Library release of 2017 is now available: Version 3.088. Download and update to Version 3.088 to get all the most recent model data! Sunbird's Models Library includes detailed information—such as U space, dimensions, weight, power ports, and data ports—for over 30,000 models across over 450 manufacturers. Updating the Models Library after you have implemented Sunbird's DCIM software helps you ensure that you are using the most accurate and up-to-date model information. Can't find a specific make and model? Contact Sunbird's Professional Services team, and we'll make sure it's added to the next Models Library update. New in This Models Library Release

Today's IT operational teams face unique challenges associated with the day-to-day management of systems across colocation facilities, cloud/hybrid environments, and owner-operated data centers worldwide. The devices in these modern data center environments—everything from intelligent rack PDUs to environmental sensors to door locks—are generating massive amounts of data. Data center managers are struggling to rise above the noise and identify the data that is most relevant to them. With so much data, how can you be sure that you're using it effectively to make smarter decisions and better manage your data center? Join us for our next live DCIM webinar, Top DCIM Dashboards for Tackling IT

Most organizations look to DCIM software when they realize they need to better manage their data center infrastructures. However, given the wide range of point-to-suite solutions, how can you know that the DCIM software solution is comprehensive enough to meet your needs? Look for these five signs of a comprehensive DCIM software solution: 1. The DCIM software accommodates all users. Multiple parties work in data centers, including data center managers and operators, IT teams, facilities teams, and remote managed services teams. Your DCIM software should provide an intuitive GUI that works for teams as well as individuals. It should require fewer clicks to see the information that

Sunbird is thrilled to be attending Data Centre World at ExCeL London from March 15-16, 2017. Stop by Stand E65 to meet our data center industry experts and get a demo of our award-winning Data Center Infrastructure Management (DCIM) solution. See for yourself how our thermal map and time-lapse video, interactive dashboards, and enhanced failover reports simplify your data center management. Want to learn more about how to leverage the data from your data center? Explore this topic and more at our session on Top DCIM Dashboards for Tackling IT Operational Challenges, Thursday, March 16 at 11:15 AM. Register to attend DCW London now to make sure you don't miss it! During the session,

3D data center floor map visualizations and thermal time-lapse video may seem like flashy "eye candy" aimed at impressing passers-by at tradeshows. However, when implemented as part of a comprehensive Data Center Infrastructure Management (DCIM) software solution, they provide useful, visually interesting ways to display power management and environmental monitoring information in your data center. They can even help you gain actionable insights to run your data centers more efficiently. For a glimpse of how these features work in Sunbird's DCIM software, check out the video below: Think we're just showing off? Schedule a one-on-one product demonstration with our DCIM

Sunbird is excited to be exhibiting at Data Center Dynamics Enterprise New York March 14-15, 2017 at the New York Marriott Marquis in New York City. Stop by Booth #92 to meet our DCIM experts and get a demo of our award-winning Data Center Infrastructure Management (DCIM) solution. At DCD New York, you'll join 1,750 of your fellow data center professionals in understanding the full ecosystem of the enterprise data center and exploring the economics of digital business, IT, and data center service delivery. Discover how Sunbird's DCIM software can help you optimize your data center management. Our newest release, DCIM 5.2, features: ·

Data center management presents a number of challenges for today's data center managers and operators. Unlike the days of old, when data centers used to be data rooms, modern data centers have grown increasingly complex, are more strictly regulated, and require data center managers to do more with less. Meanwhile, data center operators not only have the job of managing data but also ensuring that power consumption is monitored, equipment is kept cool, and enough space is available. Let's take a closer look at eight common problems that data center managers and operators face and why DCIM software is a solution to them all. 1. Delays in deploying new services. Missing or inaccurate

Data is more valuable today than ever, and modern data center managers are struggling to make the most of it in their data centers. A comprehensive Data Center Infrastructure Management (DCIM) solution can certainly make it fast and easy for you to collect data from the intelligent PDUs, sensors, and other devices in your data center. But what do you need to track in your data centers to gain actionable insights and maximize the value of your information? Our President Herman Chan recently tackled this topic in an article published in Data Center Frontier, an online data center industry publication focused on cutting-edge innovation in design, efficiency and scalability. Titled "6

More organizations are considering a Data Center Infrastructure Management (DCIM) software solution to gain a competitive edge. As a class of software that helps data center managers operate their data centers more efficiently, DCIM can replace programs like Excel, Visio and homegrown systems, as well as bridge information across organizational domains. Few data center managers truly understand the specific ways that DCIM software can benefit their data centers. Look for a DCIM solution that will not only help with efficiency but also will solve your data center operations issues, meet environmental regulations, accelerate time to deployment, and address other key objectives. Here are

Sunbird's second Models Library release of 2017 is now available: Version 3.087. Make sure to download and update to Version 3.087 to get all of the most recent model data. Sunbird's Models Library includes detailed information—such as U space, dimensions, weight, power ports, and data ports—for over 30,000 models across over 450 manufacturers. Updating the Models Library after you have implemented Sunbird's DCIM software helps you ensure that you are using the most up-to-date model information. Can't find a specific make and model? Contact Sunbird's Professional Services team, and we'll make sure it's added to the next Models Library update. New in This Models Library Release

Sunbird is thrilled to be a gold sponsor at Data Center World Local Dallas on Wednesday, February 22, 2017 at AT&T Stadium, Home of the Dallas Cowboys! Stop by Table #13 for a demo of our award-winning Data Center Infrastructure Management (DCIM) solution. Learn about the features and enhancements in the newest iteration of our DCIM software, including: New thermal map and time-lapse video to help you identify hotspots. Interactive dashboards built to accelerate data analysis. Door security status and access request audit reports that help you track who has access to different areas of your data center. Enhanced failover reports to accurately

We're thrilled to announce the launch of our Server Technology Sentry Power Manager (SPM) Trade-In program! For a limited time, ServerTech customers can obtain free Power IQ® DCIM Monitoring licenses and maintenance support for one year. To participate, current Sentry Power Manager customers should visit Sunbird's trade-in program website and follow the instructions to obtain their free Power IQ licenses and maintenance support for one year. Maintenance includes access to Sunbird's technical support portal, where customers can download software updates, manage support tickets, and view technical documentation and how-to videos. Power IQ supports the full family of ServerTech PDUs as well

We're thrilled to announce the general availability of Release 5.2, the latest version of Sunbird's Data Center Infrastructure Management software. This release includes enhancements that drive DCIM ease of use and security, including pre-configured dashboards, a thermal floor map and time-lapse video, door lock security management, enhanced rack capacity and failover reporting capabilities, and trap filtering and forwarding. "Intelligent PDUs and other smart devices generate a significant volume and variety of data in data centers today, and data center managers are struggling to use it to their advantage," said Herman Chan, President of Sunbird Software, in a statement. "DCIM 5.2

Sunbird is excited to be participating with our strategic alliance partner Raritan, Inc. at Data Centre Summit at the Barbican Exhibition Halls in London, UK, on Wednesday, February 8, 2017. Come find us at Booth 15 to meet with our DCIM experts and get a first look at the new features in the latest release of our Data Center Infrastructure Management (DCIM) software. Data Centre Summit will help attendees keep up to date with the newest technologies in the industry. Featuring a line-up of industry thought leaders, there will be many valuable seminars for attendees throughout the day. This will be a great day to meet up with like-minded data center professionals and learn from their

Sunbird's first Models Library release of 2017 features dual updates: Versions 3.085 and 3.086. Make sure to download and update to Version 3.085 and then 3.086 to get all of the most recent model data. Sunbird's Models Library includes detailed information—such as U space, dimensions, weight, power ports, and data ports—for over 30,000 models across over 450 manufacturers. Updating the Models Library after you have implemented Sunbird's DCIM software helps you ensure that you are using the most up-to-date model information. Can't find a specific make and model? Contact Sunbird's Professional Services team, and we'll make sure it's added to the next Models Library update. New in This

Information Technology has become the backbone of modern business. Just like any central structure, it needs to be robust and reliable over a period of time. It should continually be in correct alignment with the need to support the entire lifecycle of a product or service. Collectively, these processes are termed as IT Service Management (ITSM). ITSM Growing in Importance Generally, an ITSM consists of a data storage repository and various processes defined by the overall IT status function. These processes will have clearly defined steps and rules that govern workflow across the lifecycle of the product or services. ITSM is usually automated and controlled by software, and so is Data

Justifying the investment in Data Center Infrastructure Management (DCIM) can be a difficult task. Highlighting the lost productivity and expenses associated with data center operational issues, like wasted space and inaccurate asset inventories, is a good start, but when it comes to selling upper management on your project and securing budget, numbers are king. Our experience with implementing DCIM has shown us not only the common, costly pain points that can be fixed with DCIM but also the most often-overlooked areas where data center managers can save time and money. So we developed our ROI calculator to simplify the process of accurately estimating the potential return on

Sunbird's December 2016 Models Library release includes new manufacturer updates from Juniper Networks, Cisco, HP, and more! To access these updates, you will need to have a support login and valid maintenance contract. Click here to log in or sign up now: https://support.sunbirddcim.com/support/login. Visit the Sunbird Support Portal and download Models Library Release 3.083 today!

New Preconfigured Dashboards, Time-Lapse Thermal Videos, and Cabinet Door Access Control Make Data Center Analysis and Security Effortless and Errorless SOMERSET, N.J., Dec. 5, 2016 /PRNewswire/ -- Sunbird Software, a global innovator in software solutions that simplify how data centers are managed, today introduced the next iteration of its DCIM (Data Center Infrastructure Management) software. Release 5.2 expands the centralized, single-pane-of-glass view integral to dcTrack® DCIM Operations and Power IQ® DCIM Monitoring with enhancements that enable users to

According to IDC's 2015 Enterprise Datacenter Survey, over 35% of respondents said that downtime caused by human error was a problem they experienced in their data centers. Other challenges in the data center included downtime due to system failure, latency issues, regulatory or compliance issues, and insufficient bandwidth into or out of the data center. "There's actually quite a few problems that could be fixed with better processes and better management of data center infrastructure," said Jennifer Cooke, Research Director, Datacenter Management, IDC, who shared these and other insights during the first segment of our Data Center Infrastructure Management (DCIM) webinar How to

Sunbird is thrilled be participating with our strategic alliance partner Raritan, Inc. at the Gartner Data Center, Infrastructure & Operations Management Conference at the Sands Expo Center in Las Vegas, Nevada on December 5-7, 2016. Stop by Booth 255 to meet with our DCIM experts and get a sneak peek at the new features in the upcoming release of our Data Center Infrastructure Management (DCIM) software. The Gartner Data Center, Infrastructure & Operations Management Conference will help attendees learn to adapt to today's complex data center environments. Attendees will discover how to apply a bimodal strategy that delivers both core services and enables agility, develop

Managing a "dark" or "lights-out" data center is one of the greatest challenges a data center professional can face. When you don't have anyone on site, how can you tell that moves/adds/changes were made accurately? How do you check power and network connections if you're not physically there to look at them? And how can Data Center Infrastructure Management (DCIM) help? Join us for our next live DCIM webinar, How to Take Control of Chaos in a Lights-Out Data Center, on Tuesday, November 29 at 11 AM ET to explore how to overcome the chaos and uncertainty of managing a lights-out data center. In this webinar, you'll learn: Best practices for efficient capacity utilization

Did you know that approximately 2.5 quintillion bytes of data are created every day? This explosion of big data – 90% of data in today's world was created in the past few years alone – has provided all sorts of opportunities for organizations to mine the data collected for customer insights, but it also brings to light an often-overlooked question: Where is all of this data stored? The answer lies not in 100 million 25 GB Blu-ray discs, but rather in a physical location full of computer systems, servers, network connections, and environmental sensors: the data center. As data center professionals grapple with the challenges of this influx of data, managing the aforementioned components in

Sunbird's November 2016 Models Library release includes new manufacturer updates from Cisco, EMC, HP, IBM, Panduit, Raritan, and more! To access these updates, you will need to have a support login and valid maintenance contract. Click here to log in or sign up now: https://support.sunbirddcim.com/support/login. Visit the Sunbird Support Portal and download Models Library Release 3.082 today!

One of the most frustrating roadblocks that organizations encounter when first looking for a Data Center Infrastructure Management (DCIM) solution is finding a clear definition of what exactly DCIM is. In an ideal world, there would be one industry-standard definition that buyers could reference when choosing a DCIM solution to deploy. Unfortunately, the reality is far more complex. A myriad of DCIM definitions abound, and despite the amusement around the idea that DCIM means different things to different people, the resulting lack of clarity for organizations is no joke. Our president Herman Chan shares his insights on this topic in an article published in the

Sunbird is thrilled to be participating as an Industry Sponsor at Datacloud Nordic at the Stockholm City Conference Centre in Stockholm, Sweden on Thursday, October 20, 2016. Stop by Pod 27 on the exhibition floor to meet with our European Sunbird representatives and get a sneak peek at the new features in the upcoming release of our Data Center Infrastructure Management (DCIM) software. This year's Datacloud Nordic conference aims to explore the very latest in technologies and markets, offer inspiring insights and thought-provoking points of view for companies seeking a better way of hosting and colocating in the new reality of a data-driven, cloud-connected, machine-led world.

Many data center professionals today have a myriad of dashboards displaying an overwhelming volume and variety of data from multiple different systems—just for operating and monitoring their data centers. But what if Data Center Infrastructure Management (DCIM) software could be the difference between spending countless hours sifting through spreadsheets and finding the data you need with just a click of a button for an immediate, complete picture of your data center? Our President Herman Chan tackled this topic in an article exploring the benefits and opportunities of DCIM dashboards in the November 2016 issue of Inside_Networks, an online magazine dedicated to IT network

Newly released manufacturer updates include Cisco, Dell, EMC, and Supermicro PDUs, network devices, and much more. To access these updates, you will need to have a support login and valid maintenance contract. Click here to log in or sign up now: https://support.sunbirddcim.com/support/login. Visit the Sunbird Support Portal and download Models Library Release 3.081 today!

Today, data centers are not only focused on maintaining availability but also ensuring efficiency and sustainability, helping to conserve energy and save costs. Here are the 5 things to know about data center environmental monitoring: 1. Temperature All servers and server racks should operate within the defined inlet temperature as defined by server manufacturers or ASHRAE TC 9.9 Thermal Guidelines for Data Center Processing environments. Failing to do so can lead to serious uptime issues or wasteful overcooling, inefficiency and cost. Temperature sensors should be placed at the top, middle, and bottom inlets of server cabinets. Data center operators should also look at

This week marked a momentous event for Sunbird Software: our first birthday. Over the past year, we've made significant progress as an independent, pure-play Data Center Infrastructure Management (DCIM) software company, and our teams across the globe celebrated in style—with good eats, a little competitive volleyball, and, most importantly, birthday cake. (Check out pictures from the events here.) In the midst of the festivities, it would have been easy to lose sight of everyone who contributed to this year's success. That's why this birthday was the perfect opportunity to consciously reflect on how we arrived at where we are today and where we plan to go in the future.

We're thrilled to be a Silver Sponsor at the 2016 BICSI Mainland Europe Conference & Exhibition, scheduled for Tuesday, October 4, at the Corinthia Hotel in Prague in the Czech Republic. Meet with our European Sunbird representatives for a demo of our award-winning Data Center Infrastructure Management (DCIM) solution and see for yourself how easy power, network, and cable management in your data center can be with key features like: Navigation of 3D data center health maps with real-time power data. Visually build data circuits, including structured cabling, between any combination of devices, network equipment, and patch panels—all at the click of a mouse

Today's data centers need to be characterized not just by their agility but also best practices that help managers operate with maximum efficiency, while keeping costs under control. While organizations are continuously struggling to cope with data processing and storage demands, budgetary concerns are possibly the major hurdle to overcome. This not only includes the cost of the physical space required but also the energy consumption. This is where data center management software can come to the rescue. As far back as 2010, the Uptime Institute had predicted that the market for data center infrastructure management (DCIM) solutions would grow from $500 million in 2010 to $7.5

The dynamic nature and growing competition of the business world has led to new demands for modern data centers. As the IT consumer base and cloud computing continue to expand, resource utilization is also growing. Organizations have a tough task to efficiently support new business requirements with limited data center infrastructure resources. The concept of data center capacity planning is truly evolving due to this increase in demand. New software technologies are being used to provide services, create new data center delivery models, and optimize overall management strategies. The emerging trends towards Data Center Infrastructure Management (DCIM) and Software Defined Data Centers (

Sunbird will be exhibiting at the 2016 BICSI Fall Conference & Exhibition conference in San Antonio on September 12-14, 2016 at the Henry B. Gonzalez Convention Center. Stop by Booth #118 in the exhibit hall for a demo of our award-winning Data Center Infrastructure Management (DCIM) solution. See for yourself how easy power, network, and cable management can be with key features like: 3D data center health map with real-time power data. Ability to visually build data circuits, including structured cabling, between any combination of devices, network equipment, and patch panels—all at the click of a mouse. Visual trace routes of power and network paths for faster and

What should I know before moving to a new data center or colocation facility? What are open-source data center management tools, and how will I know if they're right for me? How can data and analytics help me manage and monitor my data center more effectively? These are just some of the questions that our own James Cerwinski, Director of Product Marketing, will be addressing during panel discussions next week at Data Center World in New Orleans, Louisiana (DCW NOLA). Prior to DCW NOLA, we caught up with James to get his thoughts on what works (and what doesn't) in managing a data center or colocation move, little-known information about open-source DCIM tools, and what the

Newly released manufacturer updates include Hewlett-Packard, Cisco Systems, Brocade, and Juniper Networks PDUs, network devices, and much more. To access these updates, you will need to have a support login and valid maintenance contract. Click here to log in or sign up now: https://support.sunbirddcim.com/support/login. Visit the Sunbird Support Portal and download Models Library Release 3.080 today!

Sunbird will be participating at Data Center World in New Orleans (DCW NOLA) on September 12-15, 2016 at the Ernest N. Morial Convention Center. Stop by Booth #841 in the exhibit hall for a taste of features to come in the next version of our award-winning Data Center Infrastructure Management (DCIM) solution. Looking for practical advice on using DCIM to tackle some of your data center's toughest challenges? Hear from Sunbird's very own James Cerwinski, Director of Product Marketing, in back-to-back panel sessions on Monday, September 12: Using DCIM for Data Center and Colocation Moves (Room R206; 1:00-2:00 PM): This panel discussion will focus on eliminating common

In 2011, Marc Andressen said in the Wall Street Journal, "Software is eating the world." Fast forward to 2016, and it looks like Data Center Infrastructure Management (DCIM) solutions are driving the growth. Such solutions allow an organization to manage, plan and optimize the physical elements and processes that exist in its data center. Data center colocation services have made it easier for a team to operate processes around the management of their resources along with tying the information into their ITSM systems. While DCIM solutions have been around for a while, these trends have increased their adoption in recent years: Apps Define an Organization Most companies across the

We're pleased to announce updates to Sunbird's DCIM Operations and Monitoring suite of tools! Simply download the upgrade files from Sunbird's support portal to update today. New in This Release This version features the joint release of dcTrack® 5.1.2 and Power IQ® 5.1.3 and provides several enhancements and improvements for the best user experience to date. New in Power IQ: Enhanced Liebert, Tripp Lite, and NetBotz support New ODBC View for Watt-HR delta reading to add in energy reporting Updates to charts and reports for increased accuracy New in dcTrack: Web Import updates LDAP updates Resolution of security

Following our recent blog post "5 Ways DCIM Software Can Help You Get More Out of Your Intelligent Rack PDUs," we're spotlighting six ways in which Sunbird's DCIM software enhances the functionality of Raritan's intelligent rack PDUs (iPDUS). 1. Data Sampling Accuracy To ensure the most accurate readings over a period of time, when configured with Raritan iPDUs, Sunbird's DCIM software can collect one-minute meter readings time-synced across all rack PDUs, down to the second. This level of polling configuration and billing-grade accuracy ensures that data is never lost, provides an extensive repository of information for future analysis, and enables energy

Newly released manufacturer updates include Hewlett-Packard, Cisco Systems, Dell, and Raritan PDU's, network devices, cabinets/racks, and much more. To access these updates, you will need to have a support login and valid maintenance contract. Click here to log in or sign up today: http://support.sunbirddcim.com/support/login Visit the Sunbird Support Portal and download Models Library Release 3.079 today!

In this blog series, we're introducing Sunbird's interns for Summer 2016. This last post shares the perspective of Yimeng Li, our Engineering intern who recently completed a master's degree from Rutgers University. I completed my master's degree in computer engineering from Rutgers in January 2016. My undergraduate major was electrical engineering, and I obtained my bachelor's degree in 2013. I started to learn to code in my junior year, and it was then that I knew what I wanted to do in the future. That's why I switched from electrical engineering to computer engineering. Over the past two years of study, I gained strong knowledge and background in computer science and

The efficiency initiative Data Center Optimization Initiative (DCOI) from the Office of Management and Budget (OMB) is changing the management of federal government data centers, including the mammoth-sized, one-million-square-foot National Security Agency (NSA) facility located in Utah. This new initiative requires agencies to develop and report on data center strategies to consolidate inefficient infrastructure, optimize existing facilities, achieve cost savings, and transition to a more efficient infrastructure. The mandate requires agencies to install and use energy metering tools, an essential piece of DCIM software, to collect data and report on energy usage. How the

Have you fallen victim to the Pokémon Go craze? Embrace it with our Sunbird DCIM Pokémon Go social media giveaway and receive a free t-shirt. Follow these simple directions to enter: 1. Follow @SunbirdDCIM on Twitter and follow Sunbird Software on LinkedIn. 2. Tweet at us with a picture of you with a Pokémon in or around your data center to win a free T-shirt. 3. Share it with friends! Pokémon Go is everywhere and lets players be a part of it. This new app combines the Pokémon virtual world with real life. Tracking via GPS requires gamers to walk around in order to locate Pokémon, Poké Stops

Mention 3D visualizations to a data center professional, and chances are that the response will be less than enthusiastic. Considered everything from an insignificant "nice-to-have" to an unhelpful, overrated, resource hog, 3D appears to be more trouble than it is worth. With this perception, is it any wonder why so many data center management software applications either eschew 3D in favor of its 2D counterpart or halfheartedly implement 3D in an attempt to attract prospects and keep pace with the competition? Implementing 3D data center visualizations may have seemed counterintuitive to Sunbird's mission to radically simplify data center management with elegant software. That's

In this new blog series, we're introducing Sunbird's interns for Summer 2016. This post shares the perspective of Raghav Pandya, our Engineering intern and a graduate student at Rutgers University. I am currently pursuing Master's degree in Computer Science from Rutgers University, New Jersey. I completed my undergraduate degree in 2013, majoring in Information Science, and then I went to work with a software company for two years. I love to code and explore new technologies in the field of computer science. My programming journey started with QBASIC when I was 15 years old, and I knew that this was the way to go. I have a strong theoretical background in

We're thrilled to announce the general availability of Power IQ 5.1.2, the latest version of Sunbird's DCIM Monitoring software. New in this release is support for Hyper-V, Microsoft's native hypervisor, to provide customers with another option for installing Power IQ in a virtual environment. The Power IQ 5.1.2 update is available worldwide to all customers with valid maintenance contracts. Simply download the update file from Sunbird's support portal to upgrade today. What's New in Power IQ: Microsoft Hyper-V Support Previous versions of Power IQ allowed customers to run the application on VMware ESX/ESXi servers. In 5.1.2, Power IQ customers gain the flexibility to

In this new blog series, we're introducing Sunbird's interns for Summer 2016. This post in the series shares the perspective of Peter DeLong, our Engineering intern who is approaching his junior year. I'm currently a rising junior at Princeton University and study Computer Science in the School of Engineering. My favorite thing about computer science is that, depending on whom you ask, it's an interesting mix between engineering and craftsmanship. It also allows me to flex both my quantitative and creative muscles, which is usually satisfying. (After spending hours chasing a bug through my code in vain, it's a little less satisfying.) At this point, I have little idea what

In this new blog series, we're introducing Sunbird's interns for Summer 2016. This post shares the perspective of Brittany Sheehan, our Marketing intern who is approaching her junior year. I am currently a rising junior at Loyola University Maryland majoring in Digital Media and minoring in Marketing. However, this fall I will be studying abroad at Newcastle University in the United Kingdom. What I like most about my major is the relevance it has in today's society. Because we live in such a technological era, digital media applies to many different aspects of companies, not only marketing. However, what I like about marketing is the psychological aspect. It is interesting

Software defined data centers would be considered a mandatory requirement for 75% of Global 2000 enterprises that seek to implement a DevOps approach and hybrid cloud model by 2020, according to Gartner Inc. DevOps is an approach that emphasizes on people and aims to improve the collaboration between the development and operations teams, while the hybrid cloud model refers to policy based and synchronized service provisioning and use of internal and external cloud services. The move to software and cloud based Data Center Infrastructure Management (DCIM) was driven by the need to expand sustainably. It has helped to reduce costs, cut down manual labor, improve data center asset utilization

In this new blog series, we're introducing Sunbird's interns for Summer 2016. This post shares the perspective of Jennifer Eaton, our Marketing intern who is approaching her senior year. I'm currently a rising senior pursuing a marketing degree from The College of New Jersey. I am also the social media advisor for my sorority, Delta Phi Epsilon, while at school. I plan to use these skills as well as my degree to further my experience in the marketing world and eventually achieve a career in marketing. I started becoming interested in marketing during my first semester of college and then declared my major as marketing at then end of my second semester. I really like

In this new blog series, we're introducing Sunbird's interns for Summer 2016. Our first post shares the perspective of Mark Rousseau, our Finance intern who is in his senior year. As a senior at Rutgers University in New Brunswick, it is difficult for me to even start thinking about leaving the place that has given me so much over the past three years. I am enrolled in The School of Arts and Sciences, majoring in Economics. Additionally, I take a variety of classes at the Rutgers Business School that go towards a minor in Business Administration. I will be graduating next May in 2017. I enjoy my study of economics because of how much of a driving force economic factors can

Introducing dcTrack® 5.1 We're thrilled to announce the general availability of dcTrack 5.1, the latest version of Sunbird's DCIM Operations software. User-requested features in dcTrack 5.1 make it faster and easier than ever for data center managers to get the information they need to plan and manage data center capacity more effectively. The dcTrack 5.1 update is available worldwide on a cabinet/month subscription or perpetual license basis to all customers with valid maintenance contracts. Simply download the update file from Sunbird's support portal to upgrade today. 3D Visualizer dcTrack 5.1 introduces the 3D Visualizer, which displays data center floor maps

It was in 2015 that Gartner predicted that there would be more than 25 billion connected vehicles on the road by 2020. By the same time, the research firm expects connected kitchens to lead to 15% savings for the food and beverage industry, with help from big data analytics. On the other hand, Gartner also warned that IT companies would need to work on solutions for an Internet of Things (IoT) ecosystem platform. At the same time, McKinsey analyzed over 150 use cases to establish the potential benefits and challenges associated with IoT for the global economy. The use cases included everything from manufacturers of devices to monitor health and wellness to businesses that use sensors to

According to a recent survey by 451 Research of data center operators' priorities, nearly 28% of respondents were focused on data center consolidation, 9.3% on building or buying a new data center, and 8.3% on outsourcing data centers to a third party, such as a colocation facility. Andrew Donoghue, European Research Manager at 451 Research, shared these insights and other thoughts as he defined data center moves and DCIM trends during the first segment of our webinar on "Common Pitfalls to Avoid in a Data Center Move." This focus on data center moves reflects organizations' attempts to replace aging or inefficient data centers with more modern and efficient (in terms of power, energy

Data center electricity use doubled during 2001-2006, from 30 to 60 billion kilowatt-hours, and stood at around 100 billion kilowatt-hours as of 2013, according to the Department of Energy. Over 4 million rack PDU's are shipped each year, translating to approximately 2 million new cabinets deployed. The backend power and cooling infrastructure costs to support each rack can amount to $20,000.00 per rack. With this intensive capital investment, capacity management, or improving the utilization of data center capacity quickly becomes one the most important tenants of data center operations management. Planning capacities, whether power, space, cooling, or available data connectivity, is

Data center managers often find themselves making data center moves in response to changing business needs, technology updates, government energy mandates, and other demands. Regardless of the type of move, the goal is often the same: savings in terms of space, power, and energy. However, data center managers need to choose the type of move carefully. The best move for a particular situation may depend on how complicated the move will be, where the data center manager wants to focus, and the expected benefits of the move. Pro tip: Before undertaking a data center move, make sure to include identifying ownership, understanding workload demands, and securing permission in

Chatsworth Products and Sunbird Software announce global partnership -- Chatsworth Products will market and sell Power IQ® for eConnect® which is a co-branded version of Sunbird's Power IQ Data Center Monitoring software SOMERSET, N.J., May 17, 2016 /PRNewswire/ -- Sunbird Software, a global innovator in software solutions that simplify how data centers are managed, announced today a global partnership with Chatsworth Products (CPI). The two companies have collaborated to develop, test and certify a co-branded version of Power IQ® that will offer out-of-the-box compatibility with CPI eConnect® rack-mount Power Distribution Units

Newly released manufacturer updates include Hewlett-Packard, Cisco Systems, IBM, Panduit, and NetApp. PDU's, network devices, cabinets/racks, and much more. To access these updates, you will need to have a support login and valid maintenance contract. Click here to log in or sign up today: http://support.sunbirddcim.com/support/login Visit the Sunbird Support Portal and download Models Library Release 3.075 today!

At first, moving your data center may seem like a straightforward relocation from one facility—whether it be a new, owner-operated location or a colocation—to another. However, the reality is that a data center move is a difficult and complex project that requires significant preparation and communication—even before the move takes place. Moving a data center can be daunting for even the most experienced data center professionals. While you may not be able to think of every contingency, you can avoid many of the challenges you will face during the move through careful planning. Not sure how to plan your data center move? Start by thinking about your answers to these five key

Note, this webinar has ended. Watch the recording here. Whether you're building a new data center or migrating to a colocation facility, a data center move can be fraught with challenges. What do you need in terms of power and space? How do you allocate resources and forecast growth accurately? And how can Data Center Infrastructure Management (DCIM) help? Join us for our next live DCIM webinar, Common Pitfalls to Avoid in a Data Center Move, on Thursday, May 19 at 11AM to explore how to overcome the challenges that can derail your data center move. In this webinar, you'll learn: Best practices for efficient capacity utilization. Tips to avoid downtime

Sunbird will be exhibiting at the DataCenterDynamics Enterprise conference in New York City on April 19-20, 2016. Stop by Booth #142 for a demo of our award-winning DCIM solution and to learn more about the newest enhancements and key benefits, including: · 3D health map with real-time sensor data. · Complete power and environment monitoring. · Automated asset, capacity, and change management. · End-to-end visibility power and network connectivity. At DCD Enterprise, you'll join 2,000

According to a 2014 article on Department of Energy enumerating facts about data centers, there are approximately 3 million data centers in the United States alone, which essentially means that for every 100 people in the country there is one data center! With the number of people using the internet increasing exponentially across the world, the need for such facilities are only slated to rise. Proper monitoring is essential to get the best out of data inventories. Data center monitoring software helps you get comprehensive reports, records, data and alerts pertaining to the infrastructure supporting the data center facility. Here are all the crucial items you must keep an eye on. Things

Did you know that according to a report by Energy Star on the recommendations of the American Society of Heating, Refrigerating and Air-Conditioning Engineers (ASHRAE), the recommended temperature near the inlet of servers should be in the range of 65-80 degrees Fahrenheit? Such guidelines are very important for ensuring the optimal functioning of data centers, since the environment has a huge impact on the functioning of the equipment at such facilities. Data center environment monitoring helps in alerting data center operators about any changes in the temperature of the room, failure of any devices, humidity and more, so that quick action can be taken to prevent serious damage.

Did you know that the theoretical optimum for Power Usage Effectiveness of a data center should be 1.4? To calculate your facility's energy consumption, simply divide the total facility power by IT equipment power. If the result is 2 or less than 2, then you are running by the usual standard. However, if the number is 3 or more, then the IT equipment is actually using only a third of the data center energy. This is indicative of the need to focus on data center power management. According to a blog post on Csmonitor.com about data centers going green, the Department of Energy revealed in 2013 that approximately 100 billion kilowatt-hours of energy is used by data centers. The Need for

According to a 2015 article on Cisco's Global Cloud Index, the volume of data center traffic in 2014 was 3.4 zettabytes and the projection for 2019 was 10.4 zettabytes! This growing traffic is huge, considering 1 zettabyte is made up of 100 billion terabytes! You can see that the use of cloud storage is on a growth trajectory, which means that the demand for data centers will also keep pace. In such an environment, companies will need to expand their data centers and manage them better. To help with this, there are various types of data center software. Enhancing Data Center Management Physical Presence Not Important: There can be a lot of money, time and energy needed to

Just released manufacturer updates include new Cisco Systems, Hitachi, Panduit, and Huber + Suhner. PDUs, cabinets/racks, network devices, comm panels and many others. To access these updates, you will need to have a support login and valid maintenance contract. Click here to log in or sign up today: http://support.sunbirddcim.com/support/login. Visit our NEW Sunbird Support Portal and download Models Library Release 3.074 today!

Trying to figure out the terms and expressions of data centers can be challenging. Luckily we have defined some of the most used vocabulary that one will stumble upon when researching and learning about data center management and DCIM. 1. Application program interface (API). Set of routines, protocols, and tools for building software applications. DCIM APIs enable the sharing of information with configuration management databases (CMDB) and change ticketing systems 2. American Society of Heating, Refrigerating & Air-Conditioning Engineers (ASHRAE). Sets guidelines as to

- Single pane of glass to monitor smart racks and critical infrastructure devices - SOMERSET, N.J., March 15, 2016 /PRNewswire/ -- Sunbird Software, a global innovator in software solutions that simplify how data centers are managed, announced today general availability of Sunbird Power IQ® 5.1 DCIM (data center infrastructure management) monitoring software. Sunbird DCIM 5.1 provides a single pane of glass to make it easier to monitor and manage critical facility infrastructure devices such as the UPS. With the new functionality, Data Center Managers will have an integrated view of the health and capacity of their UPS. This enhanced view now

Sunbird is excited to announce our participation at Data Center World Global 2016, the premier international conference and expo for data center and IT infrastructure professionals! This industry event will take place March 14-18 at the Mandalay Bay Convention Center in Las Vegas, Nevada. Data Center World addresses the needs of all data center management professionals, from CIOs to IT and facilities managers. Attendees will gain crucial insight into how formal processes and industry tools can align IT and business goals to improve IT, operations, and facilities management. The Exhibit Hall at Data Center World also provides attendees with easy access to over 200 vendors in the

Management of federal government data centers is about to change. Until now, there has been little regulation around energy metering, monitoring and management within a data center. This is all about to change with the efficiency initiative, Data Center Optimization Initiative (DCOI), from the Office of Management and Budget (OMB). This new initiative supersedes the Federal Data Center Consolidation Initiative announced in 2010. The DCOI requires agencies to develop and report on data center strategies to consolidate inefficient infrastructure, optimize existing facilities, achieve cost savings, and transition to more efficient infrastructure, such as cloud

Due to the endless growth of consumer services such as Facebook, YouTube and Netflix, demand for fast and "free" data has meant an increase in servers and data centers. Consequently, the growth in power has also been fueled by these services. A recent article by DataCenterDynamics identified that "Google's total power usage seems to have gone up 12-fold in the last four years. That is not far off doubling each year." This additional demand, as well as advancements in technology and platforms enabling outsourcing and nearly eliminating the need to staff multiple environments, has led service providers to branch out and locate data centers where it makes the most economical

Most data centers are expected to be able to reduce their physical space by a minimum of 30 percent over the next five years. This is only one of the several emerging trends through 2020 identified in a December 2015 article by Tech Target. Other important trends to look out for in data center monitoring include increased density, security, virtualization and intelligent PDUs (Power Distribution Units), among others. Here's a look at the top five trends experts are looking for in 2016. Top 5 Trends for 2016 Increased Power Density Data centers in the United States are expected to need six times the electricity used by New York City by 2020. In fact, it is estimated

The Global Data Center rack PDU market has been forecasted to grow at a rate of 10.14 per cent between 2016 and 2020, reported WhaTech on January 25, 2016. This data was first published by a report called 'Global Data Center Rack PDU Market 2016-2020', which studied the growth prospects of global rack-mounted PDUs. This was also echoed by the Gartner forecast in November 2014 which stated that there will be 25 billion connected devices by 2020, thereby increasing the need for intelligent power distribution. While rack PDUs can be categorized according to their functionalities, namely power filtering, remote monitoring, control by LAN or SNP and intelligent load balancing; the market is

Just released updates to more than 25 various manufacturer PDUs, cabinets/racks, network devices, comm panels and much more. Manufacturer updates include Cisco Systems, Dell, EMC, HP, Liebert, Raritan, Sun Microsystems, Tripp Lite and many others. To access these updates, you will need to have a support login and valid maintenance contract. Click here to log in or sign up today: http://support.sunbirddcim.com/support/login. Visit our NEW Sunbird Support Portal and download Models Library Release 3.072 today!

We recently ran a sweepstakes giveaway encouraging our customers to follow our Twitter and LinkedIn social media channels. Thank you for such a great response. We were encouraged to learn that social media is indeed a good source and method for sharing DCIM information. Those that chose to follow us were entered into a sweepstakes to win one of four selfie sticks that can be used to tweet, link in, or post interesting data center pictures ... We are now pleased to announce our winners! · Alex Bernstein · Karl Ruehle ·

Your compute device needs a network connection and power to perform useful work. You know your IT organization is monitoring the compute device for up/down status and performance statistics such as CPU, memory and hard drive utilization. You feel good that you purchased and deployed an APC UPS in all your locations. While the UPS ensures good clean power from your commercial power provider, most importantly the battery becomes the champion as the power source for your compute device when commercial power is lost. Are you monitoring your UPS so it is ready to meet your needs when you need it the most; and are you ready to take action when commercial power is lost?

Just released updates to more than 25 various manufacturer PDUs, cabinets/racks, network devices, comm panels and much more. Manufacturer updates include Brocade, Cisco Systems, Dell, EMC, Fujitsu, HP, IBM, Raritan, Sun Microsystems, and many others. To access these updates, you will need to have a support login and valid maintenance contract. Click here to log in or sign up today: http://support.sunbirddcim.com/support/login. Visit our NEW Sunbird Support Portal and download Models Library Release 3.071 today!

Just released updates to more than 25 various manufacturer PDUs, cabinets/racks, network devices, comm panels and much more. Manufacturer updates include APC, BayTech, Cannon Technologies, Cisco Systems, Dell, EMC, F5 Networks, Geist, HP, IBM, PaloAlto Networks, Raritan, Server Technology, Tripp Lite and many others. To access these updates, you need to have a support log in and valid maintenance contract. Click here to log in or sign up today: http://support.sunbirddcim.com/support/login. Visit our NEW Sunbird Support Portal and download Models Library Release 3.07 today!

Raritan, Inc., a partner of Sunbird Software, today introduced their all new Branch Circuit Monitoring (BCM2) system that provides real-time views of electrical capacity and power usage in colocation and other data centers. The information gathered by the BCM system can be shared with data center infrastructure management (DCIM) systems, including Sunbird's Power IQ DCIM monitoring software. By adding Power IQ to PDU and BCM deployments, data center managers can see significant benefits to managing a BCM2 environment by using Power IQ as a single pane of glass to reduce energy costs, track power usage, and prevent downtime. According to James Cerwinski,

FOR IMMEDIATE RELEASE Sunbird Software Opens Global Headquarters, Technical Service Office, and Expands Digital Support Presence -- Focused on DCIM Customer Success -- SOMERSET, NJ, November 18, 2015 – Sunbird Software, a global innovator in software solutions that simplify how data centers are managed, has moved into its new worldwide headquarters in Somerset, NJ, and opened a new technical service and support office in Sioux Falls, SD. Additionally, Sunbird has launched a new Customer Support Portal with interactive features to help customers get the most out of their DCIM solutions. "As a leading pure-play DCIM software company we continue to

Psychrometric charts can be pretty tricky to interpret. Just taking a look at it, you may already be confused. With so many lines and axes, you can get lost trying to follow the chart and find out which line represents which axis. So why is it important to know how to read a psychrometric chart? Psychrometric charts allow you to track and monitor the physical and thermodynamic properties of gas-vapor mixtures. To correctly read a psychrometric chart, here is a breakdown and visual representation. Axis Starting at the basics, there are nine different axes, which are categorized one through nine in the graph. Starting at one, they're

Just released updates to more than 25 various manufacturer PDUs, cabinets/racks, network devices, comm panels and much more. Manufacturer updates include APC, Brocade, Cisco, EMC, F5 Networks, Hitachi, HP, IBM, Nokia, Oracle, Raritan, Siemens and many others. To access these updates, you need to have a support login and valid maintenance contract. Click here to login or signup today: http://support.sunbirddcim.com/support/login. Visit our NEW support portal and download Models Library Release 3.069 today.

FOR IMMEDIATE RELEASE Sunbird Named a Major Player in IDC MarketScape on DCIM SOMERSET, NJ, October 29, 2015 – Sunbird Software, a global innovator in software solutions that simplify how data centers are managed, is positioned as a Major Player in the report (IDC MarketScape: Worldwide Datacenter Infrastructure Management 2015 Vendor Assessment, doc #259603, October 2015) published last week. The IDC MarketScape report analyzed 15 companies that qualify as DCIM providers. "We are delighted to be part of this important DCIM report, and to be among the top pure-

FOR IMMEDIATE RELEASE Sunbird Software Introduces DCIM 5.0; Enables Smart Data-Aware and Efficient Data Centers -- Simplified views of data center health and faster analysis of infrastructure needs SOMERSET, NJ, October 13, 2015 – Sunbird Software, a global innovator in software solutions that simplify how data centers are managed, announced today general availability of Sunbird DCIM 5.0 (data center infrastructure management) software. Sunbird DCIM 5.0 makes it easier to capture and visualize data center infrastructure information, automate administrative processes, and get answers quickly to capacity and health questions. "In developing DCIM 5.0 we

FOR IMMEDIATE RELEASE Introducing Sunbird Software, a DCIM Global Leader -- Spin-off from Raritan completed; Sunbird Software continues to invest and deliver innovative solutions to customers SOMERSET, N.J., September 28, 2015 – Sunbird Software, a global innovator in software solutions that simplify how data centers are managed, announced today the completion of its spin-off from Raritan Inc. As an independent pure-play software company, Sunbird will focus on growing its leadership position in the DCIM (data center infrastructure management) field, accelerating software development, and helping customers create and manage agile and efficient data centers. "

Whether you are implementing data center infrastructure management software for the first time or taking advantage of an existing DCIM, you have the opportunity to learn from others' experience. Follow these DCIM best practices and take control of your data center. Monitor Data Center Health When every minute of an outage costs thousands of dollars, operating a reliable data center is crucial. While N+1 redundancy buys some time in an emergency, the approach is expensive and falls shorts under multiple failures. Instead of walking the floors and checking for trouble in the racks, technicians can monitor performance through Sunbird Power IQ. This DCIM software

With data center energy costs often accounting for 50% of total data center operating expenses, and the continual push to do more with less, energy management continues to be a focus of data center operators. With energy prices continuously in flux, reducing such significant costs would greatly improve savings of any company. According to BLS Strategies, "Data center operators and owners can minimize the impact of unpredictable energy markets by better understanding the markets and establishing smart energy procurement strategies." While often overlooked, understanding the market for energy has become more appealing to data center managers because it allows them

Join Us for a Free Webinar Moderated by IDC | July 16, 2015 2PM EST IDC's Jennifer Koppy leads an interactive webinar with data center leaders at UF Health Shands Hospital and CareTech Solutions. Learn how to get buy-in from stakeholders, breakdown silos, increase collaboration, and slash 50% on data center OPEX. Discover how to drive change from day one, and set yourself up for more success well into the future. Register Now

Every day your expanding business forces you to stay within budget while meeting endless customer and organizational demands. Intelligent capacity planning keeps operations running smoothly by helping you prepare for the future. Take action according to your needs by understanding your capacity limitations, getting the most out of current capacity and adding capacity in a deliberate way. Determining Capacity Before you can plan for extra capacity, you must understand your current capabilities. You need to know about servers, cables, routers, switches and storage devices. You need to track existing racks, power supplies, cooling capacity and floor space across all data centers. Without

FOR IMMEDIATE RELEASE Raritan to spin off Data Center Infrastructure Management (DCIM) business - Introduces Sunbird Software Raritan signs definitive agreement to be acquired by Legrand, spins off DCIM business unit adding additional resources, focus, and agility in a high growth data center market opportunity. Somerset, NJ, 06/16/2015 – Raritan announced today a plan to separate its DCIM software business from Raritan in a transaction that will result in two independent and highly focused companies. Raritan will continue to focus on its Power and KVM hardware business and Sunbird Software will become a new company to focus entirely on the DCIM market,

Con Edison and the New York State Energy Research and Development Authority (NYSERDA) are now offering performance-based financial incentives for companies seeking to undertake data center efficiency projects. Under the Data Center Efficiency Program (DCEP) and the Demand Management Program (DMP) funding might be obtained through eligible projects including: IT infrastructure Upgrades Facilities Improvements Facilities improvements include UPS, VFD, CRAC and cooling system upgrades. The implementation of a Data Center Infrastructure Management (DCIM) provides for facility improvement, including substantial savings in

Over the past several years, we have seen an unprecedented increase in traffic, data center growth, and the infrastructure within. On one hand, these changes have led to new services and growth for businesses. On the other, the management of the data center has become more challenging as IT data center managers look to do more with less. The procurement of tools that could be used to quickly and cost-effectively help with implementation has been put off due to the millions of other things that need to be done within the data center. The reality is that it has become harder and harder to continue to work this way. You know it, but do your executive and

With your data center constantly changing to keep up with user needs, how do you know if you are managing all of the components effectively? If your situation falls into one of these four scenarios, DCIM may create the efficiency boost you need to handle future growth. 1. You rely on multiple spreadsheets in different locations to track assets. Excel files and Google docs function well enough when storing static information, but their brilliance fades when tracking statuses, processes and assets that frequently change. A few forgetful employees and unsaved updates can corrupt records with incorrect, out of date or missing data. In addition, integrating these files with other systems is

Top Tips for Data Center Cable Management For many data centers, managing cables is an afterthought. But as the number of devices in data centers rises, managing power and network cords becomes problematic. Not having a proper cable system in place creates issues like these: Decreased airflow and increased temperatures inside of cabinets Increased complexity during moves, adds, or changes (MAC) Inaccurate counts of switches/storage ports available Another factor in cable management that's often neglected is its effect on downtime. A poor cable system can increase downtime by forcing technicians to spend extra

For the last several years, ASHRAE has been advocating that data centers allow temperatures to rise in order to save money on cooling resources. Now, an upcoming study will assert that data centers save even further by allowing humidity to drop to an RH of 8 percent. In a recent interview with Data Center Dynamics, Dan Beaty, Cofounder of ASHRAE's TC 9.9 said, "We ran a test with different types of floor tiles and clothing, and we found that between eight percent and 20-25 percent, the difference in static electricity is insignificant." The finding could lead to significant operational cost savings. According to EnergyStar.Gov[1]: A typical data center

Running a data center is expensive. The cost of equipment, infrastructure, and personnel add up quickly and can make running a data center losing proposition for an organization. That's why it is important to operate efficiently and eliminate unnecessary expenses wherever possible. Here are five key areas that data centers can address to keep operating expenses in-line: Doing Things Manually If your staff performs record keeping via Excel® spreadsheets, they may be spending hundreds of man hours per year on tasks that can easily be automated. Time that is better spent improving service offerings and making strategic decisions for the data center. DCIM software offers

Data center infrastructure management, or DCIM, is a category of solutions that extend the traditional data center management function to include physical assets and resources found in IT domains. It aims to integrate information technology and facility management disciplines to centralize monitoring, management and intelligent capacity planning of the critical systems within a data center. Complete DCIM services involve specialized software, intelligent asset tags and sensors and power solutions. In 2014, Gartner recognized the DCIM market to be comprised of 75 vendor offerings.. If you are looking for DCIM vendors who can effectively manage your data center, here are some essential

As with any technology investment, a business owner should examine the return on investment (ROI) before making a purchasing decision on a Data Center Infrastructure Management (DCIM) solution. There are innumerable white papers and articles that point to the fact that DCIM – a solution that helps to address the infrastructure management needs of the data center - has a remarkable ROI. When a DCIM solution is properly implemented and managed, it saves hundreds of man-hours and helps maintain high availability, both of which increase business profits. However, it is important for data center operators to understand that DCIM will not fully transform a data center overnight. It

Datacenters.com recently published a post on the 2015 top five data center trends which includes perspectives on industry trends in: cloud, virtualization, automation, the Internet of things (IoT), and physical size. Here, we will consider how a data center infrastructure management (DCIM) tool can help you to mitigate any potential disruptions while taking advantage of emerging frameworks that improve operational efficiency and help to increase your organization's bottom-line. First, what does the move to the cloud mean for your data center? According to the article, "the cloud is growing rapidly and is quickly evolving into a standard in every IT organization. In fact

You know those servers that you have out in your data center, powered up but doing nothing, what do you do with them? While you can simply just let them continue running in your data center, they can actually be costing you more than you think. Consider that a typical five year old server, which may not be energy star compliant could consume 175 watts at idle. And if 10% of the servers in a 1000 server data center are ghost servers and electricity costs $0.15/kwh, we are talking about $23,000 of un-necessary expense. AND this is just for the server, never-mind the cooling expense. So what do you do? Do you take the risk and power them down,

For the fifth consecutive year, Sunbird was recognized in The Channel Company's CRN Data Center 100 list for cutting-edge technologies that power, support and protect today's data centers. The list features leading technology vendors whose solutions are vital to today's data centers. Sunbird - as one of the first to introduce DCIM solutions and create the intelligent rack power distribution unit (iPDU) category - was selected for its innovative solutions that solve critical data center issues, such as reducing power and cooling costs, finding infrastructure capacity, managing assets and monitoring performance. Selected by the CRN editorial staff after months of in‐

According to the 451 Group, "A data center infrastructure management (DCIM) system collects and manages information about a data center's assets, resource use and operational status." When that information is provided in meaningful way, IT and facilities management's decision making is vastly improved, which allows for better short-term management, and long-term planning and investments. Consider for a moment what happens when data center operators are forced to rely on homegrown solutions like Visio and Excel spreadsheets. Due to the effort required to maintain them, static spreadsheets are often outdated and missing critical information that can only be found in an

Information Technology is so fundamental to every business today that every organization needs to establish formal processes to ensure that IT services are continually aligned to the business, and deliver efficient and reliable support over the entire lifecycle of products and services. These processes, commonly classified as IT Service Management (ITSM), may follow a well-known model such as ITIL (IT Infrastructure Library) or, more likely, a set of internally-developed best practices. Regardless of the chosen approach, it will typically include a database that defines the current overall IT function status accompa­nied by a set of ITSM processes with well- defined steps and

Traditionally, systems for monitoring and managing IT devices and facility objects have existed as separate entities. But, as the data center power chain has grown larger and more interdependent, operators have begun to embrace the need for an intelligent unified management tool that can bridge the gap between IT and facilities in order to effectively manage numerous data center subsystems, improve efficiencies, and maintain availability. Being able to gather information from IT assets like servers, network switches, and rack PDUs, as well as from facilities objects like CRACs, UPS, and RPPs, provides data center operators with far more accurate and complete views of data

In IDC's latest study—"IDC MarketScape: Asia/Pacific excluding Japan (APEJ) Datacenter Infrastructure Management Solution 2014 Vendor Assessment"— Sunbird was positioned prominently in the "Major Players" category and portrayed as having one of the largest DCIM market footprints in the region. This new study is designed to help IT buyers compare vendors' current capabilities and strategies relative to one another and to the factors that IDC believes will be most conducive to future success in the DCIM market. According to the IDC report, "Sunbird has defined itself in the DCIM market by providing an open, robust solution for midsize enterprise data centers. It has

As a data center manager in a colocation provider facility you are tasked with not only monitoring the health of your data center infrastructure, but providing outstanding service to your customers. Whether your customer is internal – such as your management team, or external – such as those you provide space for, you need tools that can provide for scalability, flexibility, and accountability of your data center assets and information within. These were the objectives that Exponential-e, the leading U.K. provider of networking and cloud services, had in mind when they decided to offer a Tier III data center and expand their colocation offerings. With the new 71,500-

Often the best lessons learned are from those that have experience. Listen and learn as British Airways and Comcast, two companies that have successfully deployed DCIM, discuss the benefits they have received from their DCIM implementations. In this hour long webinar, Keith Bott, Comcast, and Micah Petty, British Airways, spoke with Jennifer Koppy, IDC Research Director, and provided valuable insight into lessons learned, pitfalls to avoid, and gave viewers tips on how to be successful with a DCIM deployment. As many data center managers are tasked to do more with less, and deliver services faster and more economically, improving the management of data center

Carbon Footprint measurement has become a measurement shared among nations, companies and individuals to compare the results of their Sustainability practices. Methane and Carbon Dioxide are naturally occurring Greenhouse gases which help maintain a temperature on earth that is habitable. Small changes in Carbon Dioxide or CO2, concentrations have large effects on the Earth's climate. Thus, this is the measurement that most companies tend to keep watch of. Measurement of CO2 within a facility is also an important measurement of Indoor Air Quality. To measure your CO2 within a facility, you will need to use the Electricity specific emission factor for your part

Wednesday, November 12, at 11 am EST How British Airways and Comcast, two of the largest companies in the world, successfully deploy DCIM in their data centers; and, what are they doing to get the most from DCIM? Find out as IDC's Jennifer Koppy leads a revealing hour-long webinar that will uncover the most important lessons learned and pitfalls to avoid -- information useful to data centers of all sizes. Register here and learn how DCIM can help you and your data center today.

In order to meet ISO 14001, we must first understand what it is. ISO, or International Organization for Standardization, is a non-government organization with over 150 member countries. The purpose of this organization is to establish an internationally created set of rules for companies to follow to achieve better products, reduce waste and increase productivity. For ISO 14001, it is the environment we are concerned about. In striving to be good corporate citizens, companies put sustainability practices into play at their place of work. Sustainability is comprised of 3 pillars known as environment, social equity and economics. ISO 14001 helps achieve

October is National Energy Awareness Month here in the US. Although it was first decreed in 1991 to encourage government and private sector awareness of the importance of managing energy resources wisely, this year the matter seems all the more poignant for the data center industry at large. Consider the results of Data Center Efficiency Assessment report published this past summer: "In 2013, U.S. data centers consumed an estimated 91 billion kilowatt-hours of electricity. This is the equivalent annual output of 34 large (500-megawatt) coal-fired power plants, enough electricity to power all the households in New York City twice over. Data center electricity consumption is

PUE, or Power Usage Effectiveness, which was developed by The Green Grid™, has become the standard for measuring data center efficiency. What does it really mean and how do I calculate it? Rumors are in industry is that you want to be as close to 1 as possible. Why 1? PUE is a ratio of the amount of power needed to drive and cool the data center vs the power draw from the IT equipment in the data center. 1, in the case of a ratio would mean that you have a perfect data center, one where all the power coming into the building makes it to the IT equipment with none used for loads to cool or light up the room and none lost in transmission to the IT equipment.

Sunbird's dcTrack® DCIM Operations software has won two American Business Awards for innovation and technical achievements. Judged by more than 240 executives nationwide, Sunbird's DCIM software was presented with a Stevie® Award in the "Software - Asset Management Solution" category. Over 57,000 voters from the general public voted and awarded Sunbird with a "People's Choice Stevie Award" in the same category. What makes Sunbird's DCIM Operations solution such an invaluable tool for so many data center operators? DCIM Operations provides real-time information about data center power, networks, and IT equipment making it easier for operators to

Data center racks are becoming denser with IT equipment and a supporting infrastructure that consumes more power than ever before. When power was cheap, few companies gave any thought to how well they managed their power resources. But with electricity costs reaching historic highs, companies have had no choice but to investigate energy efficient technologies and practices that can help lower those costs, and keep them competitive in a tighter global market. This is no easy task. Even with so many data centers having successfully implemented consolidation and virtualization projects, new high performance computing racks often demand the same amount of power

Data Center Infrastructure Management (DCIM) tools make it easy to instantly track all of your IT assets and have comprehensive information about them at your fingertips. But in order for this functionality to be effective, you need a way to import all of your devices' information into a database, and ensure the accuracy of that information. Most DCIM providers offer auto-discovery and import wizard tools in order to initially populate the database. But what happens when you need to add a new device on-the-fly, or correct an error in your database? A comprehensive models library can ease the burden on data center operators and ensure that new asset data is entered into

Conserving energy and lowering its usage are two of the most frequently dictated mandates for any Data Center Manager. There are a number of ways this is accomplished: server decommissioning/consolidation, high density computing, air containment systems, air-side economizers, and so on. One method that's rarely discussed is the practice of completely shutting down servers during off-peak hours. Shutting down servers is often overlooked as an energy saving practice because when servers are shut down abruptly, data and applications being run on those servers may become corrupted. But this shouldn't deter anyone from employing graceful shutdown to power off servers, and

As a Data Center Operator, you may often find yourself balancing the need to conserve energy and reduce costs with the need to ensure proper environmental conditions for the IT assets within. But, relying on a room thermostat to monitor and set ambient temperature has been shown to be a massive waste of cooling resources, and ineffective at preventing hotspots. This has given rise to new data center environmental management technologies that some of the largest and most complex facilities have been using for years. Sunbird's Data Center Infrastructure Management (DCIM) solution uses an integrated approach that relies on hardware and software to provide a complete picture of

Dashboards are often used by businesses to give an at-a-glance view of the current status and historical trends of an organization's key performance indicators (KPIs). This view is often in graphical format, enabling users to easily decipher the information for informed decision making. A good DCIM solution provides users with the ability to easily review the state and performance of their data center from a single pane of glass. But what if you want to monitor more than one data center? Or have multiple slices of information that can be presented? Can you display more than one dashboard at a time? With Sunbird's dashboard, users can customize

Sunbird's dcTrack® DCIM Operations Software has been nominated for the 2014 People's Choice Stevie Awards for Favorite New Product! If you're a satisfied DCIM customer, vote for dcTrack by visiting this link. Now, if you're unfamiliar with Sunbird and dcTrack, you may be wondering what makes this DCIM solution, among so many solutions on the market, such a powerful resource for data center operators. Three reasons data center operators have had so much success with the tool are that it provides them with better capacity management and accurate asset management, and automates manual processes. First, in a dynamic data center that is run through manual processes, it is

DCIM solutions need to seamlessly integrate with IT and facilities management systems to collect, maintain, and ensure the most accurate information. Accurate, up-to-date information regarding assets and their interdependencies is critical to the initial population and on-going management of your data center infrastructure. The scope of the data collection project depends on the amount of data that needs to be collected, and how easily that data can be gathered based on where it is currently stored. Often the first step in obtaining this information is to use "auto-discovery". Auto-discovery provides a way to automatically search and identify data center

The Internet of Things (IoT) , the concept of virtually every gadget and appliance we own being interconnected via the Internet, continues to make great strides, and in the words of Gartner is "promising to transform the data center market." If and when that transformation does take place, data centers will be faced with an overwhelming amount of data that will need to be synthesized, analyzed, and stored. That "big data" will push the need for additional storage, network, and computing resources to unprecedented heights. As a data center operator, you may need to prepare for this shift sooner than expected. And that starts with a full understanding of how much

It's that time of year again – hurricane season here in the US. And with that comes the potential for tropical storms, stronger than average winds, and power outages. If you're a data center manager, here are a few things you should consider before one of these weather events hits: Disaster recovery procedures. What redundancy procedures do you have on site? Do you have both redundant systems on site and a remote backup site? Although at times painful and costly, the costs of downtime often dwarf the costs of preparing for disasters, major or minor. Learn from your past and incorporate procedures ahead of time. Active monitoring and alerting. Use

Data center managers everywhere are being pushed to improve energy efficiency. But traditional approaches to power monitoring fall short because they fail to provide information about how much actual power devices are drawing, and whether cooling resources are being used efficiently. The following are the top three ways to improve data center power monitoring, improve energy efficiency, and effectively utilize cooling resources. 1. Implement Intelligent Power Distribution Units Many data centers feed power directly from panels to blade servers. Although effective in distributing power, this approach is limiting in so much as it fails to provide information about the amount being

You've outgrown your current facility and anticipate big-time IT infrastructure growth in the future. Although you considered expanding your current facility or creating new one, you may have determined that neither was cost-effective in your situation. So instead, you've opted to move to a colocation facility. But, while moving to a colo may provide the additional space, flexibility, and capacity you'll need, how can you continue to manage your infrastructure effectively and meet industry regulations without being physically present? The key is selecting a Data Center Infrastructure Management (DCIM) tool that offers you full visibility of your data

The value propositions of an effective data center infrastructure management (DCIM) deployment are too great for any organization to ignore. DCIM can lead to massive energy savings and streamlined operations; both benefits amounting to lower operational expenses. Although these are goals that every organization strives to achieve, it's not always clear who should take ownership over the project – IT or Facilities. So who really owns a DCIM project? First, it's important to note that while IT and facilities managers each have their own unique set of responsibilities, they also share several common objectives such as ensuring the availability of

California's Title 24 2013 energy efficiency standards will go into effect on July, 1 2014. Prior to 2013 California data centers were considered exempt from Title 24, but that's no longer the case as most data centers will now require: Economizers in small computer rooms in buildings that have economizers Prohibiting reheat in computer rooms Prohibiting non-adiabatic humidification in computer rooms Limiting power of fan systems serving computer rooms to 27 watts/kBtuh of net sensible cooling capacity Variable speed controls on all chilled water fan systems and all direct expansion (DX) systems over 5 tons serving computer rooms. Containment in large,

On Wednesday, April 30th, 9:15 to 10:15am at Data Center World in Las Vegas, Nevada, Joseph Keena, Manager of Data Center Operations for University of Florida Health will join with James Cerwinski, Director of Software for Sunbird, in an information session on how to justify the initial cost of a DCIM solution to management as well as other data center stakeholders. The presenters will discuss how today's complex data center infrastructure challenges can no longer be addressed with Viso, spreadsheets, and home-grown databases; and how the maturation of DCIM software solutions over the past few years, make them the foundation of effective infrastructure management. By the

The demand for new on-demand technology services and the cost of deploying and managing them continue to skyrocket. In order to manage deepening costs, complex deployments, and ensure reliability and uptime, data center managers need access to information and data that isn't always readily available. These are the top five challenges data center managers face and how a Data Center Infrastructure Management (DCIM) solution can address those challenges. Challenge 1: Maintaining Availability and Uptime If you're using spreadsheets or homegrown tools to manage your server information, you probably already know the information stored can be outdated, inaccurate, or

Improving energy efficiency has continually challenged data center managers over the past decade. At the heart of the matter lies the ongoing debate as to what exactly is the best metric or combination of metrics by which to monitor performance and make improvements. Up until now Power Usage Effectiveness (PUE) has been the most common metric used. However, PUE has inherent limitations that the industry has attempted to overcome by introducing new metrics such as Green Energy Coefficient (GEC), Energy Reuse Factor (ERF), and Carbon Usage Effectiveness (CUE). The new Data Center Energy Productivity (DCeP) metric is an attempt to offer a more complete measure of data

We're excited to announce that the Software & Information Industry Association (SIIA), has named Sunbird a finalist for the 2014 CODiE Award for Best Asset Management for its DCIM operations software dcTrack®. Judges for the award recognized Sunbird for its innovation and creativity in developing a software solution that tracks and provides a visual mapping of data center assets, including IT and facilities devices. With the increase of new services bombarding data centers, traditional asset tracking tools such as spreadsheets and Visio diagrams prove inadequate, and asset information often goes missing. Sunbird's DCIM solution is a proven and effective way to

The truth is that with information pouring in from all different sources, it is almost impossible to parse through all the noise and figure out if DCIM software is right for your Data Center to consider starting a Data Center Infrastructure Management (DCIM) project. "You Need DCIM if" is a must-have e-Book that will reveal surefire signs you need a DCIM solution, and discusses how DCIM can optimize your data center operations and monitoring. Click here to fill out a form to instantly download the eBook "You Need DCIM if" now.

Data Centers provide the basis for the delivery of new services and applications; it's a crucial component of most modern organizations. But bringing new services up quickly can rack up business costs. To counter this, data center operations optimization projects are undertaken to streamline existing IT procedures, reduce operational costs, and increase productivity. Automation is Key Using DCIM to automate and streamline time-consuming processes can help optimize data center operations and reduce expenses. DCIM solutions provide functionality that automatically discovers, populates, and stores asset information supporting the new services,

Southern Methodist University's upcoming fall 2014 graduate degree program in data center engineering is clear indication of the need for trained data center professionals in the marketplace. According to the U.S. Department of Labor statistics, the data center operations workforce tops 4 million people today and is expected to grow to more than two million by 2018. But how many of them are formally trained in data center operations best practices? While traditionally data centers have been run by IT staff, they have now evolved to a point where they require specialization in functional areas such as: facilities, infrastructure and subsystems; data center systems

Worldwide demand for real-time data, applications, and services has led to an unprecedented increase in data center density and energy costs. While IT equipment accounts for 50% of those energy costs, another 37% is consumed when cooling and circulating air; a figure that amounts to hundreds of millions of dollars per year. IT departments often overcool data centers to ensure that their mission critical equipment will not fail due to overheating. But studies have shown this is an unnecessary and costly practice. According to David J. Cappuccio, Gartner Managing VP and Chief of research: "Data center managers can save up to 4 percent in energy costs

The best time to get funding for DCIM is in conjunction with a major business-related IT project such as a data center construction, relocation, co-location, expansion, or even the deployment of a new business-critical application. The budget for all of these projects will likely include an allocation for additional resources and tools to facilitate successful project execution. As you prepare your argument for stakeholders and decision makers, first identify your most costly data center problems that can be fixed with DCIM. Focus on those problems that are most critical and are of "highest-value", i.e. cost the most to you operationally. For instance,

You've been here before – a new enterprise solution comes out of nowhere promising to cut costs, reduce inefficiencies, and increase productivity – and now you're scrambling to figure out if those seemingly intangible value propositions are really something you need, how it all fits into your current system, whether you can ever hope to recoup your initial investment, and what it spells for your career in both the best and worst case scenarios. Well DCIM isn't that kind of a solution. At its core, there are real, measurable value propositions that are self-evident to any data center employee: Efficient energy consumption, effective infrastructure management, and maintaining high

There's a lot of hype and discussion about Data Center Infrastructure Management (DCIM) and associated DCIM Companies. You might be like many others in that are just learning about what DCIM in of itself provides. Or you might be more experienced but confused by all features that different DCIM Vendors have to offer. While the market is still in the early adopter phase we have seen successful DCIM deployments. The keys to these successes have been based on a lot of discussion, review and priority setting. To ease in selecting a DCIM vendor and solution, we suggest that you review these 10 key considerations: 1. Be clear on the data center

While it might appear that restructuring space in an existing Data Center might be less costly than moving to a new one, the reality is that it really might not be. Do your research; determine the compromises you might have to make, and carefully plan for your move. Consider using a Data Center Infrastructure Management (DCIM) solution to complement the physical move. What follows is a high-level summary of the process that Greg Rutledge, Data Center Manager and Trey Jones, Director of IT Infrastructure Services for Houston Methodist Hospital used in deciding their strategy. When the Houston Methodist Hospital Data Center started to run out of space,

Data Center operations best practices call for a strategic approach to balancing IT service delivery and cost efficiency. With the growing complexity of data centers from the demand for new service offerings and the sheer amount of physical compute, network, and storage required to provide those services, Data Center Managers are quickly realizing that manual tools, such as excel spreadsheets and Visio diagrams, are no longer an effective way to manage their Data Centers. Instead, sophisticated data center infrastructure management (DCIM) tools that measure, monitor, and provide a best practices operations framework are needed. According to a 2012 IDC report "Most are

Managing a data center and therefore Data Center Infrastructure Management (DCIM) is by nature complex. Each vendor has a slightly different twist on the definition and no two data center operations managers are the same – each may require different pieces to best manage their facilities and IT infrastructure. With these sometimes divergent viewpoints no one vendor may exactly match the needs of each organization. Understanding what you want from your DCIM implementation will be key to choosing the right data center tool vendor and having a "successful" deployment. So how do you begin to discern your choices? In an analyst report, Gartner stated

NetworkWorld Asia recently awarded Sunbird their Readers' Choice Product Excellence Award 2013 for Data Center Capacity Planning and Services. These awards are given to leading vendors for the innovative technologies and solutions they provide to Asia businesses. Awards are presented based on votes from the readers of NetworkWorld Asia magazine, and the Networks Asia, Security Asia and Storage Asia websites. As the Data Center Capacity Planning and Services winner, Sunbird was recognized for its DCIM solution that provides the capability to view Data Center assets from the lowest level in the power chain to the highest level. This visualization provides Data

Preparing to issue a Data Center Infrastructure Management (DCIM) bid? Do you know what you actually need or what your requirements are? There are many choices of vendors and solutions, each having a slightly different twist. When issuing your bid, Request for Quote (RFQ), or Request for Proposal (RFP) describe your specific problems and desired outcome to potential vendors and challenge them to show how you can achieve objectives with their product and support. Provide the bid to two or at most three DCIM products/vendors thoroughly with respect to your "must have" requirements. Any more, your evaluations might dilute the resources and the process. Ensure that

Data centers have seen an explosion of enterprise software, mobile applications, and data storage over the past five years. So it should come as no surprise that the cost of data center downtime has risen dramatically alongside the bevy of interconnected devices and mission critical systems that have inundated facilities nationwide. According to a recent Emerson Network Power report, 91% of U.S. data centers have experienced an unplanned outage in the past two years, with data centers losing an average of $690,204 per outage. Additionally, unplanned data center outages over the past year alone have cost 67 of the report participants a collective loss of over $46.2 million

While datacenters are continuing to evolve, the list of pain points around managing the necessary resources and changes to datacenter assets continues to grow. But how do you decide whether Data Center Infrastructure Management (DCIM) is the right choice for you, and if so, whether a specific solution can meet your needs? Sunbird's new website, sunbirdDCIM.com, makes learning about DCIM, the components to consider when selecting a DCIM provider, the benefits from a DCIM and more importantly, how to get started easy. We know that datacenter managers have many choices in how to best approach infrastructure management, and at raritanDCIM.com, visitors can learn why our customers